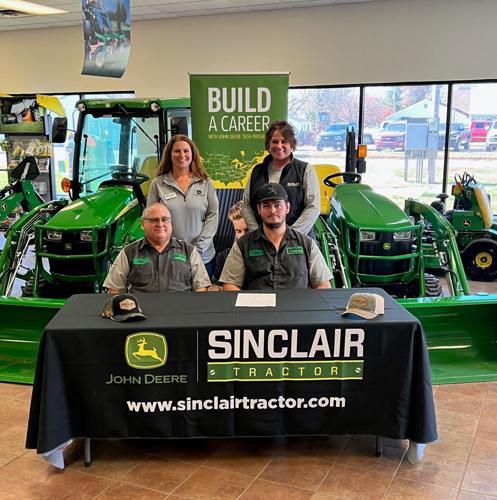 Louie Chickering (front right) signs with Sinclair Tractor. Louie Chickering is pictured with his father, Don Chickering (front left), along with Amy Bos, assistant aftermarket manager (back left) and Heather Clemens, Ottumwa location manager.
Sinclair Tractor has announced the signing of a second-generation technician to its Ottumwa team.
Louie Chickering signed his dealer sponsorship letter with Sinclair Tractor, committing to attend the John Deere technician program at Northeast Iowa Community College in Calmar, Iowa, next fall. His dad, Don Chickering, has been a technician at the Ottumwa location since 2014.
Louie Chickering holds a welding technology degree from Indian Hills and served four years in the Marines working as a truck driver and mechanic before joining the Sinclair Tractor team.
The 21-month JDTECH program alternates between attending classes and receiving paid on-the-job training at the sponsoring dealer. Upon graduation, Louie Chickering will be a full-time John Deere certified technician and will receive full tuition reimbursement over the first 36 months of his post-graduate employment. As part of the sponsorship, Sinclair Tractor will provide him with all tools required for the program and a mechanics toolbox.
Louie Chickering will continue to work at the Ottumwa location prior to attending NICC in the fall.
---