The editors of Farm Equipment, with the support of Verge Ag, have released a new online resource of the farm equipment industry's largest dealers. Known as the Farm Equipment Dealer 100TM, the content is an interactive digital representation of the 100 largest dealers by locations compiled annually by Ag Equipment Intelligence and Machinery Advisors Consortium.
The summary level content is being licensed to Farm Equipment to bring this knowledge out to the wider industry. The Farm Equipment Dealer 100TM provides valuable information on the farm equipment dealers, including total stores, ag stores, major line, shortlines, states served, employees, history, executives, ownership and profile information. 
Viewers will find current and prior-year rankings and an interactive scrollable tool to navigate key information on the top 100 dealerships. To view the exclusive, new content, visit www.farm-equipment.com/dealer-100
"We're pleased to support this new digital tool and initiative and to deliver this much sought-after information on the industry's leaders," says Verge Ag COO Godard. Verge Ag is the developer of Launch Pad, an interactive software that helps farmers plan, simulate, and validate the movement of their equipment in the field and to execute field operations efficiently.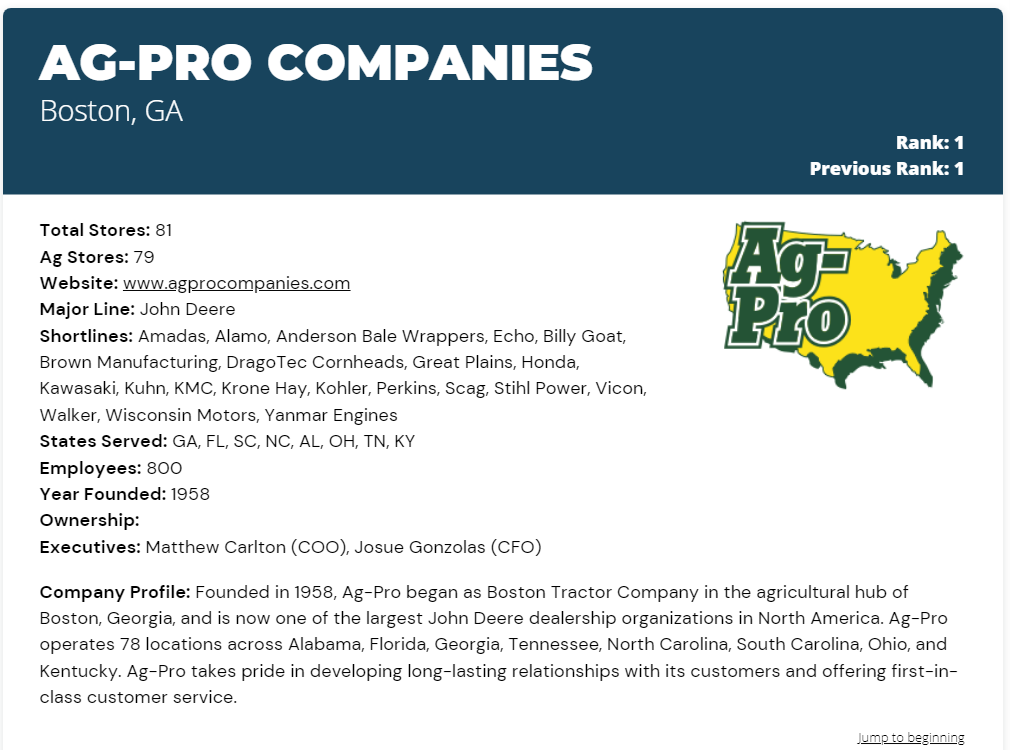 According to Godard, it empowers farmers and simplifies farm planning while reducing in-field decision making. "An essential functionality of Launch Pad is Equipment Explorer, a sales enablement solution that helps ag equipment dealerships of all brands to match the size and functionality of their equipment to the scope and complexity of their customers' farming operations."
Since 2011, the editors of Ag Equipment Intelligence have collaborated with the Machinery Advisors Consortium to compile the annual "Big Dealer Report." This in-depth report delivers the ag equipment industry a thorough, by-the-numbers analysis into the shifts in dealer ownership and consolidation, along with insight into the implications these shifts have on the industry.
Additional historical data and analysis  – beyond the Farm Equipment Dealer 100TM  – is found in Ag Equipment Intelligence's 2022 Big Dealer Report, which is available this Friday, April 29. To pre-order your copy at a discounted rate, click here. 
---