In the recently released 2021 Progressive Farmer Reader Insights Study powered by SOCAL Approach, John Deere was ranked the top tractor brand in the Most Durable, Best Ownership Experience and Highest Owner Loyalty categories for fullsize tractors.
The report noted that "At the segment level, Kubota and John Deere dominate the top of the rankings, with New Holland also taking home a top award." Case IH took second in the Most Durable category for fullsize tractors, as well as in the Best Ownership Experience and Highest Owner Loyalty categories.
Kubota took the top spot in the 2 of the 3 categories for compact tractors, with Deere taking the Highest Owner Loyalty category among compact tractors. 
Of the 9 categories in which farmers could rate tractor brands, John Deere won 5, including the Highest Owner Loyalty award in all 3 tractor segments.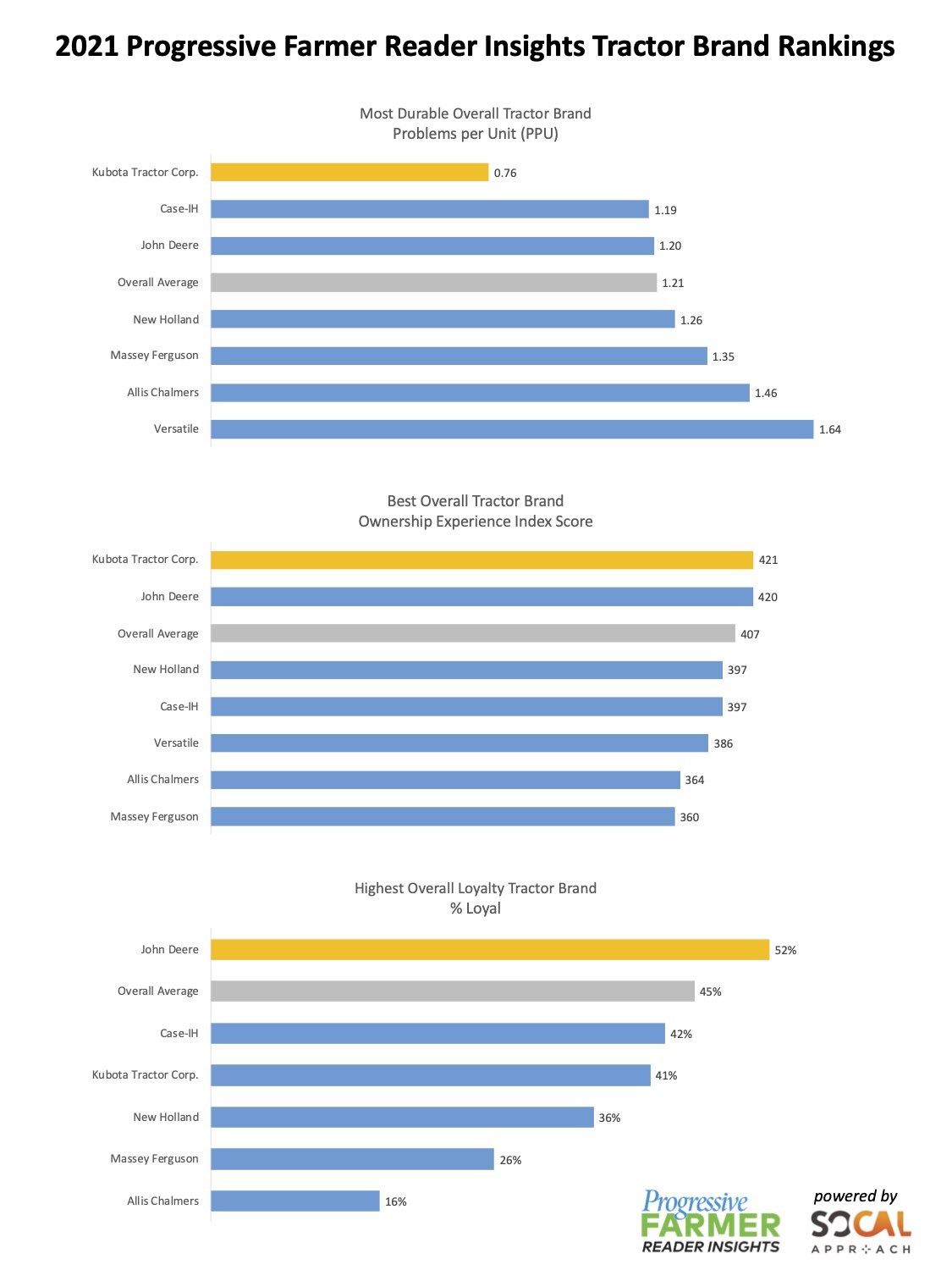 Farmers reported the fewest problems per unit with Kubota tractors at 0.76 vs. 1.20 for John Deere and an overall average of 1.21. Versatile had the most reported problems per unit at 1.64.
Kubota also received the highest overall Ownership Experience Index score at 421, just above Deere at 420 and the overall average of 407. Massey Ferguson received the lowest score at 360.
John Deere received the highest percentage of "loyal" customers in the survey at 52%, above the overall average of 45%. Case IH followed with 42% and Kubota had the third-highest percentage at 41%. Allis Chalmers had the lowest percentage of loyal farmers at 16%.