The most innovative companies are often shortline manufacturers, who can be nimbler and more reactive to change. In fact, 90% of farmers surveyed said they agreed with the statement "Independent manufacturers are the driving force for the technological advancements in their respective niche product segments." Farm Equipment editors polled dealers, manufacturers, farmers and other members of the farm equipment industry to get their take on what products represented the top innovations by shortline manufacturers over the last 50 years in the ag equipment space. 
While this list may not be all-inclusive, it represents some of the top products that changed how farmers do their job, often making the task at hand more efficient and precise. 
---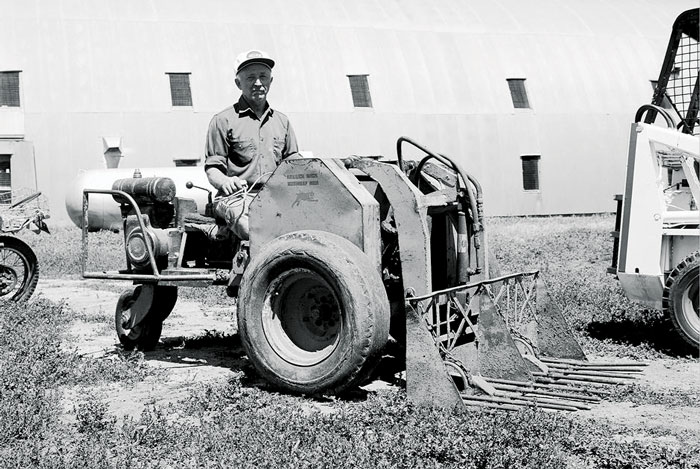 Melroe Manufacturing Skid Steer Loader
In 1956, local turkey farmer Eddie Velo approached the Keller brothers with a unique problem. He was looking for a machine to quickly clear manure from the second floor of his barn. Standard loader tractors in that era were too heavy to tread safely on a second story and too unwieldy to navigate barn poles. The Keller brothers didn't have a machine in their shop to meet Eddie's challenge, but they knew how to build light, maneuverable snowblowers and plows.
Through a process of trial and error, field tests on Eddie Velo's turkey farm and continuous tinkering and learning, the Kellers built the first three-wheeled compact loader. Before long, other farmers wanted one of their own and the brothers couldn't keep up with demand. In 1958, they partnered with the four Melroe brothers – Les, Cliff, Roger and Irv. The brothers owned Melroe Manufacturing Company, a North Dakota fabricating company, and began to mass produce machines. The compact equipment industry was born.
---

Salford-Vertical Tillage Tool
When "vertical tillage was just emerging as a management tool for broad-acre growers, Salford was assembling a group of individuals with agronomic and tillage backgrounds," Brad Baker vice president of sales and marketing for Salfrod Group explains. "We realized the company had a good platform to bring a VT tool to market.
"We purchased an innovative patent called the coil-tech coulter that winds inch-and-a-quarter spring steel in a fashion that could be attached to a cultivator in a swivel manner to run a wavy plate," he says. "That was the beginning of our RTS (residue tillage specialist) line as one of the earliest examples of VT equipment in the industry."
Baker says Salford's timing of the RTS line was aligned well with the explosion of interest in VT. Salford introduced its RTS vertical tillage tool in 2003 and patented the design in 2009.  
"RTS became the bread and butter of the organization and was actually where our brand was built," Baker says. "We went from a successful regional equipment manufacturer to a true supplier for North America, Russia and Europe."
In the ensuing years Salford adapted its VT technology to a range of different models to meet the needs of a wide range of farmers and individual farm needs. 
"Vertical tillage at its root provides minimum soil disturbance while dealing with residue with a vertical coulter," Baker explains. "We were creating an array of different tools to suit customers in different regions. Farmers liked VT but some couldn't take full advantage of it because of their soil type or they needed more pinning of residue.
"We had to vary the configurations available, so we designed hybrid tools which would move a bit more soil. We introduced chisel shanks and made them retractable to enable the tool to be used for VT where applicable, or in heavier soils, the shanks could be engaged to combat compaction — or used as application shanks. This also led to the development of the I-5100, the predecessor to Salford's most aggressive high-speed tillage tool, the 5200 Enforcer. This tool completed the spectrum of tillage in the Salford line, by maximizing soil and residue mixing action. By creating a large amount of space around each individually mounted concave coulters, it is incredible how much volume the machine can handle without plugging.
---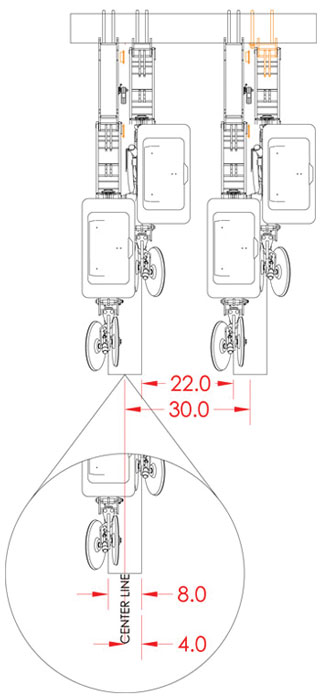 Monosem Twin Row Planter
Monosem developed twin row planting in 1992. The method is based on two-line staggered planting. The crop is planted on two lines 20 centimeters apart instead of on one line with inter row spacings of 75 , 76.2 or 80 centimeters.
By a better positioning of the seeds, the Twin-Row Sync-Row increases the seed population with less competition and more growing room and thus increases the yields.
Harvesting is done with conventional equipment. Another advantage: as the overall inter row spacing is not modified, the tractor treads remain unchanged. 
Twin Row provides an alternative solution to higher yields through pushing populations with minimal change to your farming operation. The twin rows are 8 inches apart and 4 inches off the center to each side allowing farmers to use their conventional corn head to harvest.
Monosem's patented Sync-Row system allows you to stagger the seed to get a diamond pattern for maximum space between plants. The diamond pattern allows more space between plants to maximize photosynthesis, decrease competition for nutrients and moisture and shade the ground quicker reducing weed pressure and evaporation.
University studies have shown that twin row peanuts have less occurrence of disease, higher grades and a 10-15% yield increase.
---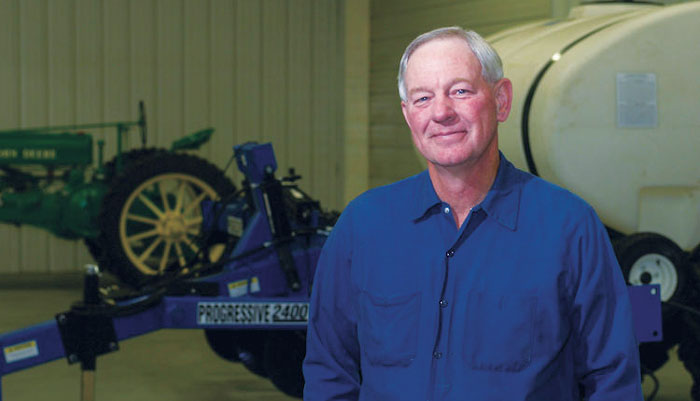 Progressive Farm Products Strip-till Tool
While growers were moving toward no-tilled soybeans in a big way during the 1980s and '90s, no-tilled corn acres remained somewhat flat. Many farmers feared they would have problems trying to no-till into cold, wet ground covered with residue.  
As a result, strip-till soon emerged as a compromise. Rich Follmer became an early innovator in the strip-till space after building a homemade 12-row strip-till bar in the late '80s for a friend. As the head of Progressive Farm Products, based in Hudson, Ill., at the time, Follmer perfected the units and put them into production a few years later. Today, the midmount, dual-placement strip-till toolbar that is being used by thousands of Corn Belt farmers.
To hear more from Follmer on how strip-till got started, tune in to No-Till Farmer's podcast from February 2021 with him  here. 
---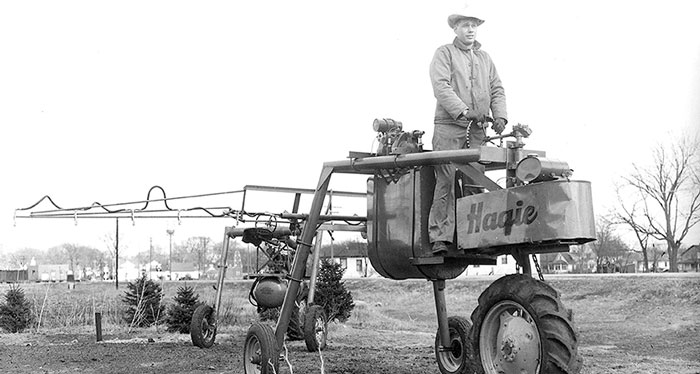 Hagie Self-propelled Sprayer
Founded in 1947, Hagie disrupted the market by inventing the world's first self-propelled sprayer. The company quickly became an industry leader by providing the market with new solutions for evolving farming needs and leading the way with many "firsts." 
A problem solver at heart, Ray Hagie envisioned a more efficient solution to spray crops on his family's farm. In 1947, he invented the world's first self-propelled sprayer, a breakthrough that revolutionized the agriculture industry we know today. 
---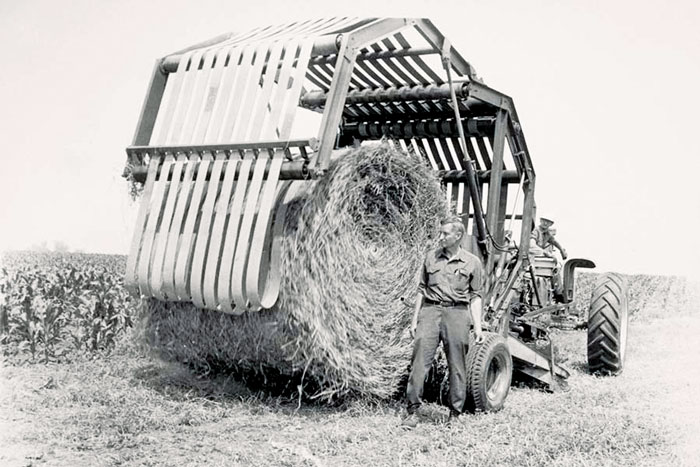 Vermeer Automatic Round Hay Baler
After hearing a friend was having trouble finding enough people to help put up his hay, Gary Vermeer pursued the idea of the one-man-hay system. "I had no idea what it looked like, but we began designing and building," he said. Hundreds of farmers came out to see the demo looking for a better way to bale. And just like that, the round, one-ton (0.9 metric ton) bale changed the hay industry.
In 1972, Vermeer of Pella, Iowa, designed and fabricated a round baler after the design of the A-C Roto-Baler, and the Vermeer Company began selling its model 605 — the first modern round baler. The Vermeer design used belts to compact hay into a cylindrical shape, weighing 1-ton, as is seen today.
---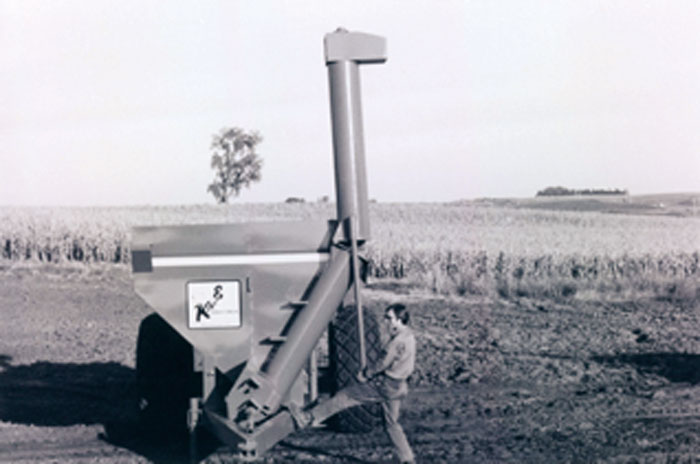 Kinze Dual Auger Grain Cart
The Dual Auger Grain Cart represents the first major product innovation developed and manufactured (1971) by Jon Kinzenbaw and what was then his new upstart company, Kinze Manufacturing Inc. The original Kinze Model 400 Grain Cart concept was the brainchild of Jon to fill the needs of a local grain producer. It allowed farmers to transfer huge volumes of their grain from their loaded combines to standing trucks — which was a major time-saver during the harvest rush, especially when fields were soft or slippery.
This unique low-profile design was the first ever to use giant high-flotation tires on a single axle for greater stability and mobility. And the first to use large-diameter PTO-powered dual augers, which could empty the 435 bushel capacity load in less time — 3 minutes. This allowed the tractor operator to easily navigate between the combine and grain truck without interrupting or slowing down the combine operation.
Ultimately, the Kinze grain cart set a new higher standard for speed and performance in grain handling and it totally revolutionized the process of grain harvesting. Ironically, however, it didn't start out that way. The Model 400 was initially considered a luxury item. Some even considered it somewhat impractical. But, it didn't take long for farmers to appreciate its high-production capacity and time-saving potential. Today, Kinze grain carts are used around the world … with flotation tires, row-crop tires and rubber-tracked undercarriages. And they unload at speeds up to 750 bushels/minute. That means you can empty all three Kinze Grain Carts — 1,100 / 1,300 / 1,500 bushel capacities — in just 2 minutes or less. This had made a big difference in terms of speed, labor and efficiency — compared to moving grain with a bunch of the old 4-wheel, 120 bushel grain carts. 
---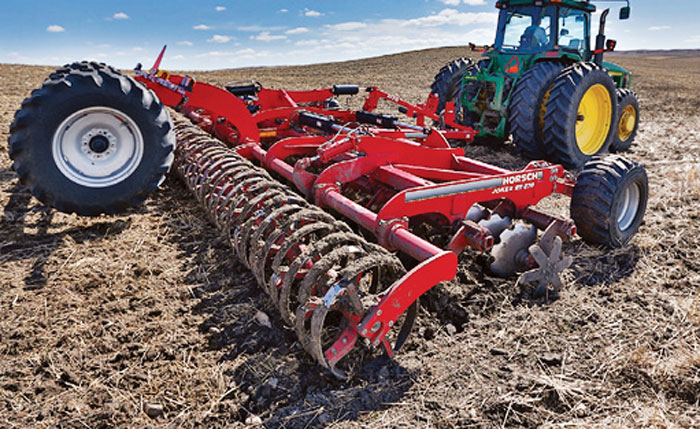 Horsch High Speed Compact Discs
Horsch first introduced the high speed compact disc concept to North America in 2008,  when it introduced the Joker. The Joker is not vertical tillage, nor is it a traditional tillage tool. It features proven technology to break down residue while conserving moisture and preventing erosion. 
After experiencing success in other markets around the world, the technology was redesigned specifically for the North American market. This machine offers a true residue management process, including sizing and blending with the soil; introducing oxygen and warming the soil; activating soil bacteria, which facilitates decomposition of residue; and consolidating and leveling the ground to produce an ideal seedbed. The rubber torsion system, sealed oil bath bearings and roll-flex consolidation system all provide thorough work at high speeds while reducing overall maintenance costs.
---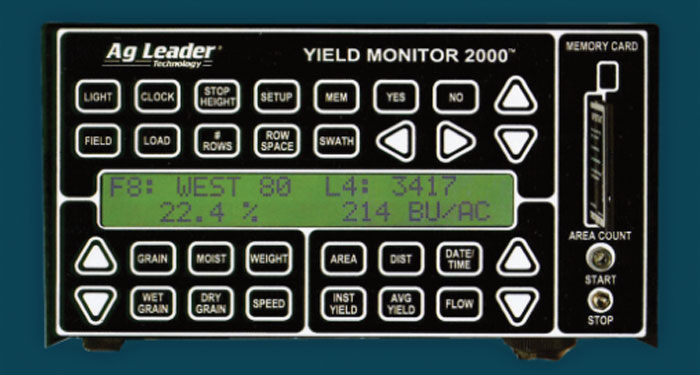 Ag Leader Yield Monitor
It's hard to pinpoint exactly when precision agriculture began, but a significant event occurred just over 25 years ago: a new invention enabled farmers to utilize technology to find substantial yield variations in different sections of their fields. The Yield Monitor 2000, the first accurate combine yield monitor, was released in 1992 and was the brainchild of Ag Leader Founder and President Al Myers, who helped bring precision farming to the mainstream. From humble beginnings, Ag Leader now operates globally and continues to develop new products to help farmers use emerging technology to become more efficient.
Based in Ames, Iowa, Ag Leader is the largest privately-owned supplier of precision farming technology in the world, with 290 employees, offices in The Netherlands, Australia and Brazil and an international dealer network. Becoming a global leader in precision farming wasn't on the horizon when the company started. "I was just plain dumb lucky," Myers modestly admits. "In 1992, I did not recognize how big precision farming would be or the advancements that were coming."
---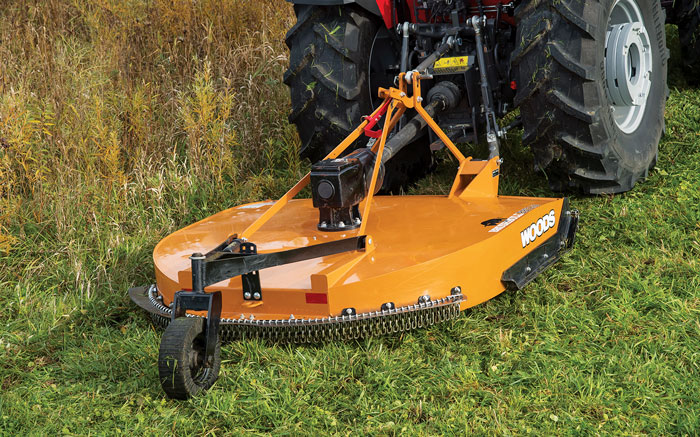 Woods Tractor Mounted Rotary Cutter
In 1946, Leonard, Keith and Mervel Wood invest everything they have in their new creation, the first tractor-mounted rotary cutter, and Wood Brothers Manufacturing Co. is founded. Their new business began in a 4,000 square feet Quonset hut two miles south of Oregon, Ill.
The Wood brothers' ingenuity drove them to constantly generate ideas for new and different mowing equipment. They sought to adapt mowers to all types, sizes and models of tractors. Over the years, Woods mowers were designed to fit lawn and agricultural tractors with front-mount, undermount and various types of rear-mount hitches, including single point, two-point, three-point, pull-type and modern quick-hitch. Their aggressive product development established them as pioneers in the development of the shortline industry — an industry that today includes hundreds of attachment manufacturers.
In recognition of their contribution to the agricultural equipment industry, Keith, Leonard and Mervel were inducted into the Assn. of Equipment Manufacturers' Hall of Fame in 2012. Read more about the history of Woods in the Rural Lifestyle Dealer article, "A Tribute to Mervel Wood, Founder of Woods Equipment Company," which can be found here. 
---

MacDon FlexDraper Head
MacDon introduced the first flexible draper header — the 974 FlexDraper — in 2005, increasing how productive a combine could be when harvesting soybeans. Compared to the traditional flex augur, the FlexDraper improved crop feeding qualities. Because it uses drapers rather than an augur to move the crop into the combine's feeder house, crop flow is substantially smoother with less bunching or plugging. 
More efficient threshing allows an increase in crop volume — thus an increase in header size without reducing your ground speed.
The FlexDraper also delivered a consistently cleaner cut because of MacDon's unique C-shaped cutterbar, the 974's low guard profile and contoured poly skids. These features together allowed an operator to cut as low as needed — even at ground level.