Interest in used equipment is on the rise, but not particularly in used combines. According to results from Ag Equipment Intelligence's August 2020 Dealer Sentiments report, a net 6% of dealers reported their used inventory "too low" in July, the first time it's been "too low" since June 2012. At the same time, a net 41% reported their used combine inventory "too high" in July. Though it can be easy to get comfortable in dealing with used inventory, using data-tracking can be just the game-changer dealers need to tackle a glut of used combines.
In his recent presentation at the 2020 Virtual Dealership Minds Summit, Trent Hummel, former dealer and now a consultant and trainer with the Western Equipment Dealers Assn.'s (WEDA) Dealer Institute, broke down datasets on new inventories and used combine listings to help dealers better plan their combine inventory, retails, trades and turnover.
How New Combine Sales Impact Used Sales
A key issue dealers face is knowing the size and saturation of the used market. At the request of 6 dealers, Hummel and Farm Equipment put together the Equipment Inventory Study in late 2019. The study provided dealers a better idea of how much market space remained for their used equipment inventory. 
"Dealers are tired of guessing market sizes and how much used they could potentially sell," says Hummel. "They want historical data in order to identify and track new and used equipment trends."
The data shows North American new combine sales rose from 2010-13, then dipped in 2014 at the start of the downturn in ag. As Hummel puts it, "2014 sank and 2016 was the bottom."
Between 2013-16, U.S. new combine sales fell from 10,753 to 3,972 (down 63.1%) and Canadian sales fell from 2,940 to 1,791 (down 39.1%). Though sales figures have risen slightly since then, they have not returned to pre-2014 levels. 
Hummel points out that, between 2014-16, U.S. dealers reduced new combine retails by about 50%, while Canadian dealers did not, likely indicating Canadian dealerships were still building used combine inventory. He explains this glut of used combines led to a massive sell off in 2019, including large auctions in which many dealers took heavy losses. 
"We know of one dealer who priced and sold their used combines at fair market value and lost money," says Hummel. "Some units sold $100,000 under cost, but the dealer couldn't afford to carry them any longer." 
U.S. dealers reported turning their new combines anywhere from 4.3-6.6 times between 2015-19, while Canadian dealers turned theirs new units 2.8-6.3 times in the same period. 
Hummel describes the turnover rates as promising, mentioning he mostly hears dealers complain about combines turning too slowly. He highlights good efforts on pre-selling as a reason for the high turnover.
"If we're pre-selling the new, in those 6 months before the new unit arrives, we've got to pre-sell the trade," he says. "We can make the presold combine a cash deal by washing out of all the trades before the pre-sold unit needs to be settled."
Combine Trades Exceeding Used Demand
Data from Hummel's new inventory study indicates the average number of trades from a new combine retail is 3.3, which Hummel sees as the catalyst of dealerships' high used combine inventory. He says, "for every 1,000 new units that sell, we'll need to retail 3,300 used units. Dealers are saying they don't have 3,300 farmers to sell to." 
The problem comes from used combines that will need to be retailed as a result of new unit sales. By taking the average of the 2017-19 annual new combine retail sales, then multiplying that number by the average number of trades expected under each new unit sale, Hummel finds 21,747 used combines need to be sold. This far exceeds the market's capacity to annually absorb used inventory, he says.
"Between dealerships, auctions and private sales, on average, the North American market buys between 15,000-18,000 used combines annually," he says. "Based on these numbers, dealers will carry over about 5,000 used combines per year. Because we don't have the farmers to sell the extra units to, we get backed up with used combines." 
For dealers looking to lower the number of trades per new combine, Hummel says they should focus on lowering their new sales first and continue not taking the bottom trade.
"Dealers have done a great job keeping their combine trades at 3.3 units per new retail. In the last decade, combines have increased about $100,000, which usually means adding another layer of trade-ins," says Hummel. "This number should actually be 4.3, but dealers have been good about saying 'no' to the last trade."
He points out that at 5,000 replacements per year, if the same weighted average of trades, 3.3, is applied, the industry could washout of every trade within 12 months of the new retail.
"If Canada targets selling 20% of annual replacements, that's about 1,000 new combines a year" he says. "If Canada sold 1,000 new units and takes 3.3 trades from each new unit, that's 3,300 trades to sell. The U.S. selling 4,000 new units per year equals 13,200 used to retail. With these tallies, there is a very good probability of having no carryover."
Hummel says dealers need to know the number of crop acres in their area of responsibility and how many acres per year each combine harvests, in order to know how many combines are working in their market.
Bigger Combines, Too Much Fleet Capacity
Another issue dealers will need to tackle is the growing capacity of the equipment fleet. Hummel cites a 2019 OEM study in saying the current North American equipment fleet has 4.2 times more planting and harvesting capacity than it needs. He attributes a large portion of that increase to larger combines.
Hummel points out the danger in this: growing combine capacity means growers will likely not need additional machinery when adding acres to their production, something he sees as particularly worrisome as an above average number of farmers are currently inquiring about retirement.
---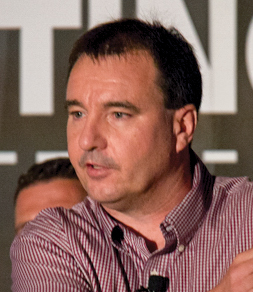 "Your limiting factor on how much new equipment you can sell is how much used equipment you can sell…" – Trent Hummel
---
"I have asked dealers, 'If your producers added 10% more acres to their landholdings, would they need to add more equipment?''' he says. "And the answer is 'no.' If you're farming 10,000 acres, most producers can add 1,000 acres without adding more machinery. 
"We're looking at a real problem when farmers who are smaller or older retire. Their land will go to a neighbor who doesn't need any extra equipment to farm the additional acres. We have too much good, new stuff on the ground. Customers know they don't need to buy anything."
Used Combine Listings on the Rise
A new tool for understanding used combine inventory that Hummel brings to the table is a compiled list of used combine listings from TractorHouse, which he has tracked since the beginning of 2020. Hummel gathered results based on country, brand and model year, then tracked the change in total listings month-over-month. The end result is a broad overview of how used combine listings have changed in 2020 and exposure to how much used inventory is available on dealership lots.
Total used combine listings have risen since December 2019, up 9.3% to 8,960 in July 2020, the latest data at the time of his presentation. Both the 2017-20 model year category and the 2011-16 model year saw increases over the course of 2020, up 42.8% and 14.2% respectively. 
Hummel's research shows combines from model years 2011-16 make up the majority of recently tracked used listings at 43.2%. He sees this category flattening in a few years as these combines are purchased by farmers who do not trade up as often. 
Combines from 2017-20 made up 22.5% of all listings and model years 2001-10 came in at 21.5%. Combines from 1980-2000 made up the smallest share of used listings at 12.9%, but Hummel notes he's still surprised dealers take these older trades and cautions them to be careful.
"Everyone has a story of taking-in an old combine and doing very well with it," he says. "But I bet, 9 times out of 10, dealers get stung after finding multiple problems that need fixing, and put more money into the machine than they can get out of it.
"This year, we haven't reduced the number of used combine listings in this category much, and I have a bad feeling some of these listings are stale on dealership lots year after year."
According to Hummel's data, as of July, Deere holds the majority share of U.S. used combine listings at 59.4%. The second largest share went to Case IH at 27.1% and AGCO took third with 6.3%. 
Based on a 25% adjustment Hummel applies to include combines not listed on TractorHouse, he estimates 11,200 used combines are available in the U.S.
Canadian used combine listings showed an even greater decline in July (down 4.8%), though not every category posted declines. Canadian used combines in the model year 2017-20 showed the only increase in July at 72 new listings (up 9.7% from June), while those in the 2011-16 model year showed the greatest decline, dropping 127 listings (a decline of 9.5%).
Hummel makes a 50% adjustment with the Canadian combine listings and estimates there are 3,945 used combines available in Canada. Part of his rationale for the larger adjustment in Canada than in the U.S. is TractorHouse's higher prices when accounting for the Canadian exchange rate, resulting in fewer Canadian dealerships advertising through TractorHouse.
Pulling Back on New Combine Sales
Hummel explains how using these numbers can help dealers understand the challenge they're facing in moving all currently available used units along with the trades that will come in under them. In short, he says, "We have to stop overselling new to stop overloading our inventories."
Looking at his adjusted figures, Hummel assumes each used combine listing will average 1.65 trades; this is half the amount of trades surveyed dealers reported taking in under each new combine retail in Hummel's new inventory study. This means North American dealers need to sell a little over 40,000 combines to completely washout the current used inventory.
"In a North American market that only sells 15,000-18,000 units per year, we currently have between 1.9-2.5 years' worth of used combines we need to washout," he says. "Around 2014, one of the manufacturers estimated there was 2.5 years' worth of used combines in dealer stock. We're not any further ahead now than we were then. 
"We're still taking too many trades by doing too much business. We know nobody wants to hear that. But your limiting factor on how much new equipment you can sell is how much used equipment you can sell."
Hummel says dealers need to factor into their yearly budgets how many used machines they normally sell and work backward to find how many new machines they should sell. He says some dealers have never thought about the average number of trades they have coming in from their new combines.
"You need to say to yourself, 'If we can only sell 30 used combines, that equates to selling 7 new units,'" says Hummel. "By tracking the number of units in your past washouts, you can estimate how many trades you can expect with each new unit retail."
More Dealership Minds Summit coverage
High Risk, High Reward — Dealers Tackle Used Business with Profit-Turning Trades
Keys to Keeping Used Equipment Inventory Clean and Moving
Process & Consistency Keep Used Equipment Business Moving
Optimizing Your Used Combine Business Through Data-Tracking
What Should Influence Your Used Valuations?
9 Tips for Successfully Selling Used Equipment Overseas
Working with Your OEM to Move Used Inventory
7 Tips for a Successful Dealer Auction