With the importance of parts and service increasing as the ag economy continues to decline, making sure aftermarket operations are running at peak performance is key. That's what Director of Aftermarket, Reed Allen, focuses on at AgriVision Equipment, a 17-store John Deere dealer with locations in Iowa, Indiana, Missouri and South Dakota.
Allen joined the company in August 2018, when his previous dealership, Pender Implement, a single store John Deere dealer based in Pender, Neb., merged with AgriVision Equipment. Allen was Pender Implement's president and CEO and is now a part of AgriVision Equipment's ownership group.
Optimizing the Department's Hierarchy
Allen's role as director is to oversee and direct strategy over the dealership's many parts and service departments, which have a combined total revenue of over $100 million. Directly beneath Allen is what he calls his "centralized team," made up of Todd Morgan, manager of service strategy; Joel Adams, strategic inventory analyst; Craig Herzberg, inventory control specialist; Jessica Gerlieb, project specialist and Tim McPherson, service performance specialist.
From there, the next level of management are parts and service managers, currently referred to as "leads." Allen explains how the company pushes store managers to function more as sales managers, leaving those managing the parts and service departments to focus on leading their departments. He explains he'd like to divide the responsibilities even further as the company looks to add more technicians. "Our vision would be to have a service manager as well as a service advisor," he says. "The service advisor would schedule work, close work orders, help manage time. Meanwhile the service manager would handle performance management, development plans, recruit ag tech students, basically perform the more high-level functions."
Dealer Takeaways
Use incentive plans to motivate your staff to give more than 100%
Don't be afraid to slow down the hiring process when you can to make sure you get the right person
Give technicians access to their own metric data so they can know their expectations
Get the basics in your department down before putting new systems into motion
Look for ways to bring the "retail mindset" to your aftermarket team
Adding Technicians, Working with Students
Allen opens up the discussion of hiring technicians by mentioning his efforts to avoid what he sees as the "short-handed panic button" method. "We're trying to overhaul our mindset to make sure we're recruiting the right talent," he says. "I've been there, when I was a store manager. Sometimes you hit the 'panic button,' and say, 'This is the first person that applied, I'm going to hire them.' We're trying to sometimes hit that 'pause button' and slow things down."
The proof is in the pudding on AgriVision Equipment's hiring process. The company had a net gain of 31 technicians in 2019 (nearly hitting their goal of adding two technicians per store in 2019), and so far, has had a net gain of 18 in 2020. AgriVision Equipment was the second highest John Deere dealer in 2019 for adding technicians.
"With the state of agriculture right now, the equipment fleet is as old as it's been in a long time, which is really why we're putting focus on hiring technicians," says Allen. "Our first priority with hiring is making sure our customers get the parts and service support they need. The second priority is making sure our technicians have a healthy work life balance, and the third is securing strong support for our overall business performance."
He says this year's hiring success comes from a renewed focus on working with ag students, an opportunity they missed last year. "We had a lot of success with mid-career hires last year, but we didn't put a lot of focus into recruiting high school students who wanted to go into diesel technology," says Allen. "In January this year, I believe we had 8 ag tech students. Now, in May, we have 17. We're focusing on trying to develop that pipeline of young talent who want to come into the industry."
A powerful tool the aftermarket department utilized to make this happen was a trip Todd Morgan, AgriVision Equipment's manager of service strategy, organized for high school students. The department took them to the John Deere Ag Tech program in Milford, Neb., and let them see the campus and program themselves. He says in total they took around 75 students, and most of their hires so far in 2020 have been students that went on that trip. He also explains having strong financial incentives is a good draw for bringing students to the dealership.
"This can be a very lucrative career, and I don't think that message is out there in the mainstream," he says. "These kids can come out of a two-year degree at college with very little debt and make a good living right out the gate.
"We'll also pay them while they're in school. Our students can make up to $20,000 a year just working weekends and during their breaks."
Mentorship is another tool the aftermarket department employs to make sure students get a solid foundation in the dealership, which encourages them to come back when they're looking to enter the workforce.
"We've got several high school students in the dealerships this summer," he says. "We try to get them exposed early. We look to get them paired up with a tech as well to help answer questions, particularly if that tech has also been through the student programs themselves.
"It's good for them to form a connection with the people in the shop before they leave, because then hopefully they feel there's someone here they know if they want to come back."
Part of this hiring success, and part of AgriVision Equipment's aftermarket success as a whole, comes from its incentive programs. One program Allen mentions is "The Great Escape," which pushes for stores to add more technicians.
"We have a system where each technician a location hires is worth a specific number of points," he says. "To qualify, they have to reach a certain number of points by the end of the year. We recently made a change so there are more points associated with ag tech students, where last year we focused on full-time hires.
"For stores that reach their goal, we send the entire service team, including the office, to Cancun, Mexico, in February. Last year we ended up taking around 200 people, including spouses." Allen mentions that a similar program exists for AgriVision Equipment's parts departments, built around parts sales growth.
The dealership offers other financial incentives including one based on labor performance. "There's a dollar per hour payout technicians can get based on their measured labor performance. We have ranges for this metric and, based on what range they hit, it gives them a dollar per hour bonus that we multiply by their billed hours for the month to get their total bonus payout.
"For some of our technicians, that incentive check can be a huge portion of their annual salary. Some of them are easily making six figures after it's all added together. We believe it's extremely important to reward our technicians for the valuable role they play in providing customer support."
AgriVision Equipment also boosted their referral bonuses as a way to encourage word-of-mouth hiring from technicians.
When it comes to mid-career hires, AgriVision Equipment has made an effort to be a "good neighbor" as Allen puts it, avoiding actively recruiting techs from other dealers. Instead, he explains recruiting from the trucking industry was a big part of their hiring success. "Where we had the most success with mid-career hires was out of the trucking industry," he says. "A lot of that was technicians looking for more stable hours, like those who were on nights shifts saying they want to work a normal day and see their families at night.
"Some of these hires were also looking for more variety. All they worked on was trucks, but here they might get to work on a tractor one day, then a combine the next day and a sprayer the day after that."
The Importance of Service Metrics
When it comes to measuring the performance of their technicians, Allen has his eye on several key metrics, not the least of which is technicians' labor performance rate.
"Labor performance is a technician's on-the-job productivity rate times their billing efficiency, which spits out a percentage," he says. Productivity rates are calculated as the total time a technician spends on a work order divided by their total clocked in time, while billing efficiency is a technician's total billable hours divided by their time spent clocked in on an order. "Recently our performance target has been 90%, but we think it needs to be a little higher going forward."

One of AgriVision Equipment's key tracked metrics in the service department is labor performance (right), which is measured as a technician's on-the-job productivity (left) times their billing efficiency (center).
Part of encouraging staff to understand and appreciate aftermarket metrics comes with AgriVision Equipment's Foresight online dashboard, where technicians can see their performance metrics, how it will affect their incentive bonuses and more.
When using incentive programs, lifting the cap on potential payout has helped motivate techs to go above and beyond their normal performance. "We previously capped the incentive rewards at technicians performing at 110%, which, unsurprisingly, left more of our techs hovering around 109% labor performance," he says. "So, we opened up the lid and lifted the cap to 130%. It didn't take more than a couple months for our top techs to get up there again. Incentive programs aren't the perfect motivator for everyone, but a lot of our top performers are definitely drawn to it."
To help improve on gross margin in the service department, the aftermarket team utilizes Codify Works, a job code database created by AgriVision Equipment, to provide quick labor estimates for technicians before they begin work on a job. This lets technicians know how many billable hours they have to work with; they'll be paid for any additional hours they spend on the job, but that extra time can't be applied to AgriVision Equipment's financial incentive programs.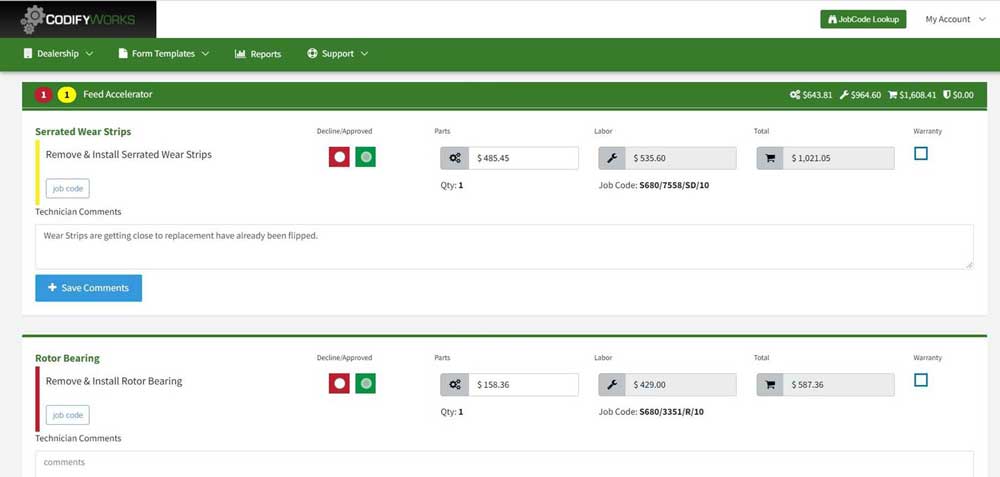 Through a collaboration with another dealership, AgriVision Equipment created CodifyWorks, a comprehensive job code database that allows its aftermarket team to quickly generate labor estimates and better measure their technicians' efficiency.
Allen explains that letting those few extra hours slip through the cracks is one key thing that eats away at their gross margin, but the situation has improved with some refocused effort from the team. "This is one area we've seen a huge improvement in this year, and part of it is just helping people stay accountable to hit the goals that are set for them."
"Previously, we'd have some technicians bill a job that would take 7 hours and put 10 hours down," he says. "Now we're being stricter, so that tech would only get paid for those 7 hours. Some of it is just holding staff accountable to hit targets that are set up for them."
He admits when it comes to measuring gross margin, it can be a double-edged sword for customers. But Allen is confident that success in the dealership is an attractive quality to customers.
"Gross margin can be a slippery subject," he says. "When you talk to customers about it, they might think, 'You're just trying to make more money off me,' and that's not necessarily where our push has been. But I truly believe that customers are attracted to profitable service departments, because they end up with more training and equipment, which are used to better serve customers."
---
"I truly believe that customers are attracted to profitable service departments, because they end up with more training and equipment, which are used to better serve customers…"
---
Another big thing AgriVision Equipment checks in its service departments is making sure customers get their bills quickly, to avoid letting "work in process" jobs hang around too long. "We'll run reports on jobs that have aged a certain amount since the last labor punch and send them to our service managers," he says. "As a customer, if I didn't get a bill until 3 months after my equipment was worked on, I'd wouldn't be very happy. I won't remember what was done, how much time I was billed for, etc."
Warranty work can be a struggle for some dealers when it comes to getting the manufacturer to pitch in. To combat this, the aftermarket team has two specific employees who handle all their warranty claims to make sure AgriVision Equipment gets the best return possible.
"We try to make our process solid and have the right stuff written down, so Deere's processors can see it's not a one-story line," he says. "Warranty work isn't necessarily a profit center, but it's more of a break-even basis. And as we continue to hit our market share targets, there's a lot of new equipment coming in that's within warranty, and we want to make sure it isn't a drain on parts and service."
One thing Allen makes a point to talk about is AgriVision Equipment's "workload estimator" tool for its service department. It's a way for service departments to know how far out they have work scheduled based on their number of technicians and jobs on hand. More importantly, it allows service managers to know when to focus on service calls and how much extra work they can afford to take on.
"In the past, most of our service departments were shorthanded, which was a big reason why we needed to get serious about hiring technicians," he says. "Now, with some stores that added 6 technicians in a year and half, they're in a different position where they can't sit around and wait for the phone to ring with a new job."
With this workload estimator tool, created by Gerlieb and Morgan, the aftermarket team is able to enter the number of technicians a location has plus how many combines, tractors, sprayers, etc., they are currently working on. The tool calculates the estimated number of days it would take their technicians to complete their current workload, letting service managers plan ahead for the work they're trying to get.
"In the off seasons, we're trying to recruit work and find equipment that needs service or maintenance. If we know something is going out warranty, we should do a maintenance inspection before that happens. Our goal is for this number of workdays per tech to never be less than a month and a half worth of work lined up. That gives them room to continue to make service calls and find additional work."
The vision for this tool is for all service staff to be soliciting work, but Allen says it mostly falls on the service managers to be accountable for the department's workload. He believes there's potential strength in getting technicians to solicit maintenance from customers, though, who the customers trust as "straight shooters" not looking to sell anything they don't need.
Back to Basics with Parts
Key to the operation of AgriVision Equipment's parts departments is what Allen calls the "5 qualifiers." He sees these as not only some of the more basic functions needed to run the dealership's parts department, but as the prerequisite for a department to participant in any of AgriVision Equipment's incentive programs. The "5 qualifiers" include:
Successfully managing surplus parts returns
Having good freight recovery
Managing negative parts on-hand (a location can't have more than 10 parts numbers at the end of the month with a negative inventory balance)
Successfully getting all newly delivered parts into bins
Managing hang tickets (parts orders that are partly filled, then later completed but not billed and left "hanging" in the system)
"When I came into my current role, we'd become a little relaxed on these basics," he says. "It's just about re-instilling the fundamentals.
"The biggest driver though for parts to earn their incentive is sales vs. budget. We put out a monthly budget for each parts department that they need to hit in order to qualify. It's also an incentive for them to hire more technicians, because that's the fastest way to sell parts."
On top of the "5 qualifiers," Allen has new initiatives he's implementing in AgriVision Equipment's parts departments to keep advancing and growing the staff. A big one is bringing a retail sales attitude to the parts department, as both a way to boost departments' performances and make sure customers get the best value possible.
"If you think about parts people in most dealerships, the process has historically been: I need a part, I go in, I tell them what I need, they give it to me and I leave," he says. "There's not a lot of, 'Hey, if you're getting this, you'll also need this.' Everybody can probably think of one or two parts people they've worked with like that, and we used to just tell them they're exceptional parts people. But now we're driving our whole team to think more about solutions for our customers, to really communicate and sell value, no different than what we expect of our salespeople."
---
"We're driving our whole team to think more about solutions for our customers, to really communicate and sell value, no different than what we expect of our salespeople…"
---
Allen also plans to track more metrics once the "5 qualifiers" are set in stone. For instance, he'd like to see his parts people be able to track sales by category. "Is there a way for us to track parts sales by category," he says. "If we have customers who don't buy parts from us in certain areas, can we find the reason for that? Is it price, or do they think there's a better product they can buy from someone else?"
When it comes to auditing parts inventory, AgriVision Equipment goes through the process once a quarter. For each department, Herzberg and Adams will pull a query of 100 random parts numbers to check, comparing the listed amount in the system to what's actually available.
"If a department drops below 80% accuracy, they have to complete a full inventory by the end of the month or they lose eligibility for the incentive that quarter," explains Allen. "And if they score below 95% more than twice a year, they have to do a full inventory by the end of the year."
AgriVision Equipment achieved an absorption rate of 91% in 2019, particularly impressive considering the dealership had 2 locations destroyed by floods last year. The company is aiming for an absorption rate of 110% in 2020 and as of May, sits at 107%. According to Allen, the biggest driver behind that has been adding technicians and focusing on gross margins (which have improved 10 points from last year).
To help educate aftermarket staff on the importance of these metrics, Allen and his team host regional meetings where he, Todd Morgan and Joel Adams present to aftermarket staff on what can affect things like gross margin and absorption rates. He explains that because different employees can affect different parts of the aftermarket process (e.g. service managers can't control most fixed costs that a store manager would), they make sure to cover all the little things that parts and service managers can influence.
"It could be making sure we charge our AC handling fees and being sure we don't miss our charges for hooking up equipment for a dynamometer test," he says. "There are little things we forget about. It's not about nickel and diming our way to success. It's about making sure we are managing the performance of our technicians."
Other things Allen wants his departments to watch are:
Not giving too many discounts,
Not waiving too many trucking fees
Being sure to correctly apply shop vs. field labor rates on service calls
Minimizing overtime (particularly with new techs being hired to relieve the workload)