The single-store John Deere dealership can be hard to find these days, but in Two Rivers, Wis., Eis Implement is a thriving business that has found ways to make its smaller footprint work in its favor. The dealership has found ways to adapt and grow with its customer base. Jon Eis, chief operating officer, says 25 years ago about 80% of Eis Implement's customer base was large agriculture and 20% was residential, and 10 years ago that split was around 75-25. Today, the business is split 50-50 between large ag and rural lifestyle customers. 
"What isn't a challenge when you're a one store dealer?" says Chris Eis, president of Eis Implement. "For me, it's just having to find a niche for our customers and explaining to them what we do differently that multi-store dealership can't do, because there's a lot of things they can do that we can't do." He notes other things like volume discounts on wholegoods that as a single-store just aren't available to them as challenges as well. Despite the challenges, the management takes a progressive approach to the business and focuses on finding new ways to be more efficient and better serve their customers.  
Eis Implement
Location: Two Rivers, Wis.
Management Team: Jon Eis (co-owner and chief operating officer) and Chris Eis (co-owner and president)
Major Line: John Deere
Shortlines: Landoll, Wacker Neuson, H&S Manufacturing, Soil-Max, Kuhn, Demco, Stihl 
Top Metrics to Watch
Without hesitation, Jon says absorption is one of the most important metrics they watch. He is part of a 20 Group through Spader Business Management and a big focus of those discussions has been on available income. The management team has given employees some authority to make the decision on higher margin or selling more. 
Dealer Takeaways
Educate employees — particularly in the parts and precision departments — on how to make the decision on whether to make a higher margin or sell more on a case-by-case basis to increase available income. 

When valuing trade-ins, aim to be as close to wholesale value as possible to reduce the chance of losing money on it if the unit ultimately gets sent to auction.

Networking and communicating with dealers of other brands and in other regions can help get an accurate value of used equipment. 
"That's been one of our successes on the precision farming side. We've said to them, 'I don't care how you make the money.' If they want to make more margin or just want to sell more, whatever combination they have to do, there's no strict rule in that scenario. We tailor it to what they need," he says. "If they can turn a product a few more times faster, they can sell it for less. If they're in a position where they can make a little bit more margin, go ahead and do it. Giving them a little more reign has helped."
That same approach has helped in the parts department, too. The decision on growing margins or selling more is made on a transaction by transaction basis. Chris says the parts staff has really bought into the concept, and now they are working on how to translate the approach to the service department and hope to have a strategy in place by spring.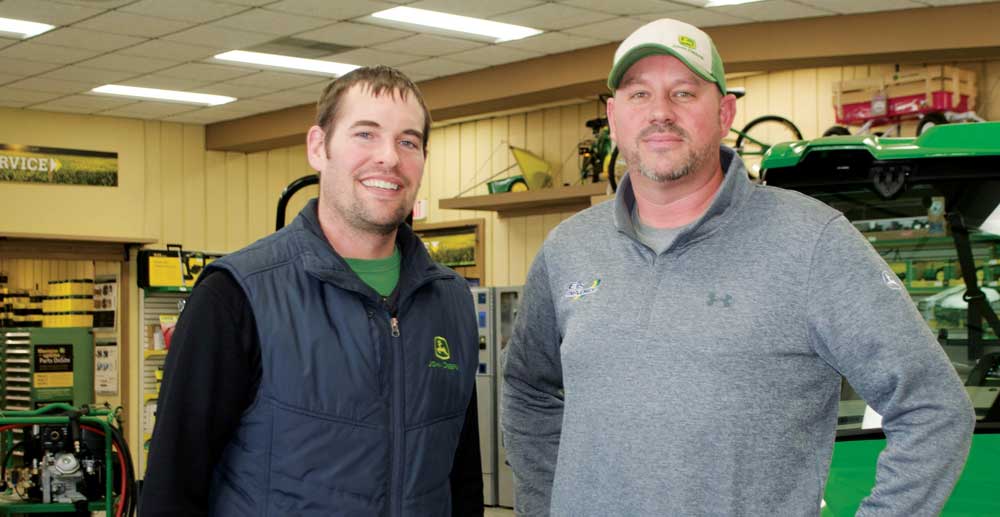 Jon Eis, chief operating officer, (l) and Chris Eis, president, are the third generation owners of Eis Implement, a single-store John Deere dealership in Two Rivers, Wis. Here more from them both on Farm Equipment's Our Dealer Story podcast.
Eis Implement currently has an absorption rate of 85%. Before the downturn in the ag economy hit, the dealership had an absorption rate of over 100%, which then dropped into the low 70s just a few years ago, says Jon. 
"We've had to do a lot to move that needle," he says. "We've done a lot on growing our parts margins, growing our service margins, and marketing has helped with that too. Cutting expenses when we're running day to day all the time. Unfortunately, everybody says we should work on our business and not in it. It just doesn't work for us in a single store. Spending more time and finding those expenses, where we can weed things down has helped. Because from Deere's perspective, we still have a high expense ratio. From a Spader standpoint, we've got them nailed down to where we want them and they're within their ranges. We're always looking at that."
---
"For me, it's just having to find a niche for our customers and explaining to them what we do differently that multi-store dealership can't do, because there's a lot of things they can do that we can't do…" – Chris Eis
---
From a wholegoods perspective, Chris pays close attention to new and used equipment inventory turns. "I'm trying to make sure our turns are in line with what they should be and they are pretty good. We're trying to make sure turns on new equipment stay a little bit more robust than what it's been. I want to jump up a little bit more yet. It all comes down to trading right. If we trade better, we're going to move stuff faster," he says. 
Eis Implement's new equipment turn rate is 2, and Chris says he'd like to see that number higher. "We don't have a high new inventory on the ag side. Lawn and garden, that's a little different," he says. "I just had to order 16 Gators when I have 6 sitting here. That's how [Deere] wants to do business. They want inventory on dealers' lots. It gets a little scary. 
"When I hit enter for the order, it hurt a little bit more. We've got to figure out a way to market these so we can get these things sold. I worry about it more, but then when I look at the history of what we sell in a year, it should be fine. It's just when we have that inventory now and we're ordering it now, and it's spread out from May to July … we hope over that period in time we're selling quite a bit of what we have and then we're filtering what's coming in."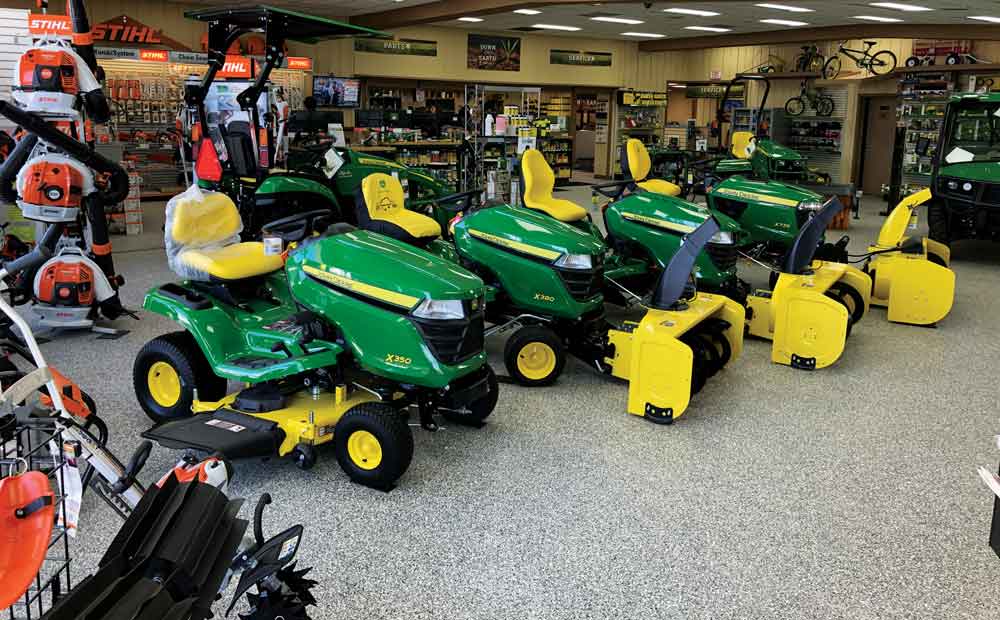 While rural lifestyle equipment only made up about 20% of Eis Implement's business 25 years ago, today it accounts for 50% of the dealership's revenues.
Used ag equipment inventory turns are sitting at about 2.5 and on the lawn and garden side used turns are at 3.5. "I'd like to get that [ag turns] to 3 and I want to get to 4 on our lawn and garden. I think both are doable," says Chris. 
Managing the Used Side of the Business
Like many dealers, 2015 was a bit of a walk-up call for how Eis Implement was managing its used equipment. "We had a lot of inventory that was traded in at this higher level knowing that's where they were," says Chris. "Then when it fell, it fell fast. We had equipment at that time that we had held on to for a couple of years thinking we'll get out of it. Well, then things never turned around. Pretty soon we just had to cut bait and realize this thing is never going to be worth this money again. It's got to go." 
Today, Chris, who does about 95% of the valuations on trades, uses IronConnect to gauge where values should be. "Our rep is really good with that. I give her the serial numbers and things like that, and she'll get me some results based off that."
---
"Dealers have to get back to working together rather than just rushing to auction…" – Jon Eis
---
Chris also watches auction results through Tractor House. He'll track what certain models are going for at auction and then cross references what they are selling for at retail. 
"I've been religious on looking at wholesale values and trying to stay in that ballpark dependent on if it's a popular model or not. Maybe we can go a little bit more, a little bit less. I want to get to a point where I know at the end of the day, if this thing doesn't move in 6-8 months, I can get rid of it at auction and I'm not going to lose money or  lose very little. That's been really the key to try to keep that," he says. 
The dealership has also worked with Deere to help optimize their used equipment. "We brought them in to help us with a used optimization," Jon says. "They brought a lot of strategies and techniques in that they've done with other dealers to help give us a better plan of how we can manage some of that inventory and that's helped us."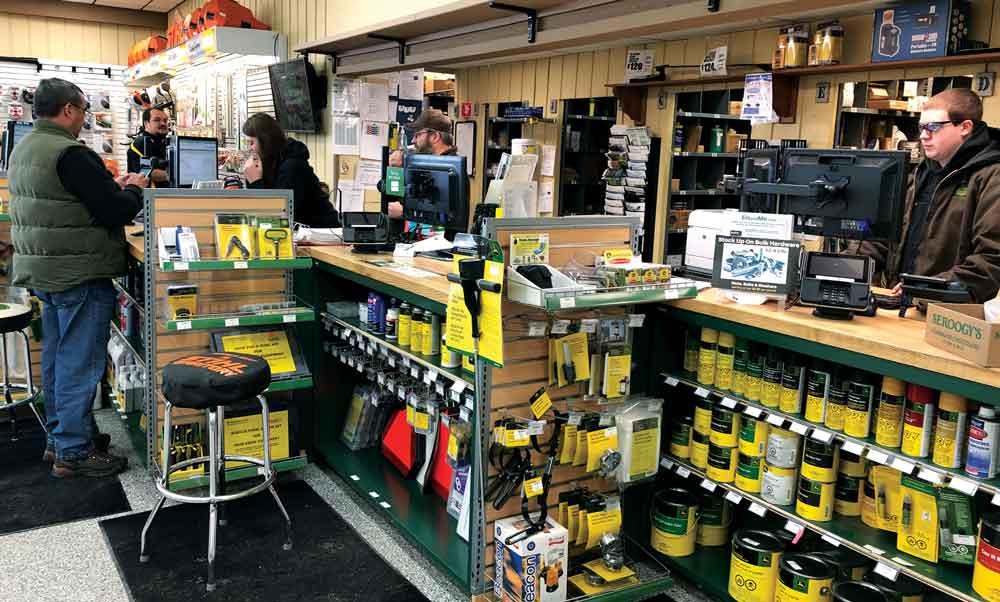 Eis Implement has put a large focus on empowering its parts department staff to increase available income by either improving margin or selling more and deciding which option is best on a case-by-case basis.
Chris and Jon both say communicating with other dealers, across brands, has also been key to managing the used equipment inventory. "We communicate quite a bit and that helps with networking, building that up. Dealers have to get back to working together rather than just rushing to auction," Jon says. "We have so many customers now who will just go to an auction and buy their own equipment. They're not even coming to the dealer anymore. That hurts because no dealer is coming out ahead on that deal. If we can utilize sources like IronConnect more where we can communicate dealer-to-dealer that can help."
Chris adds that properly managing the used equipment inventory is an industry-wide issue, and hopes that across the board dealers continue to manage their inventory correctly. 
"I'm hoping now that people saw what it was like the last 4 or 5 years that now when things start getting better we — all dealers — don't start getting back into bad habits. We know that this is where we should be. Let's just stay there. Let's try to work that way. I hope that everybody learned their lesson," he says. 
More on Eis Implement
To read more from Farm Equipment, Rural Lifestyle Dealer and Precision Farming Dealer on Eis Implement visit www.Farm-Equipment.com/0420.