There likely aren't too many family owned companies in the world that are successfully growing under the fourth generation. One of them is Krone. Bernard Krone's great-grandfather started the company in 1906, and it's been passed down to his grandfather, his father, and just over a decade ago, to him.
The 40-year-old Bernard Krone (he's the third Krone son to carry that name), CEO of the company, sat down with Farm Equipment during its 2018 annual sales meeting to discuss the company's path to becoming a global leader in hay tool sales as well as how its family-owned dealerships helped them better relate to their dealers and in the transition of leadership between generations.
Today the company's ag focus is hay and forage equipment, but that wasn't always the case. The company's first products were tillage tools, but they made the decision to cease offering them in the late 1980s. Krone also owns Europe's second largest manufacturer of commercial vehicles, trailers, re-fill trailers and semi-trailers, and Bernard's sister operates one of the largest Deere dealers in Europe.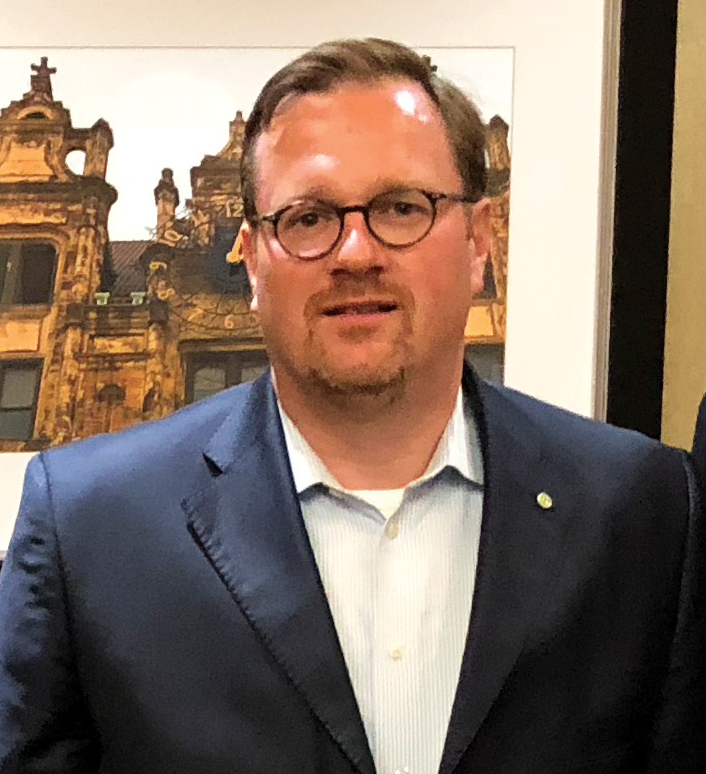 Bernard Krone
'Number 4'
Tillage Roots, Migrating to Hay & Forage
Bernard Krone says his family's multi-generational business had humble beginnings. "We started in 1906 in Spelle, a small village in western Germany," he says. "My great-grandfather, Bernhard, started as a blacksmith and my great grandmother, Anna, ran the farm and a little beer pub. When my grandfather, the second generation, took over, the company was already building small farm machines and tillage equipment.
"The company continuously grew after World War II. Then in the '60s my father, Bernard II, was forced into leadership when his father became ill," Krone continues. "Under his leadership, the company had the fastest growth in our history and also entered the commercial vehicle business.
"We made tillage equipment, tedders, rakes and mowers," Krone continues, "and in the late '70s developed our first round baler. My father wasn't sure if we should manufacture the round baler or sell it to somebody. We talked to John Deere, but they already had a belt baler. Then my father said, 'I really like the design; if nobody wants it, we'll do it on our own.' After 25 years, they were No. 1 in Europe with this baler, which showed that totally new products can achieve great success." 
The round baler led to specialization in hay and forage products. "The decision to exit the tillage business," Krone says, "was hard because the turnover [sales volume] was one-third of the company. We had a lot of people working in that area and a long history — tillage equipment was essentially the first equipment we made. While it was one-third of the turnover, it was 50-55% of our production cost. Specializing in one product category, hay and forage equipment, gave us focus and innovation to better serve customers. I think focus — especially in the farm machinery business — is very important."
Krone says the exit from tillage production challenged the company to look for new products to design and build. "Everybody thinks when you stop a product line, you lose sales and customers and maybe the company is going down. We had to show everybody that we were still there, had good ideas and were ready to grow. Everyone in the company had that feeling, not only the managing directors and my father, but especially the engineers.
"I'm not sure we would have produced something like the BiG M without getting rid of tillage equipment," Krone continues. "It gave us free space in the development department to think out of the box. We looked at what could drive the development of the company, so we focused on hay and forage equipment, which were going in the direction of larger machines."
In 1995, Krone introduced its first large square baler. Krone says it attempted a partnership with that product. "We talked to Deere about distribution and worked together for a couple of years in the '90s, which was not a success. From today's perspective, I feel that because it was not developed by Deere, maybe they were not really interested in it enough."
---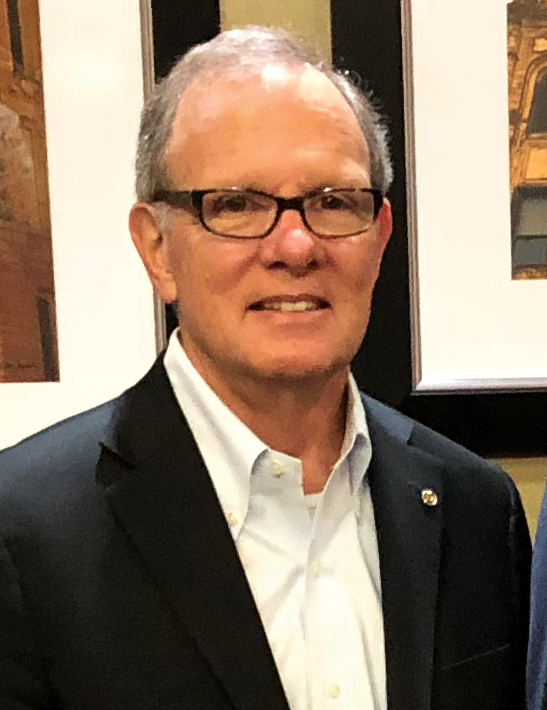 Rusty Fowler has been the face of Krone North America since 1986 (hiatus between 2014 and 2018). He retired last month as Dietz Lankhorst was named president and CEO. In late February, Lankhorst announced a $1.5 million investment to move Krone's North American headquarters from Memphis to Olive Branch, Miss.
---
While the Deere distribution agreement didn't pan out, the company continued developmental work on a square baler, later acquiring a high-density technology, which Krone says has been very successful. "That was much needed by professional customers in Germany and Europe. Today, we have a market share of 40% in Germany and nearly 50% in Australia. Large square balers are one of our most important products.
"In the late '90s," Krone continues, "we introduced the BiG M, our first self-propelled mower conditioner, and in the early 2000s our first forage harvester, the BiG X. Later, we produced the biggest forage harvester in the world, with more than 1,000 horsepower. We learned a lot in the first years about how customers operate these machines and design and maintenance in larger equipment." 
Krone-Owned Dealerships Bring Perspectives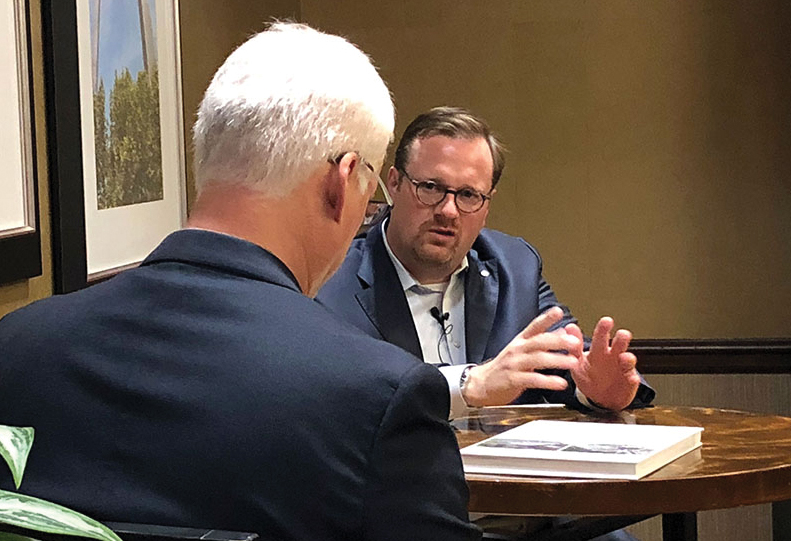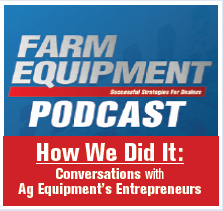 Listen to the story of Krone in Bernard Krone's own voice, recorded during a private interview at Krone's 2018 annual sales meeting. Listen to the "How We Did It: Conversations with Ag Equipment's Entrepreneurs" podcast. 
The Krone dealer network globally is about 400 independent dealers. Also in the family are 6 stores. "My sister, Dorothee, runs the dealer end of the business under a separate company called LVD," Krone says. "We have a long history with Lanz Bulldog, which is now John Deere in Mannheim. We've sold Hanomag tractors, now Komatsu construction equipment, and later sold farm tractors. I would say for about 50 years we've sold Deere tractors. My sister is probably the largest agricultural John Deere dealer in Europe." 
Krone explained that several manufacturers in Germany started as dealers in their early days. His family's manufacturing company, however, may be the last to still operate retail stores. 
"We separated that business out of the Krone Group, so we have no conflict of interest. We have grown the business in the last couple of years and now a Deutz dealership also belongs to our group." Krone says his sister is a good dealer for the family. "But she's not allowed to sell every product, like our forage harvesters. That's also the reason we have another dealership in that area."
Krone says the perspective with both manufacturing and retail in the same family makes him appreciate the value of a dealer network. "Some manufacturers today believe they can survive without dealers or without treating them in a good way. I'm pretty sure that without dealers, we wouldn't exist anymore; we have to support them and they have to earn money. 
MORE FROM

"Nobody knows customers better than dealers and they have very deep relationships. They know their customer base better than any manufacturer could and selling via dealers is the best thing to do. Of course, there are regions in the world where we have to go our own way due to lack of available dealers, but to support our dealers is very important for us.
"For example, when it comes to warranty claims, we believe that giving the dealer a good hourly salary is important. In Europe, our company has the highest hourly warranty support. At the end of the day, the dealer can only survive when they earn money and that is the reason why we treat them so well. Without our own dealership, we wouldn't have the same knowledge about what is driving the dealer, what is concerning him, and what is bringing him forward; it helps us." 
From the Third to the Fourth Generation
"Be good at school," were words the young Bernard IV heard often from his father. "When I was in the first years of my education, I was not into learning. I enjoyed meeting friends and playing in the schoolyard. But my dad said, 'Please, Bernard, you also have to learn, otherwise I don't need you, in the future, running the business.' At some stage, I turned it around and then I was OK in school. I was never the best, but I knew how to go and develop good values.
"I really enjoyed going into the factory," Krone continues. "I'd grown up in Spelle, literally next door to the company. I would go there, talk to employees, go through the factory, play there on the weekend, drive a forklift truck and other things like that. It was my favorite place to be beside home.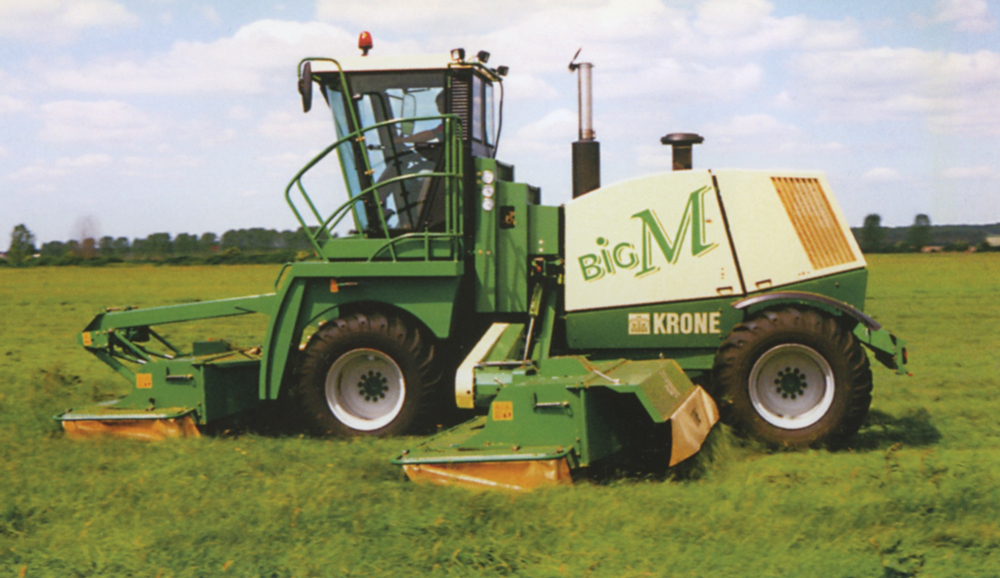 The exit from the tillage gave Krone the focus to pursue an industry leading, self-propelled large-area mower with the BiG M, which it began building in 1995.
"After university, I worked as a consultant at a company that did all different types of project management," Krone says. "We did garbage trucks, axles and many different machines, as well as one of our customers manufactured guns; I enjoyed that job. One day my father said, 'Bernard, I need your help in Denmark where there's a quality issue. You'll be in a small factory where you can make your own mistakes.' I said, 'I'm not sure if you can afford my salary as a consultant.' He was not smiling.
"Later I worked in Dublin, with our partner there, as a machinery mechanic, first for a couple of months in the workshop and then in the field as a service mechanic. I worked on our first Combi-Pack in Northern Ireland, close to the sea. In the first weeks, I was with another guy and then on my own. Of course, word got around that Bernard Krone was a service mechanic and I'm pretty sure that some people got a phone call before I went there, but some were surprised when they heard my name and they'd ask, 'Do you have any relations to the company Krone?' That was a good time."
"I made apprenticeship in 3 years as a mechanic and I also worked in the quality department. When I started in our company, from the very first day, quality was one of the biggest issues when talking to employees, engineers, suppliers and manufacturing people. Through our history, when we had bad quality, there was not one department or one individual responsible; it was always on the team. Everybody is involved and has to care about it. Nobody is afraid to call out a problem because everybody knows we don't blame. We just want to make it better.
"As we solve it, we also do an investigation to why the problem exists. I'm sure that is something customers like about Krone. We are not perfect, nobody is; we know that. But when you have a problem, you can be assured that you'll have help. We want the highest technology for the best quality and an affordable price. That is what we work on every day."
Differences in Style
Twelve years ago, Krone took over leadership of the company from his father, who stepped aside. "The agricultural business is totally in my hands except for a small share still owned by my father. Everybody from the outside said, 'It could be tough for you, Bernard, to lead because your father is a strong character and knows everything.' And I said, 'Yes, but he knows from his time with his father that he has to step back and let me go my own way and make my own mistakes.'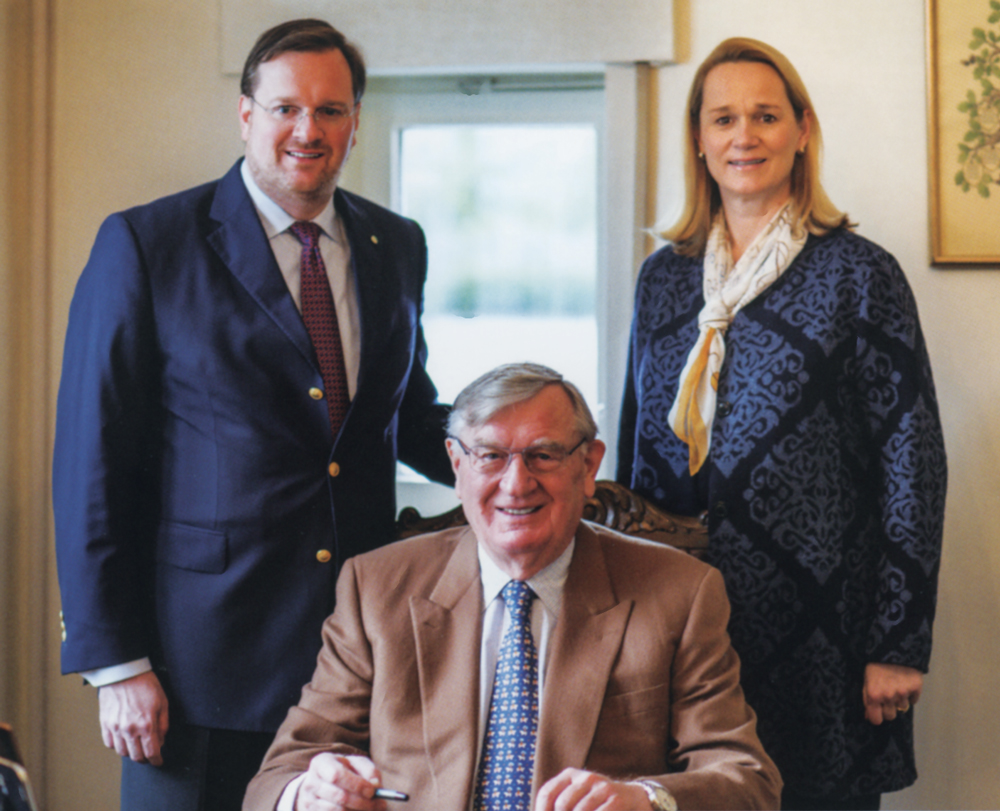 Pictured with Bernard Krone (l) is father, Dr. Bernard Krone, and sister, Dorothee Renzelmann, who runs the farm machinery dealer businesses.
"I'm quieter and more relaxed," says the younger Krone, describing how direct his father's style can be. "I take the information then do some investigation to see if what I heard is right, after which the same arguments may be the same. But not everything is a disaster." 
Krone admits he and his father occasionally had heated disagreements about company issues. "We may get angry, but the next day we talk again. Sometimes he'll say, 'We'll do it like you said.' Recently my father made a suggestion and I said, 'I think I have a better idea,' and he was a bit disappointed. Then later I called him and said, 'Dad, I have thought about it again, and maybe your idea is not bad. We will do it like that.' And my mother called me the next day and said, 'What did you say to your father? After you talked, he was euphoric.'"
Structure for Global Leadership
Krone says their successful family business has come, in part, from a clear business structure over the decades. "Something that was always important for my father was that we keep the business in our own hands. We never wanted to go public and it was important that there be only one successor in the family. My sister has the dealership business and I'm not involved. My oldest sister, Nicola, is not involved in the company. So, there's always only one successor, one leader and one owner."
The company has become a global giant. "We will reach sales of the equivalent of $2.5 billion in U.S. dollars, of which 30% are derived from ag manufacturing. "Like always, profit is not good enough, but reasonable. We invested a lot in back into the company in the last 12 months. We now have around 6,000 employees. We have six factories; five of them are for the commercial vehicle business and one for farm machinery. We also work with partners and have machines coming from Eastern Europe and Canada, which are exclusively made for Krone."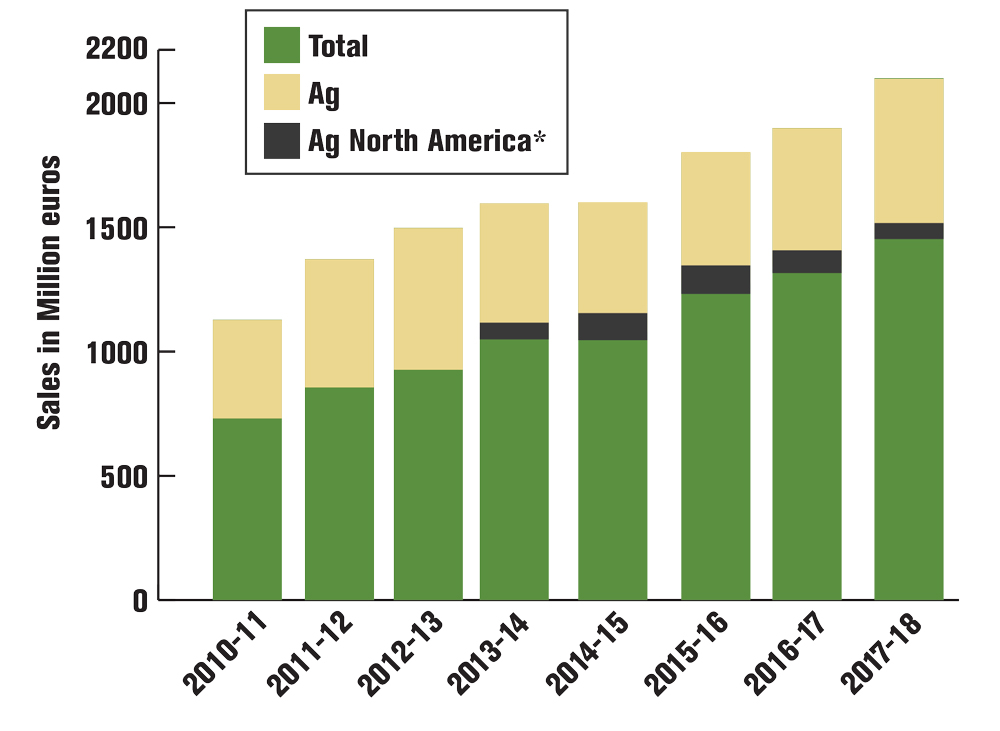 Krone Group, which includes the commercial trailer business, generated $2.1 billion in annual sales in 2017-18, of which $642 million were ag machinery. *Years Reported
SOURCE: Ag Equipment Intelligence
Krone admits that becoming a global player in the hay and forage business presented challenges. "It took a while until everybody realized that we're not only selling in Germany, but that we also sell to California, for example, where the harvest is much earlier. There's a story which we sometimes laugh about that somebody from the U.S. called and said, 'We need the machines that we've ordered; harvest starts soon.' The engineer on the phone looked out of the window and said, 'The grass is not even growing; what is the problem?' Today you can smile about it, but we had to learn that the regions, climate and customer's needs are different.
"Today, North America is our biggest market besides Germany," Krone says. "We have about 100 employees here in the U.S.; that's the biggest Krone workforce in sales and service outside of Germany. We have a good market position in mowers, tedders, rakes, square balers and forage harvesters."
Krone sees North America as a priority for future growth. He hopes that dealers here understand the quality of the Krone offering, the company's commitment to dealership profitability and an ace in the hole that many may not yet embrace. "We have more potential in our round baler segment," he says. "I think the round baler is good, but we have the European bale chamber measurements, which do not completely fit the U.S. market and we know that." 
Possibly giving a hint for how the company plans to increase round baler market share, Krone closed by saying, "Maybe there will be some changes in the future; our next generation is on the way." 

Farm Equipment's Ag Equipment Entrepreneurs series is brought to you by Ingersoll Tillage.
Ingersoll specializes in seedbed solutions. Whatever seedbed challenges you have, Ingersoll can give you the right tools to get the job done. For every tillage and planting practice, there's an ideal Ingersoll application, visit www.ingersolltillage.com.