A look at the products and/or market segments that dealers have found profitable during the last 3 years shows the dichotomy of today's markets for farm machinery retailers.
Overall, dealers have seen sales growth from both their traditional customer base of professional farmers and the rapidly escalating base of customers often referred to as rural lifestylers, which include LPOs, hobby farmers and others who are opting for life outside the bright lights of the city.
More than half (52%) of the dealers polled identified the most significant sales increases in the past 3 years came from products purchased by professional farmers, while 39% say their most significant sale increases resulted from the growing rural lifestyle customer base. The remaining 9% indicate that "other" products showing good sales increases came from both customer groups.
The Success in Shortline Machinery series highlights the best practice strategies employed by top farm equipment dealers to promote and sell shortline equipment. It is brought to you courtesy of Art's Way Manufacturing.
Art's Way Manufacturing is a proud Iowa manufacturer of specialized ag equipment including grinder mixers, hay/forage equipment, bale processors, manure spreaders, and land engaging products.  Built on a 60 year tradition of quality, we have recently implemented our Continuous Improvement program.  If you are seeking to grow in 2018 with Art's Way's quality products and service, please contact our Customer Service Center for your area representative at 712.864.3131 ext. 1 or via email at marketing@artsway-mfg.com.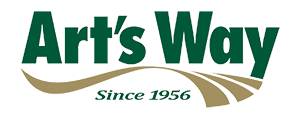 Asked "what new products or niche product segments" have emerged in the past 3 years to show significant sales growth, the top 4 identified by the dealers surveyed showed a split between their traditional customer base of farmers and the rapidly expanding market of rural lifestylers.
The product segment mentioned most frequently was precision farming systems and equipment (22.6%). In this category, GPS auto-steering was most frequently noted along with mapping, sprayer controls and other advanced technologies.
Ranking zero-turn mowers (19.6%) number 2 on their list, dealers reinforced their projections for continued expansion of their business base with rural lifestyle customers.
Ranking third in terms of increased sales was the growing numbers of  "small " tractors that dealers are handling these days (12%). While a variety of market segments contributed to the increased sale of compact and utility tractors, most agree these gains came largely from the increasing number of individuals who are adopting a rural lifestyle both in the U.S. and Canada.
Fourth on the list of growth areas for equipment retailers were products involved with specialized tillage practices (10.5%) including strip-till, zone-till and vertical-till. The growing interest in conservation tillage, as could be expected, is attributed to professional growers who are looking to reduce overall crop inputs (labor, fuel, fertilizers, etc.) while generally improving stewardship of the land.
Dealers who expanded their market reach into compact construction and light-industrial equipment ranked this segment as fifth (9%) on their list of growth markets in recent years. As urban sprawl begins to overwhelm agricultural acres in many metropolitan areas, dealers say it only makes sense to view building contractors and municipalities as prime customers for equipment sales. Not only does it open new markets to ag equipment retailers in terms of the sales of wholegoods, it also gives them the opportunity to improve absorption rates through sales of parts and services.
Dealers also say they experienced good rates of growth in the sale of all-terrain (ATVs) and utility-type vehicles (UTVs), as 7.5% of dealers polled saw increased sales of these units recently. Again, most attribute the rising sales of ATVs/UTVs to the movement of traditional urban dwellers to rural settings as well as their growing use by sportsmen for hunting, and traditional ag customers who find them practical for various applications.
Rounding out the list of markets and products where dealers saw improved sales was in hay and forage operations (4.5%), loaders and other miscellaneous attachments (4.5%), sprayers (2.3%) and in  "other " categories (7.5%) that included products ranging from bulk oil, orchard equipment, wood processing machinery, snow blowers, hand tools and used tractors.
Technology at the Fore
For a lot of reasons, when it comes to the professional grower, products associated with advanced technology are clearly at the top of their  "to investigate/purchase" list. "Guidance systems and new tech gadgets are what customers want," says John Garner, Farmers Implement Co. of Yuma, Colo.
"Precision farming has been the buzzword and hot product the last couple of years," says John Janssen of Fred Haar Co., Freeman, S.D. "In the near future, precision farming and the products that go with it are going to be a large part of the growth in the ag business. Ease of operation and accuracy seem to be driving this segment of our business."
The rapid adoption of GPS-based and other cutting-edge technologies isn't limited to row-crop operations or any particular geographic region, according to several dealers who participated in Farm Equipment's most recent survey. In addition to its adaptability to an ever-increasing number of applications, the investment in this equipment has gotten to the point where it's beginning to make sense for a wide variety of farming operations.
"Farmers are evolving into a new era where saving time and money through precision farming is becoming more and more important," says Travis Emitte, Lawrence Tractor, Tipton, Calif.  "They see the initial cost as minor compared to the improved crop yields and the time it saves, which reduces labor, fuel and equipment maintenance costs."
"Our biggest new product over this past year is the Outback Guidance GPS system. The competitive pricing has made GPS available to many more users," says Kari Mithchell, Mobile Ag & Industrial Supply, Bakersfield, Calif.
Eric Schnelle, S&H Farm Supply, Lockwood, Mo., has found that as the cost of entry-level GPS systems has fallen, his customers are finding they can justify the purchase of the new technology and adapt it to applications where it was previously not considered to be viable.
"Since the cost of the entry-level GPS systems, like the Outback S model, have dropped below $2,000, we have found a new market with cattle producers. These systems are great for helping this segment reduce input costs when spraying, fertilizing or seeding pastures, plus they reduce stress and fatigue. Many farmers assume these systems are only for typical row-crop farmers, and once they see what the product will save them, they're thrilled with it."
Besides reducing inputs, dealers say that other economic forces are also making it easier to justify an investment in technologies like auto-steering.
Steve Lefeld, president of Lefeld Implement, Coldwater, Ohio, reports that GPS and auto-steer have seen the most growth of any product segment at his store and it's being driven by rising land prices and cash rents throughout the Midwest.
"The rising value of farm land is driving my customers to do their best with every acre farmed. The next generation farmer has emerged, and he's looking for that 'edge' in squeezing every dollar out of every acre."
Gary Harton, Jackson County Equipment Co., Enda, Texas, has seen the impact that the technology has brought to his dealership. "Outback guidance system sales have tripled in the last 3 years," he says.
But the best of the new technologies is yet to come, says Bill Hawkins, president of Ag Pro Companies, Stuttgart, Ark.
"We have just begun to scratch the surface of GPS sales. This looks to me to be one of our brightest areas of not only sales but profits going forward. I attribute the success of these two product areas to performance of the Z-track and the accuracy and economy that GPS brings to agriculture."
An Escalating Trend
Dealers longing for the good old days when they knew exactly who their customers were and what to expect from year to year may be best advised not to look back. Not only are times changing, but so are their customers.
The diversity of the customer base that dealers have seen during the past decade is escalating. Dealers located near mid-size and larger urban areas can expect to see increasing numbers of LPOs and hobby farmers walking their lots and strolling the aisles of their showrooms — if they're equipped for this group of buyers. Recent trends indicate that this group is leaning toward doing business with equipment dealers because of the after-sale service available. Something the box stores and garden centers don't bring to the party.
Those in heavier agricultural areas will see this customer base shrinking in terms of units, but getting larger in terms of acreage. It'll be a smaller but more demanding group that wants answers and wants them now. They'll want service and they'll want it now. They will be looking at anything and everything that will reduce their input costs and improve overall productivity.
Changing Times: A Heads Up
Ron Waldschmidt of A.C. McCartney, Durand, Ill., is giving equipment retailers a heads up when he says, "Dealers who are not looking 3-5 years ahead and making plans for personnel and facility changes will find themselves playing catch-up to the competition and trends in the industry."
The way he sees it, "The next 3-5 years will see an increase in both larger farm operations and the small farmettes. Both are potential profit opportunities but will require different sales and service requirements. This may dictate that we begin to specialize and personnel will need to be dedicated to specific areas.
"GPS and new technology will require more dedication from the personnel working with the farm population," says Waldschmidt. "The small operators will require more assistance with basics and they tend to shop/buy on weekends and evenings. This will mean different store hours than we have been used to with the typical farm customer."
The Farm Equipment Mid-Year survey of equipment dealers reveals that they expect traditional ag sales to be steady with the areas growing most to include precision farming (10.6%), the growth of larger acreage operations (7.4%), specialized/conservation tillage practices (7.4%), hay and forage (4.3%) and sprayers (3.2%).
This is exactly what Kevin Rossler of Markusson New Holland, Emerald Park, Saskatchewan is seeing. "I believe the largest growth in the next few years will be higher quality GPS, autosteering products and automatic sprayer boom controls that work with GPS. We will also see the new equipment sales will be of the larger models because of the larger farms taking over the smaller farms. They'll have more acres to go over with less manpower."
Dennis Wagner, Valley Implement, Sterling, Colo., expects AMS, strip-till and spraying equipment to fuel his dealership's growth during the next few years.
Marvin Bartel, Straub International, Marion, Kan., sees the demand for minimum-till and no-till equipment expanding in the near term. He says these products are  "best offered through a shortline."
Exploding Consumer Market
But it's on the consumer side where dealers may see the most rapid expansion. More than 30% of the dealers polled identified LPOs and hobby farmers (22.3%) and small tractors with attachments (13.8%) as their best potential for growing sales during the next 3 years. Add to this zero-turn mowers (7.4%) and ATVs/UTVs (5.3%) and it becomes clear that dealers looking for new sales to bolster their traditional ag business need to look toward expanding their consumer markets.
Another area where dealers see significant potential for growing sales is with compact construction and light industrial equipment (11.7%).
Danny Spears, Williams Ford Tractor, Fayetteville, Ark., says the trends that will lead to increasing sales from the consumer side of the business are already in place. In fact, the Williams' dealerships are taking their move into consumer markets a little further than most traditional ag dealers.
"Growth being what it is here in the northwest Arkansas area, the homeowners and the construction guy will be the driving force behind the continued success at Williams Tractor and our sister stores (Bobcat of NWA, Freedom Powersports and Williams Tractor Berryville). The handheld equipment line has a great potential for growth as does large and small construction lines. One other place that we hope to grow is with our line of Victory motorcycles. With the population explosion comes a tremendous amount of wealth and the ability to spend it," says Spears.
The trends initiated by the urban sprawl of mid-size and larger metropolitan areas that are changing the face of farm equipment marketing isn't limited to the U.S. as Canadian dealers say they're looking at the same transition.
Alex Lush of Swanston Farm Equipment, Rockwood, Ontario, points out that he's seen a shift toward smaller acreage owners in his area.  "Hobby farmer and estate owners will be the growing market segments, as will construction/industrial due to urban growth in both segments. Our major line will provide the solutions for hobby farmers while shortlines will provide solution for estate/landscape, light construction/industrial markets," he says.