For all their innovative appeal and response to market conditions, dealers say it can be a struggle introducing new shortline equipment into their markets. The benefits of carrying the new product need to be clear and confidence in the supplier must be solid before most dealers will consider rolling it out to their customers. But first, there must be a need.
For the shortline manufacturer, getting in the dealership door is only the first battle. In a Farm Equipment Web site poll conducted in April, dealers were asked "What is the most common path for a new shortline addition in your dealership?"
The Success in Shortline Machinery series highlights the best practice strategies employed by top farm equipment dealers to promote and sell shortline equipment. It is brought to you courtesy of Art's Way Manufacturing.
Art's Way Manufacturing is a proud Iowa manufacturer of specialized ag equipment including grinder mixers, hay/forage equipment, bale processors, manure spreaders, and land engaging products.  Built on a 60 year tradition of quality, we have recently implemented our Continuous Improvement program.  If you are seeking to grow in 2018 with Art's Way's quality products and service, please contact our Customer Service Center for your area representative at 712.864.3131 ext. 1 or via email at marketing@artsway-mfg.com.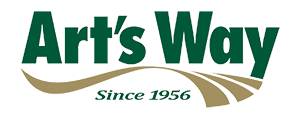 The raw results indicate that "customer requests" (47%) is the most predominant factor in a dealer bringing on a new product or line of equipment. On further review, it really comes down to the dealer-principal and his staff that turns the tide whether or not a product is added to a store's lineup. Combined, 53% of the time it comes down to the dealer-principal (29%), sales personnel (23%) and parts and service staff (1%) that ultimately make the decision to sell a new piece of equipment.
Brian Giauque, owner of Shearer Implement, Mansfield, Ohio, sums up the decision making process this way: "Is there a need for this product in our AOR? Will it be profitable? Where are the closest dealers currently? What is reputation of the shortline?"
Bringing on a new product is far more complex than simply responding to a customer request, according to Dean Habrock, St. Joseph Tractors, St. Joseph, Mo. "It's hard to determine 'deserving' products in the early stages. We question customers and other dealers, get factory demos when possible and attempt to 'feel' our way into new markets and products."
"Adding shortlines requires territory, volume, quality products and profitability. Without these four elements, we see no advantage in taking on additional lines," says Mark Foster, Ag Division manager, Birkey's Farm Store, Attica, Ind. "You have investment in training, parts and inventory, and unless we can see that the return will be there in a short period of time, we won't take on additional lines."
A bulk of the dealers polled in Farm Equipment's Mid-Year Business Survey expressed strong concerns about the "terms" offered by shortline manufacturers. Chief among these are warranty coverage, floor planning, after-market support and freight. These, say dealers, directly affect ROI and cash flow and determine whether a shortline product will turn a profit.
Bryan Kasha, Kasha Farm Supplies, Eckville, Alberta, asserts that "Most shortlines have very limited terms. Therefore, there is a significant cash outlay to stock shortlines. When we have to use finance companies, our interest costs increase."
Ray DeLong, Triple D Equipment, Deland, Fla., adds, "Shortline products have to be profitable for the dealer, so floor plan terms and freight are very important when considering a new line. If we cannot project that we can get to an upper-level discount and free freight, then the line will not be added because we can't be competitive."
"The biggest barrier [to adding new] shortlines is shipping cost," says Bob Dunkle, Maple Mt. Equipment, Clarion, Pa. "Depending on the product, you may get a volume discount on the initial order, but if you reorder sometimes you don't get that big discount on freight. That obviously cuts into your margins. Warranty is another issue. Some companies offer great warranties while others are very limited. Our customers expect a strong warranty and are not pleased when they don't get one."
The 'Time' Investment
How a dealer perceives the time he'll need to invest in adding a new shortline also contributes significantly to his ultimate decision to bring on a new product or line.
"Time is the major factor in all decisions. Will the time invested return the necessary yield?" asks Frank Plotts, president, Lenoir Tractor in Lenoir, N.C.
Capital outlay and time are also critical issues for Howard Violet of H.G. Violet Equipment, Delphos, Ohio, when it comes to adding a shortline product. He cites "Time to devote to line development and market placement, along with the proximity of existing dealer organizations, potential profit margins and product perception in the marketplace" as key factors.
Mike Blake, Vincent Farm Equipment, Seaforth, Ontario, is on the same page with Violet and Plotts. "Demands on time for sales, service and parts training, demands for inventory cost and space requirements, demands on communication within the dealership to stay abreast of another product" are all major considerations prior to adding a shortline product.
Getting 'Buy In'
Beyond the dollar and cents considerations that go into the decision on whether to add a shortline product, dealers say that perhaps the biggest internal hurdle is "selling" the staff. Getting their sales, service and parts to "buy into" new product lines is critical, and most say they won't make a move unless they're convinced that their people are behind it.
"Getting everyone on board to support the product is the big challenge," says Travis Emitte of Lawrence Tractor, Tipton, Calif. "Parts and service departments really dread shortlines if there are going to be only one or two sales and then we move on to the next newer brand. So when the store manager is really excited about the product and gets his managers on board with the product and assures them that this product is here to stay, that makes the team give it 100% to support the product and the salesman can have the confidence that their customers will be taken care of."
The comfort level of the sales team is critical when bringing on new products, according to Mark Foster of Birkey's Farm Store, Attica, Ind. Chances of a successful launch coincide with the time it takes sales to get to know the product, he says.
"The most common barriers are getting the sales team comfortable with the product. Whether it's a sprayer or a guidance system, until we get the sales team comfortable, the product will not go. Also, until the product becomes popular or they get enough experience with the product, you will see reluctance from the sales team. So the goal is to get them as familiar as we can as soon as we can to get the product up and running quickly."
Steven Swartzrock, Swartzrock Implement, Charles City, Iowa, says the best way to get sales up and pushing a new product line is with equipment demonstrations. "Salesmen need to go to field demos and demo some more. The more you run a unit, the better you can tell what works," he says. "But just as importantly, you also find out what doesn't work."
It all boils down to communication, says Danny Spears, William's Ford Tractor, Fayetteville, Ark. "Parts, customer service and learning to sell the product are all challenges that must be discussed between the salesman who wants to take on the new line, and the owner and department heads before diving in too deep. Communication is vital to ensure that we're all on the same page."
Tips for Getting Sales Staff to 'Buy In' When Introducing a New Shortline Product
By Charles R. Glass, Contributing Editor
1. Dealer sales personnel feel that selling a competitive brand of equipment will reduce their customer's confidence in them. 
Sales personnel are comfortable selling the lines they have represented prior to taking on the new line.
The new line will require learning new products, features and benefits that their customer will derive from the units.
Sales personnel fear that a lack of confidence in their knowledge of the new product will make them appear less than professional with their customers.
2. Territory representatives must devote sufficient time and effort to teaching the sales force how to sell their products. Dealers must insist upon it.
With the support of the dealer-principal, the territory representative must develop a training schedule, either during a regularly scheduled sales meeting or a one-on-one training for the sales force.
The territory representative can utilize some successful techniques that other dealers have used in selling their products.
Field demonstrations of the product will help build confidence in the sales force quickly, as they can see how the unit actually performs in real conditions.
3. Build interest in the new products by offering a contest to reward the dealership's sales force.
A contest that runs the first 60 days that the sales force has the product will generate an interest in the new products.
One sales representative offered a dealer's sales staff the opportunity to win a new shotgun for the top salesperson and a duck-hunting trip for any of the sales personnel who reached a specific target. It worked!
The territory representative must monitor the contest and provide timely progress reports of each salesperson.
4. Company support is vital to getting a new line started in a dealership. 
Retail customer inquiries are a very important tool in the establishment of a new line at a dealer location. 
Past sales history for the location by the previous dealer or, when there is no previous dealer, research that shows the true potential for the products in the area is also important.
Timely processing of orders, shipment of equipment and technical support will help to firmly establish the new line at the dealership.
Pressure for 'Brand Purity' is Intensifying
For a growing number of dealers, the most vexing barriers to bringing on a new product or brand of equipment are those that come from outside the dealership. Far and away, the single biggest hurdle confronting dealers today is the pressure from their major supplier to not carry other brands (35%). This compares with dealers' second biggest concern, which is the lack of after-sales support from the supplier (21%). This is followed by too much local competition (20%).
The dealer purity issue has become, perhaps, the touchiest of issues, and dealers are saying the stress they are feeling is increasing. As one South Carolina dealer says, "Our major doesn't like to see other brands at the dealership. This has caused us problems. They treat us very badly."
Adds another dealer: "The big danger is to have a shortline become a target of your major when they decide to dabble in the market (successfully or unsuccessfully). Then they expect you to bail out on a successful venture."
Many dealers feel they have no choice but to avoid carrying any shortline equipment. Rod Paul, Green Line Implement of Miller, S.D. admits that his dealership avoids carrying competitive brands. "John Deere has high demands to get over 60% market share. As a result, we discourage shortlines."
Likewise, John Schaff, Foley Implement Co., Foley, Ala., walks softly when it comes to adding shortlines. "We do not take on a shortline if John Deere has the product covered," he says. "It keeps us out of trouble with John Deere."
Steve Lefeld, Lefeld Implement, Coldwater, Ohio, also admits that pressure from his major gives him reason to consider carefully before bringing on another product line, but he says that he tries to work with them.
"The main barrier is pressure from our main supplier not to take other products on. I believe in direct communications with the supplier to let him know what is going on and why," he says. "We explain the primary reason for taking on a shortline would be to enhance our product offering, with a high probability that we cannot get this product from our main supplier."
Despite the ongoing pressure from the majors to keep shortlines out of their dealerships, many dealers say that the needs of their customers are priority one. Like Lefeld, many say they listen to their primary supplier and keep the lines of communications open, but ultimately they will do what's best for the dealership. And that's taking care of the customers who are paying the bills.
John Halderman, College Corner Implement Co., West College Corner, Ind., says his major doesn't like the fact that he carries other brands either. His approach is to "listen to their point of view, to be polite and refuse to allow it to become a conflict."
Darren Mead, general manager of Deems Farm Equipment of Nevada, Nevada, Mo., says he doesn't necessarily disagree with his major, but the bottom line is he needs to do what's best for his customers, particularly when the shortlines have a superior product to the one offered by his major.
"The primary obstacle we run into with shortlines is our major supplier, and rightly so," says Mead. "They have products to compete directly with part of our shortline's offering, but in certain market segments the shortline has the better product. We do the best we can to promote our major line when the product fits the need," he says.
Todd Channell, Farmers Equipment, Urbana, Ohio, adds: "[Our biggest] external barrier is, of course, grief from our major line (Case IH). We believe in staying as pure as possible to our major, but, if they do not offer or do not have one of the best units out there, we will add shortlines. Our bottom line and service to our customers drives everything. If our major introduces a product in this sector, we will evaluate it just like a shortline."
Terry Jacobson of Eugene Beckman & Sons puts his position plainly: "Dealer purity is being preached from the John Deere pulpit. If they have a competing model, they don't care much but usually expect equal or greater representation. It's still my business."