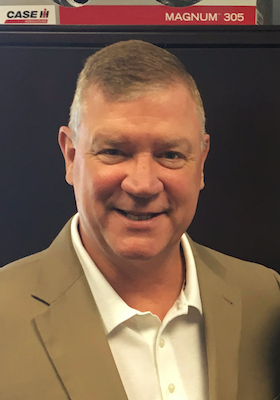 Jim Walker
In a March 23 memo to North American Case IH dealers and Case IH employees, Leandro Lecheta and Andreas Klauser announced that Vice President Jim Walker has elected to retire from the company after 11 years. Scott Harris, current Vice President of Case Construction, will transition to Case IH and lead the brand as Vice President in North America.
Harris joined the company in 2006, first with CNH Capital and then later as Northeast Regional Sales Manger for both ag and construction equipment. He became Senior Director of Sales & Marketing for that division in 2007. His last role with the Capital group was as Vice President of U.S. Financial Services and Operations. He joined CNH Industrial Parts and Service in 2011 first as Vice President of Sales and Marketing for North America, and later the entire division in 2013. He became Vice President of Case Construction in 2016. 
Farm Equipment concluded a 6-part series of interviews with Walker on March 14, who also spoke at the United Equipment Dealers Association Dealer Convention in Louisville in February. For more on that series, visit https://www.farm-equipment.com/topics/2313 or see the full list of articles below. 
According to the March 23 memo and Harris' appointment,
Scott has demonstrated strong leadership in each position he has held at our company and has a true passion for the equipment that you, and our customers, rely on every day. His varied roles have prepared him to lead Case IH with the perspective of our equipment's complete life cycle, from purchase to application to maintenance, and we see a great opportunity for success under Scott's proven ability.

We all remain deeply committed to our partnership and providing you with the best solutions to serve your business. We are excited about what we are growing together, and we wish to thank you for your continued dedication and commitment to our shared future.
Read the Case IH Dealer Network Series Update