Irwin Inducted During Pre-Game Ceremony Before 80,000+ Fans at Memorial Stadium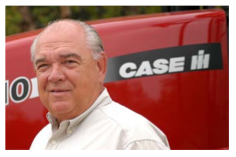 Jim Irwin, of Genoa, Neb., was a four-year letterman in football (1960-1963) at Kearney State College/University of Nebraska- Kearney who earned honorable-mention NAIA All-America honors as an end his senior year while leading the Antelopes to their first NAIA playoff appearance. They lost 20-7 in the 1963 national semifinals against Prairie View A&M of Texas.
The team, coached by Hall of Famer, Al Zikmund, had a regular season record of 9-0 and was ranked third in the National NAIA standings. Irwin was twice named NCC All-Conference and made the Omaha World Herald Nebraska All-Conference teams in both his final two seasons of play. This despite his missing three games that senior season due to a broken hand.
His skill in receiving saw Irwin set game, season, and career school records. His career included 79 receptions for 1,333 yards and 20 touchdowns at 16.87 yards per catch. Those 20 career TD's put Irwin tied for sixth in the school's standings. He's the only Antelope among the top 10 who played before 1987. Irwin shares the school record for receiving three touchdowns in a game with four others, catching that trio in 1963 against Wayne State College.
His play gained him a contract with the Los Angeles Rams in 1964. He competed with the Antelope's track and field during an on-field pre-game ceremony at Saturday's weights group and gained three letters throwing the discus. In 1988, KSC/Nebraska-Idaho State football game. UNK inducted Irwin into its Athletic Hall of Fame.