After struggling with shrinking sales and revenues since 2014, the Big 3 of ag equipment — AGCO Corp., CNH Industrial and Deere & Co. — each posted the strongest results they've seen in a while.
AGCO Full-Year 2017 & Outlook 2018
It's clear that much of AGCO's strong showing in 2017 resulted from its activities in Europe and the Middle East (EME). The company credits most of it sales growth from key markets in the U.K., Germany and Italy. For the full year, EME net sales increased by 11.4% for the region and income from operations increased by nearly $91 million compared to 2016.
In North America, net sales increased by 3.6% vs. 2016, while sales from operations increased by about $25.6 million for the full year. South American net sales were up 11.4%, but income from operations decreased by about $5.4 million for the full year.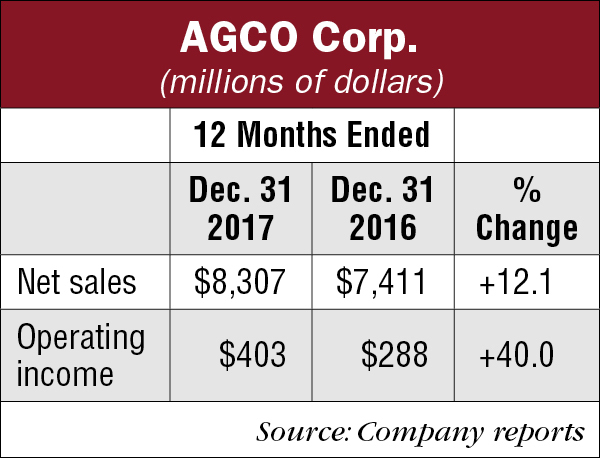 In the company's Asia/Pacific/Africa (APA) region sales grew by nearly 24% and income from operations improved approximately $29.1 million in 2017 compared to the full year of 2016. Sales in South America accounted for 13% of total sales in the past year vs. 12% in the year prior. Its APA region brought in 9% of total net sales in 2017 vs. 8% in 2016.
Breaking down AGCO's full-year 2017 regional net sales shows that 56% came from EME, the same percentage as the year before. About 22% came from North America, which was down from 24% in 2016.
Adjusted operating margin for all of 2017 was 5% compared with 4.1% in the year prior.
AGCO's outlook for 2018 includes an increase in net sales to $9.1 billion, up nearly 10% vs. 2017. "Looking forward to 2018, we are forecasting further earnings improvement as industry conditions trend positively from the lower end of the agricultural equipment cycle in key markets," the company said.
CNHI Full Year 2017 & Outlook 2018
CNH Industrial, parent company of Case IH and New Holland Agriculture, saw operating margins improve slightly from 8.1% in 2016 to 8.5% in 2017. Total ag revenues were up by 10% for the year to $11.1 billion. Full year operating profit increased by 16% "mainly due to the favorable volume and product mix in all regions except NAFTA."
For ag equipment sales on a regional basis, the company reported, "In LATAM, the increase was mainly due to higher industry volume, market share gains, a favorable mix of higher horsepower products and net price realization. Net sales increased in APAC (Asia Pacific) mainly driven by favorable volume in Australia, Russia and South East Asia. In EMEA, (Europe Middle East, Africa) net sales increased due to higher industry volume, a favorable product mix and net price realization.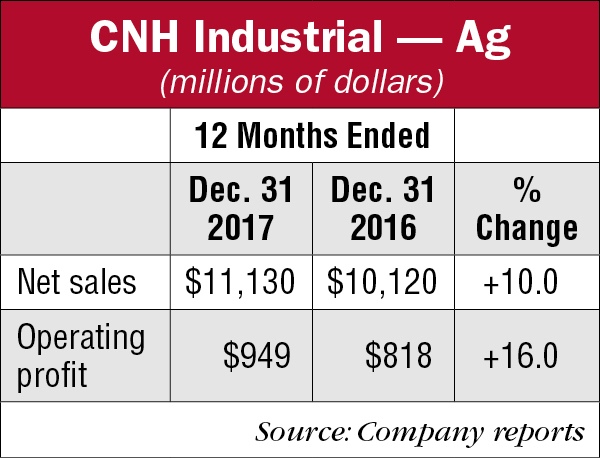 "In NAFTA, net sales decreased as a result of de-stocking actions in our dealer network, primarily with the high horsepower tractors and the hay and forage product lines. NAFTA industry volumes were flat overall, with the row-crop sector higher, offset by lower livestock sector volumes."
In its ag outlook for 2018, CNHI reported that worldwide demand for ag equipment is expected to improve with all regions flat to up 5% on average. Farm incomes are expected to remain stable, leading to no significant changes in planted acreage. Consolidated net sales are expected to be $27-$28 billion.
Deere & Co. Full Year 2017 & Outlook FY2018
Deere saw a nice jump in its ag operating margin in the fourth quarter 2017 (ended Oct. 31), up to 10.7% vs. 8.4% in the last quarter of the previous year. Net sales and revenues for ag increased by 9% to $20.2 billion, while operating profit soared by 46%. "Results were higher for the year primarily due to increased shipment volumes, price realization and a favorable sales mix," the company said.
Deere didn't provide a regional breakdown for full year 2017 ag equipment sales in its fourth quarter 2017 report. In total, it said, "Equipment net sales in the United States and Canada increased 23% for the quarter and 5% for the year. Outside the U.S. and Canada, net sales increased 30% for the quarter and 20% for the year."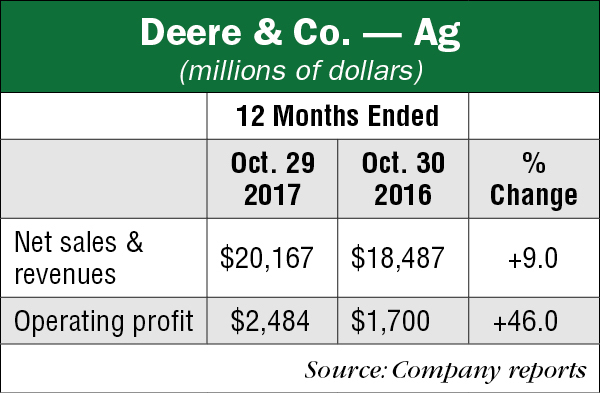 In its outlook for ag and turf equipment, Deere expects worldwide sales to increase by about 9% for fiscal year 2018. Industry sales for ag equipment in the U.S. and Canada are forecast to be up 5-10% for 2018, supported by higher demand for large equipment. Full-year industry sales in the EU28 member nations are forecast to be up about 5% due to improving conditions in the dairy and livestock sectors.
South American industry sales of tractors and combines are projected to be flat to up 5% as a result of continued positive conditions, particularly in Argentina. Asian sales are forecast to be flat with strength in India offsetting weakness in China.
Industry sales of turf and utility equipment in the U.S. and Canada are expected to be about flat for 2018. Deere's turf sales are expected to outperform the industry owing to the success of new products.
— Ag Equipment Intelligence, February 2018