Nearly half (49%) of dealers who cater to the commercial and consumer-type equipment needs of hobby farmers, large property owners, turf, lawn and landscape contrac­tors, as well as municipalities and parks maintenance customers expect solid revenue growth during 2017. This confident outlook comes on the heels of strong sales years in 2015 and 2016.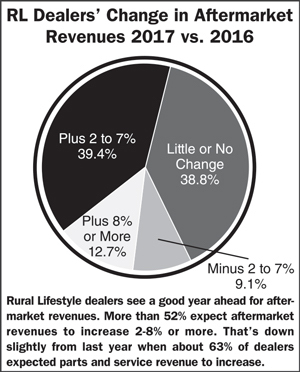 According to the results of Rural Lifestyle Dealer's 2017 Business Trends & Outlook sur­vey, overall, 84% of the 170 deal­ers who responded to the annual study are forecasting that total revenue will be as good as or exceed levels seen in 2016.
This is the 11th consecu­tive year that Rural Lifestyle Dealer, a sister publication of Ag Equipment Intelligence, has conducted this annual survey of equipment dealers.
Slightly more than 40% of dealers expect sales revenues to increase by 2-7%, while 9% are projecting revenues to grow by 8% or more. More than one-third of C&CE deal­ers anticipate "little or no change" in revenues for 2017 compared to a year earlier. About 16% of RL dealers anticipate a drop in revenue in the year ahead.
Dealers responding to Ag Equipment Intelligence's month­ly Dealer Sentiments & Business Conditions Update survey continue to indicate that there is ongoing strength in less than 100 horsepower tractor category.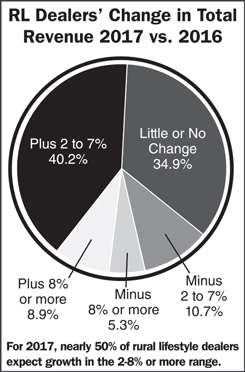 In addition to revenue from the sale of wholegoods, 90% of dealers are fore­casting aftermarket revenue will also be as good as or better than last year. This compares with last year's survey in which more than 88% of dealers expected 2016 to be as good as or better than 2015 for total revenue and more than 90% expect­ed aftermarket revenue to be as good as or better than 2015, according to Lynn Woolf, managing editor of the publication.
Solid Signals
Several key economic factors support dealers' optimism going into 2017, she says. "Market growth is one of those factors with nearly 50% of dealers saying their number of rural lifestyle customers has increased 5-19% in the last 5 years."
She also cites data from current homebuilding surveys conducted by National Assn. of Home Builders/Wells Fargo Housing Market Index. The December index came in at 70, with any number over 50 indicating more builders viewing conditions as good than poor. The unemployment rate has held mostly steady throughout the year, with the Bureau of Labor Statistics reporting a level of 4.7% for December, says Woolf.
The Assn. of Equipment Manufacturers reported on Jan. 10 that December U.S. retail sales of farm tractors under 40 horse­power were up 18.2% vs. December last year, with year-to-date gains of 12.1%. More than 133,000 compact tractors were sold in the U.S. in 2016, the highest volume since 2004.
Strong Year for C&CE Sales in 2016
Sales of commercial and consumer equipment continued as one of the few bright spots for equipment dealers throughout 2016, easily outpacing the other 11 product categories covered in Ag Equipment Intelligence's monthly Dealer Sentiments & Business Conditions Update survey.
In fact, it was the only equipment category that posted positive growth in all 12 months. Only GPS/precision farming equipment and systems showed any growth at all during the past year. It posted positive numbers in February, March and April before falling back into negative territory for the remainder of 2016.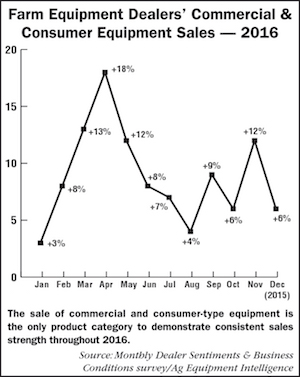 Solid Potential 
Equipment categories that dealers believe have the best potential to increase revenues in 2017 are zero-turn mowers, with more than 60% of C&CE retailers expect­ing increased sales and 57% of dealers see compact tractors producing solid increases in the year ahead. Rounding out the top 5 products for the new year are rotary cutters (45% of dealers), front-end loaders (40%) and utility vehicles (39%).
A good share of rural lifestyle equipment dealers are com­mitting resources to expanding their product offerings. Like last year, utility vehicles top the list for 2017, with more than 36% of dealers expecting to add the product line this year.
In fact, the top 5 for 2017 matched the top 5 for 2016, with a few switching of positions. Tractors under 40 horsepower ranked second again this year with about 33% of dealers add­ing inventory. Skid steer loaders ranked third with about 31% of dealers planning to add this category of equipment to their current product line. (ranked number 4 last year).
Zero-turn mowers ranked fourth with about 26% of deal­ers indicating they will add inventory (ranked third last year). Tractors 40-100 horsepower ranked fifth this year and last year with about 20% of dealers them to their product lineup for 2017.
An in-depth summary of Rural Lifestyle Dealer's 2017 sur­vey appears in the Winter edition of the magazine.