Update to Article March 8, 2018 — President Trump signed paperwork enacting tariffs of 25% on steel and 10% on aluminum. According to reports, the president gave a temporary exception to Canada and Mexico while talks about renegotiating NAFTA continue. The tariffs will take effect in 15 days. 
Assn. of Equipment Manufacturers (AEM) President Dennis Slater issued the following statement after President Trump formally announced new import tariffs on steel and aluminum:
"The equipment manufacturing industry is profoundly disappointed at President Trump's actions today to advance import tariffs on steel and aluminum. These 'Trump Tariffs' will put U.S. equipment manufacturers at a competitive disadvantage, risk undoing the strides our economy has made due to tax reform, and ultimately pose a threat to American workers' jobs.
"Steel accounts for roughly 10 percent of equipment manufacturers' direct costs. The price of steel has already risen in anticipation of the administration's actions, and a 25 percent tariff will only further erode the progress our industry has made over the past year.
"Our industry will work tirelessly in the coming days and weeks to convey the negative impacts of these tariffs directly to the Trump administration and members of Congress. President Trump should back away from these tariffs, and redouble his efforts instead on policies that will create manufacturing jobs — not put them at risk." 
Update to Article March 3, 2018 — The March 3 Wall Street Journal contained an update on the impact of the proposed U.S. tariffs on steel and aluminum. In the piece, "Commodities Assess Paths" by Amrith Ramkumar, soybeans were one of the key commodities examined. The article explained that U.S. soybean producers would see  have excess supply if China were stop buying commodities in a trade war.
The article noted that analysts say producers might make plans to lower supply ahead of key growing seasons, which could help prop up prices in the short term if there's retaliation from China. "The tariffs come as many materials and agricultural products are just starting to recover from a yearlong price slump. Soybean prices were up 9.5% and wheat 13% since January," Ramkumar wrote.
The March 2, 2018 Wall Street Journal (WSJ) article by Bob Tita reported on President Donald Trump's pledge Thursday to impose stiff tariffs on steel and aluminum imports. Trump's pledge to put 25% tariffs on foreign steel that is to be enacted next week, will likely push up domestic metal prices – already on a tear – higher, reports Tita.
Farm Equipment had heard from manufacturers at last month's National Farm Machinery Show that steel was rising rapidly, and that other industries, like piepline projects, were already devouring plenty of steel. One component manufacturer shared that his purchasing agent received an email about high concerns of steel pricing, even before Trump's announcement.
 
UPDATE Statement From Farm Equipment Manufacturers Assn. – March 2, 2018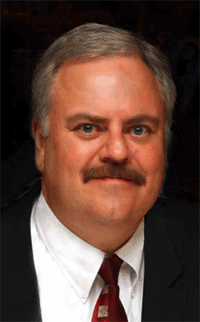 Vernon Schmidt
Farm Equipment reached out today to Vernon Schmidt, Executive Vice President, Farm Equipment Manufacturers Assn. for a statement following Trump's announcement yesterday. His reply is below.
"While we understand the president's desire to protect the nation's vital steel industry, our first concern is how the promised steel tariffs would be implemented, and it does not look like those details will be available until next week at the earliest. 
"It's hard not to see the tariffs continuing to push steel prices up. The domestics mills and those few not handcuffed by the tariffs will certainly take advantage of the situation. From what we read, the administration seems intent on rolling all steel products together, even though there are many steel products imported that are not made in the U.S.  
"With equipment dealers' holding very limited implement inventory, higher steel costs are likely to make their way through the distribution network quicker than some end users would expect. It's hard to think of a worse time to drive up the cost of equipment purchases for farmers and ranchers, but manufacturers will likely be forced to pass cost increases on very quickly. 
"Depending on how the tariffs are implemented, this action could encourage overseas' interests to replace raw materials imports into the U.S. with finished parts or skip that step and push finished products into our markets, avoiding the tariffs altogether. This would leave U.S. manufacturers at a price disadvantage while rolling out the welcome mat for overseas manufacturers to flood our markets with finished goods, untouched by tariffs. 
"How important is this to our members? One of our members recently told me, 'Steel is where we all live. . . kind of like a sugar tariff if you are making candy.' As critical as steel is to our industry, should history repeat itself and ag commodities prove an easy target for retaliation, disregard all of the above concerns and follow instructions below.
"In Case of Emergency Break Glass. . . and pray the box contains better plans and options than the last time the industry was in the same position."
WSJ's article cited that "the benchmark price for hot-rolled, coiled steel is above $770 a ton, up 32% from a recent low point in October. Spot-market prices for that type of steel, widely used in manufacturing, are above $800 a ton. Some steel distributors say mills are only partially filling their orders because of tight supplies."
Here are two quotes of interest in the article. "We think [steel] prices could get dramatically higher in the short run," said Curt Woodworth, of Credit Suisse. Meanwhile John Ferriola, chief executive of Nucor Corp said the import share could fall to 12% as companies, including Nucor, expand or restart idle production capacity – and will accelerate Nucor's growth plans.
On top of the challenge for farm equipment manufacturers, WSJ reported in a separate article that manufacturers and agricultural groups are worried by the potential for retaliatory measures that may follow. "Manufacturers and trade groups for some of the country's biggest metals' consumers expressed opposition to the planned tariffs. The Assn. of Equipment Manufacturers (www.aem.org), which represents heavy manufacturing giants Caterpillar and John Deere, said new trade barriers will hurt U.S. exports."
If you are having trouble viewing the survey on your device, click here.
Farm Equipment and Ag Equipment Intelligence reported on the topic on February 21. See the story here.