Dealer's Choice Awards
Full Line: John Deere  Gold Level: Kubota Tractor Corp.
Tractor: LS Tractor  Gold Level: Branson Tractor
Shortline: Bourgault Industries  Gold Level: Bush Hog, Claas, Degelman Industries, Great Plains, H&S Manufacturing, Highline, Krone – NA, Kuhn North America, Landoll Corp., Land Pride, MacDon Industries, Meyer Manufacturing, Rhino, Unverferth Manufacturing Co., Vermeer, Woods
In early June, the Equipment Dealers Assn. (EDA) released the results of its annual Dealer-Manufacturer Relations Survey. Through this study, equipment dealers rated the companies whose products they represent on 11 key categories of dealership operations and support.
EDA's survey results represent dealer attitudes on the lines they carried from Feb. 15 through March 17, 2017. Collected anonymously by a third-party, the survey drew a total of 2,371 individual dealer contacts (a 50-respondent increase from last year), including all 50 states and 10 Canadian provinces. A total of 58 manufacturers met the minimum threshold of dealer rankings across 11 criteria in order to be included in the report.
Joe Dykes, EDA vice president of Industry Relations, explains the purpose of the survey, which again saw greater participation in 2017. "Dealers have used the results to evaluate potential new product lines, for competitive comparisons with the brands they have and to communicate areas of both strength and needed improvement. Many manufacturers have also used the survey results to promote their performance to their dealer network and end-users, and as a means to support change and improvement within their organizations."
While there are a lot of variables to consider in the survey, including a manufacturer's longevity, scale and product, Dykes believes fundamentals tend to equalize those factors and the commensurate expectations of manufacturers. "I like to say a company either does something right or it doesn't. Relationship businesses like this require everyone to work hard, and there's a lot that dealers and manufacturers can learn by exploring best practices."
Editor's Note: In preparation of the June 13 Farm Equipment E-WATCH blog, and in the days following it, we engaged in some interesting dialog with dealers and manufacturers about the Equipment Dealers Assn. (EDA) Dealer-Manufacturer Relations Survey.
None of those Farm Equipment communicated with were surprised by the findings. Several noted that Case IH's relations with dealers had been deteriorating for some time, due to things like an engine issue that emerged past the warranty date, a dramatic change to the volume bonus formula, and aggressiveness toward dealers over competing brands while ignoring certain product ranges. The poor performance of Case IH, New Holland and Kinze in the EDA survey was consistent with anecdotal feedback from Ag Equipment Intelligence's Dealer Sentiments Surveys.
Some of the more interesting feedback related to the manufacturer reaction and response to the EDA. A manager at one of the low-performing OEMs called the morning the blog was released. The call was not, however, a complaint over the coverage. Instead, he expressed hope that the survey results would wake up the management team to make the type of changes that were needed to earn dealers' business. He also commented on how it was clear that some of the American-owned companies were "getting their butts kicked."
That call from the manufacturer reminded me of similar experiences over the years. Early on, after one of our own qualitative-type studies, a manager at Vermeer pressed me at length about our methodology and the how's/why's that kept the manufacturer (who had been rated high to begin with) from being recognized as #1. I believed then, as I do now, that it was genuine interest in earning the title of the dealer's most preferred manufacturer — the kind of interest that results in questioning whether they were missing something.
Another story was the executive who publicly shared his company's poor rankings (in retrospect it may have been a declaration of the prior management's sins). He isn't there anymore, but at least for a period of time, the rankings were used as a lever for change, and to demonstrate to dealers that this leader wasn't going to sit on his hands.
And to show that these surveys aren't just about awards and lovefests for those at the top, one equipment buyer caught wind of our upcoming coverage and wanted to go on record about the shabby way he was treated by an "award-winner." We've been playing phone tag since that call and email, but based on the limited information I have, one thing is for sure. The dealer convinced this customer that the problem was that of the manufacturer, not the dealer.
— Mike Lessiter, Editor/Publisher
Tom Rosztoczy, CEO Stotz Equipment, Avondale, Ariz., says that the usefulness of the EDA survey is as a marker of a relationship. "Relationships are critical in the business and it gives you a sense for how strong/weak the relationships are — it's very important." According to Jared Nobbe, Wm. Nobbe & Co., Waterloo, Ill., the Dealer-Manufacturer Relations Survey provides a good sense of what other dealers are feeling about their manufacturer partners. "It's good to know whether our peers face the same issues or trends. It provides a pulse of things to help see whether something is unique to our situation or just a sign of the times and trends."
Nobbe also believes the EDA survey helps dealers express their feelings in a way they might not otherwise be comfortable saying in person. "The survey is a good, anonymous way for dealers to voice concerns about the direction a manufacturer is heading or to support the way things are heading."
The report serves as a snapshot of dealer-manufacturer relations at a given point of time. When Farm Equipment contacted a dealer-principal for an explanation of Case IH's poor score, he said a contributor was the manufacturer's "Partnership" program (which was unpopular among dealers) that was ongoing during the surveying period. While that was only part of his explanation, his point makes sense ... that the survey may reflect a short time period, and/or the most recent experience (good or bad) that the responding dealer had with that manufacturer.
With that in mind, this year's Farm Equipment in-depth coverage for 2017 includes 3-year trend (2015-17) analysis. While EDA also polls dealers on the performance of outdoor power, that analysis will be included in the Summer edition of Rural Lifestyle Dealer. The rest of the high-level survey results of full-line, tractors and shortline equipment are included in the pages that follow.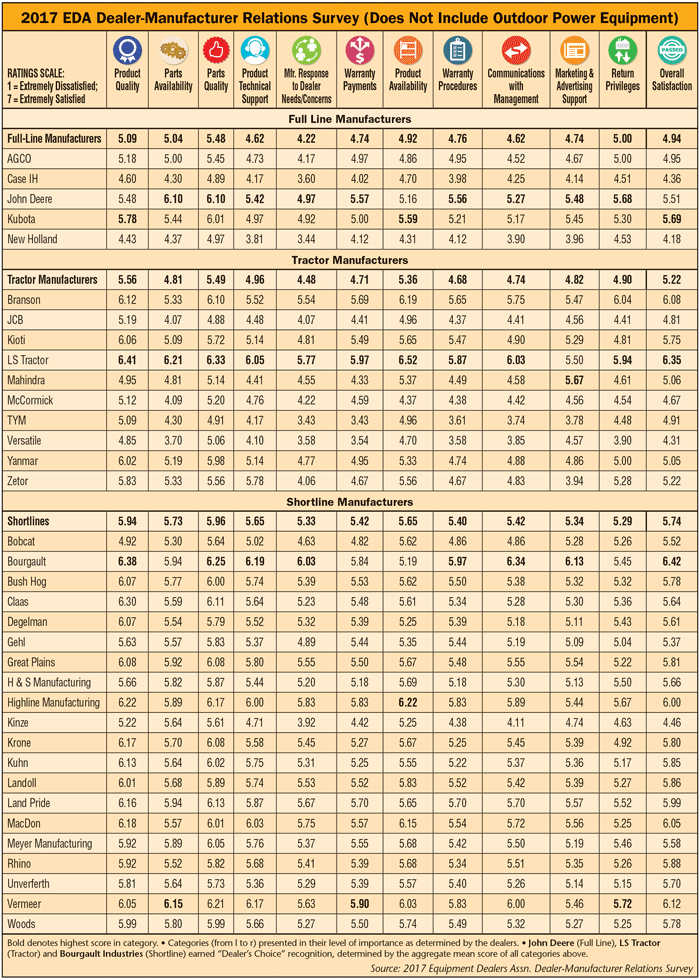 Full-Line Manufacturers
The aggregate mean for all full-line manufacturers was the highest in the last 4 years, according to the survey results (4.85 on a scale of 7, and an improvement from 4.67 of the previous 2 years). Reflecting Kubota's entrance into hay tools, tillage and planting equipment in recent years through its acquisitions of Kverneland in 2012 and Great Plains and Land Pride in 2016, Kubota was treated as full-line manufacturer in 2017, which may have had an impact on macro-level scoring.
John Deere dealers rated their manufacturer the highest in 9 of the categories and with the highest composite score. Deere was also recognized as the "Dealer's Choice" by the EDA. Kubota, meanwhile, scored highest in product quality (the number one criterion, according to dealers) and in overall satisfaction.
New Holland had the lowest scores of the full-line manufacturers in 7 of the 12 categories, consistent with its historical last-place ranking by its dealers.
Trends: In 2014 and 2015 (prior to Kubota being evaluated as a full-line manufacturer), the top four in average mean scores were Deere, Case IH, AGCO and New Holland, though AGCO was in position #3 by only a slight margin. In 2016, however, AGCO passed Case IH on average mean scoring and performed even better in the 2017. (See "AGCO Earns Biggest 3-Year Gains Among Majors..." Below.)
AGCO Earns Biggest 3-Year Gains Among Majors ... What's Happening in Duluth?
While AGCO remains a distant third of the full-line manufacturers all of the categories, the 3-year trend data shows AGCO had made significant gains in the last 3 years. In a review of the top 5 categories of greatest importance to dealers (product quality, parts availability, parts quality, product technical support and manufacturer response to dealer needs/concerns), AGCO has seen the greatest improvement in each. None of the manufacturers in any of the categories notched more "most improved" than AGCO. It also had the best 3-year improvement across all 12 categories.
Farm Equipment contacted Shawn Skaggs, president/COO, Livingston Machinery Co., Chickasha, Okla, who also serves on AGCO's Dealer Panel. "All the consolidation that's taken place in the dealer network afforded AGCO the opportunity to focus on improving support for the dealers they have and, just as important, improving communication. They're making efforts to communicate better through email updates, webinars, video series and in person. They're listening to what we have to say and incorporating change where they can to make things better for dealers. They are also adapting to the changing needs of the dealer body in this new business environment we're all operating in. No manufacturer is perfect, nor can they perfectly meet the needs of all dealers all the time, but AGCO has made significant improvements over the past few years in understanding the needs of the network."
He says he knows AGCO pays attention to the EDA survey because the results have been discussed in their Dealer Panel meetings. "I feel confident that faring well on these surveys is one of their internal goals. Many of the other manufacturers we work with also pay attention to these surveys, but their approach has more to do with asking for good scores than with pursuing positive changes for their network."
Another dealer Farm Equipment reached out to for context was Agri-Service, Kimberly, Idaho. President Clint Schnoor says that it was last year's dealer meeting in New Orleans where he saw AGCO significantly change its tune toward dealers. "Prior to this, there was a strong message of consolidation and that only the bigger dealers mattered. At the January 2016 meeting, Martin Richenhagen and Bob Crain both expressed how important every dealer was. They said many things that brought the dealer group back together and have continued to execute on this message."
Schnoor notes that AGCO restructured its field team structure to focus on the large dealers and medium size dealers, each with respective teams. "This has certainly stepped up their game," he says. For large dealers, he says, AGCO operates a key account manager (KAM) structure who calls on only 1-2 dealers. "We specifically have had a KAM assigned to us on a 1-on-1 basis since 2013. This has been instrumental in supporting our growth strategy and making both of us successful." He adds that in addition, Agri-Service is assigned 2 field service managers, 3 product support specialists, and a field parts manager who work almost exclusively with his dealership.
The full-line brands who lost the most ground from 2015 to 2017 were both the CNH lines. Case IH Case IH fell in 8 categories, while New Holland fell in 4.
Tractor Manufacturers
After two years of rising aggregate mean scores, the classification for all tractor manufacturers fell to 4.98 from 5.10. As mentioned above, the typically high-scoring Kubota was moved from the tractor classification in 2017 into the "full-line" classification. In 2017, just 5 of the 11 companies crossed the "somewhat satisfied" threshold of 5 on a scale of 1-7. These included Branson, Kioti, LS, Yanmar (new to the survey) and Zetor.
South Korean based tractor manufacturer LS Tractor was the top performing tractor manufacturer earned the "Dealer's Choice" recognition for the third year in a row. Versatile, the only OEM exclusively in the higher horsepower segment, had the lowest scores in 7 of the categories surveyed in 2017, the balance of the low scores held by TYM.
Trends: While JCB had the lowest score in Parts Quality in 2017, it had the greatest number of most improved scores from 2015-2017 with 10 of 12, while the Indian-owned Mahindra had the most instances where it had lost the most ground from 2015-2107 — in 10 of the 12 categories. The others were Versatile (product quality) and Kioti (return privileges).
How Dealers Use the Survey Results
Like any snapshot of any industry, survey results require the a "lens of perspective" to fully understand. For instance, Tom Rosztoczy, CEO Stotz Equipment, Avondale, Ariz., adds that a major line's directives have varying effects on different dealers. "Take John Deere and its strategy for consolidation. There can be a 'haves' and 'have not' perspectives on surveys. Some like and benefit from the direction the major line is going and others aren't happy, particularly the smaller ones."
Regarding the use of the EDA survey, Rosztoczy says the first thing he looks at it is how his major manufacturer performed. "He also looks at the survey results when contemplating a shortline. "I'd want to see how they do in their current dealers' eyes. If they scored poorly, that might be cause for pause."
He's occasionally surprised by the extremes seen in the survey results — both by the companies that do well and those that do poorly.
Rosztoczy says he brings up the results with local John Deere reps. "It's nice to see them move ahead. But what really matters is my direct relationship with them, not the collective relationships. If I have a great relationship with my major line, but others' experience was very poor, that might make me nervous. At the same time, if a dealer had a lousy relationship and others reported that it was great, I'd probably think I was just unfortunate, had poor resources and hope that it might improve."
Shortline Manufacturers

Dedicated Coverage of the Outdoor Power Equipment Manufacturers
The Summer print edition of Rural Lifestyle Dealer will recap the Outdoor Power Equipment survey results, which included ratings of 23 different manufacturers.
Of the three classifications in this article, Shortline Manufacturers, earned the best grade, and was second only to OPE (to be covered in the Summer Rural Lifestyle Dealer) by the slight margin of 0.01 on the 7-component scale. After dropping in 2016, the aggregate mean increased to 5.57. Only 1 company, Kinze, failed to reach dealers' score of 5 as an aggregate "somewhat satisfied." It had the lowest 2017 scores among all shortline companies.
Canadian tillage and seeding equipment manufacturer Bourgault earned the "Dealer's Choice" recognition (unseating Vermeer), and included "best" scores in 8 categories in 2017. The others were Vermeer (3) and Highline (also owned by Bourgault). For more information, see "Meet Bourgault Industries ..." here.
On the other side, no specialty manufacturer took it "on those nose" like planter manufacturer Kinze, who scored worse in 9 categories, with the exception of product quality and parts availability (Bobcat) and product availability (Bourgault).
Trends: A significant 3-year trend was seen in the performance of Rhino as the mowing equipment manufacturer took most improved (2015-2017) in 11 of the 12 categories. Kinze also lost ground by the biggest degree from 2015-2017 — in 5 different categories. The others were Meyer Manufacturing (3), Bobcat (2) and Degelman (2). A dealer told Farm Equipment that Kinze's scores reflect "the product failure of the 4900 planter launched in 2013, as well as the lack of any significant new innovation this decade."
---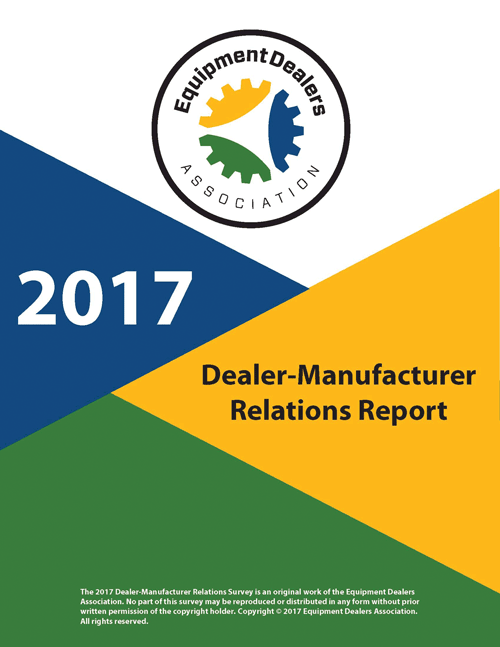 A 80-plus-page comprehensive report — including historical charts and data — is available to all EDA dealer members as a benefit of membership, and to the manufacturers participating in the study. Manufacturers also have the opportunity to obtain additional survey data that includes company breakouts by region, detailed statistical data and additional information. For additional information on obtaining the survey data or membership, contact Joe Dykes at JDykes@EquipmentDealer.org.
View 2017 Equipment Dealers Assn. Dealer-Manufacturer Relations Survey Image Gallery
July/August 2017 Issue Contents