Canadian tillage and seeding equipment manufacturer Bourgault earned the "Dealer's Choice" recognition in the 2017 Equipment Dealers Association Dealer-Manufacturer Relations Survey, including "best" scores in 8 categories. 
Dealer Locations: 129 (86 in Canada, 43 in U.S.).
Manufacturing Space: 600,000 square feet in St. Brieux, Sask., Canada, and Minot, N.D.
Employees: 700.
Regions Served: Western Canada and Northern U.S.; also exports to Australia, Russia, Kazakhstan, Ukraine, South Africa.
History: Founded in 1973 by Frank Bourgault, Don Coquet and Gerry Bourgault. (In 1970, Frank Bourgault built a tool that could do the job of both a chisel plow and cultivator at the family's dealership and sold it for $1,300.) Bourgault has owned Highline Manufacturing (specializing in livestock and related equipment) since 2006. Highline also received Gold Medal Status through the EDA.
Quick Pitch to Dealers: "We're open to quality dealerships and trying to grow where our equipment fits best, especially in the northern part of the U.S.," says Gerry Bourgault, while at the same time admitting his company has product availability to address, as seen in the Equipment Dealers Association (EDA) survey. "The first thing is determining the fit, of course. But if the fit is there, we'll do everything in our power to help you be successful with product line."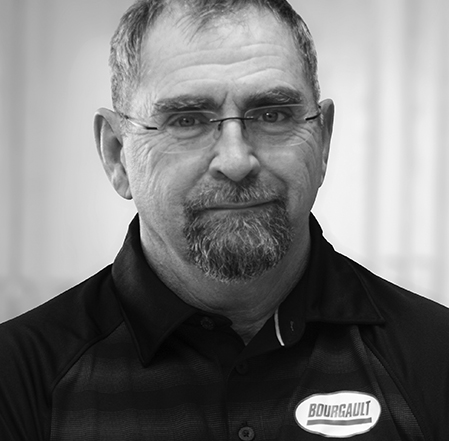 Gerry Bourgault
---
Farm Equipment reached out to Canadian seeding and tillage manufacturer, Bourgault, to find out what has made it the best performing shortline equipment manufacturer in the industry.
One of the "tells" that may help set it apart is the simple humility from the top, Gerry Bourgault. Several times he recalled, "I'm sure our scores are a result of being compared to the majors, but remember it's easier for a shortline manufacturer to be responsive." Or things like, "It's just simple business." This engineer turned CEO doesn't see any "secret sauce" in his company's approach, but his dealers report otherwise. Something special and uncommon is taking place.
The manufacturer is a routine top-placer in the EDA survey though this is the first time it has taken the top spot. This year, it improved upon last year's Gold-Level status and unseated Vermeer for the first time in 4 years to earn the best-in-industry performance from a shortline manufacturer, as determined by its dealer network.
Bourgault ranked the highest of any manufacturer (including full-line, tractor and shortline) in 8 categories, including Parts Quality, Product Technical Support, Manufacturer Response to Dealer Needs/Concerns, Warranty Procedures, Communications with Management, Marketing & Advertising Support and Overall Satisfaction. It also earned the highest score for Product Quality among shortline manufacturers.
Bourgault, who studies the report each year, also adds, "We have things to work on, and where we dropped in our scores, we also understand why."
Through the interview, he came to admit that perhaps they are different in philosophy. "I think we understand dealers and what they and their customers need to be successful. The causal chain here is that is if farmers and dealers are successful with our products, the dealers will be motivated to promote them, and customers will be repeat customers. He realizes dealers have choices (Bourgault compete against majors John Deere and Case IH, and shortline equipment manufacturers SeedHawk, Vaderstad, Morris and Seedmaster) and Bourgault knows dealers have to be motivated for the attention they can reasonably give to their products.
It doesn't hurt that a retail dealership is part of his genealogy. The Massey Ferguson farm equipment dealership Coquet & Bourgault Implements, was owned and operated by his dad, Frank, and uncles long before there was a Bourgault Manufacturing. In his youth, Gerry worked there and on the farm before his engineering studies.
"We appreciate dealers' challenges and what must transpire when a machine goes down late on a Friday night. Dealers' worlds have changed considerably in my time, but something that hasn't changed is when the farmer goes down, the dealer needs to react and get them going again quickly. That's never going to change."
Farm Equipment pressed Bourgault for a few things his dealers most appreciate.
Policies that don't put dealers into an impossible situation. "If we're mindful of that, we can set reasonable expectations."
Flexibility and adaptability. "Take delivery for instance. If one dealer needs equipment sooner than another because the way the season is developing in the area, we'll negotiate that process. We'll see if another dealer will agree to wait a few more weeks to get a unit when another needs it right now. We'll do those things."
Owning mistakes. "If we find we have a design flaw, we'll address it and fix it even if it's beyond the warranty. Warranty is meant to protect a dealer from getting hung on equipment with fundamental flaws, so we'll address if it's a design flaw."
Upgradable equipment designs. "By designing with retrofits in mind, farmers can upgrade as much as they want. Being able to retrofit makes it easier to take on trades and thus increases the marketing appeal for the equipment."
A Dealer's View
Allan Carey, corporate sales director, Redhead Equipment, Saskatoon, Sask., has been a Bourgault dealer since 1991 and a perennial top-selling dealer. Redhead Equipment also sells Case IH, Kubota, SeedHawk, Apache, Degelman, HoneyBee and MacDon.
Carey heaps praise on the Bourgault's products, staff, leadership and administration. "They understand the concept of a retail business. Mainliners complicate everything and make it so confusing we can't figure things out. Bourgault is grass roots and keeps things simple, something that's lost today at publicly traded companies run by accountants. Gerry gets it."
Carey appreciates the firm's innovation and quality and fair prices and programs. "Plus, when there's a problem, they seem to come up with quick fixes to get to customers and look after things right away." He adds: "I'm not afraid to order 40 drills and tanks and have them coming for retail because I know they'll look after me if there's a problem."
Carey shares an example. "When they came out with their 4700 disc drill, it worked OK in about 90% of the conditions. They knew it wasn't perfect for that other 10% and we'd sold some of those. They came with a buyback program to get those customers into the 5710 hoe drill. In 30 years, my dad and I never saw a manufacturer who'd do those things."
Bourgault earned high marks from Redhead from the first day. "It doesn't take them long to realize an opportunity," he says. "They understand what's needed and react with products that are second to none." He commends Bourgault's R&D diligence, citing the investment of thousands of hours and millions of dollars to make sure their innovations work at the same time they're released. "The agrology tests on all variables bring confidence and credibility to farmers. They're cutting edge, but not bleeding edge."
He also credits the company's skills in hiring the right people for the job, and retaining that knowledge and continuity. His TM has worked with their dealership for 20-plus years, and is so knowledgeable and passionate that Redhead schedules 2-3 days each year just to do customer visits — something that makes it easy for Carey's team to put the finishing touches on the sale.
— Mike Lessiter, Editor/Publisher
Back to 2017 Equipment Dealers Assn. Dealer-Manufacturer Relations Survey