We've all read enough about how dealing with the Millennial generation is vastly different than that of the Baby Boomers and subsequent generations of consumers. So far, most of the talk has centered on managing Millennial employees, but farm equipment dealers need to ready themselves for this new breed of customer, as well, because, as we all know, farmers aren't getting any younger.
Data from The Tenure, Ownership and Transition of Agricultural Land (TOTAL) survey from USDA, provides demographic information that reveals trends about who owns and rents U.S. farmland. In 2014, for example, 61% of U.S. farmland was owned by the farm operator (or owner-operated); those aged 55 and older accounted for nearly 80% of that land.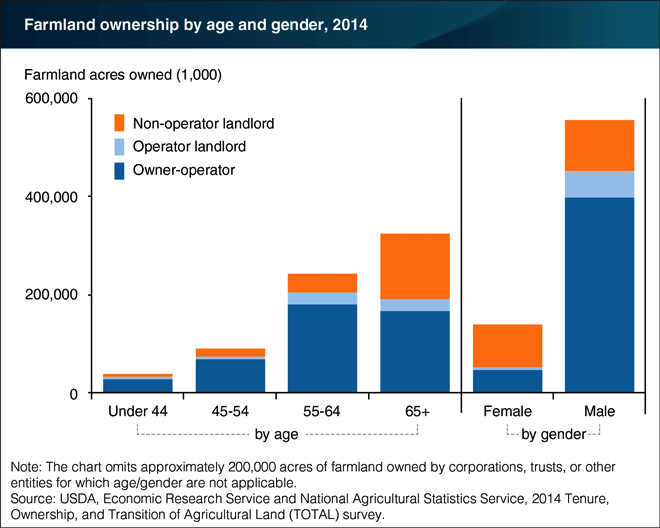 By comparison, out of the 39% of farmland that was rented out, 80% was owned by non-operator landlords; nearly 70% of that land was owned by someone aged 65 or older. Building up the financial capacity to purchase farmland takes time, which contributes to the relatively advanced age of landowners. Farmland ownership also varies by gender, with male principal operators accounting for the majority of land (90%) owned by both owner-operators and operator landlords. However, land owned by non-operator landlords was more equally divided by gender, with women owning 46% of that land.
Of course, the characteristics of rural Millennials may not exactly match those in urban settings, but they're gradually taking over U.S. farms and you can bet they'll look at things much differently than did their fathers and grandfathers.
And speaking of getting older, the demographics of farm equipment dealers are not too dissimilar than those of U.S. farmers. According to survey conducted by Farm Equipment in 2015, nearly three-quarters of dealership owners/principals are 51 years or older, and 37% of 61 or older. Top managers at North American dealerships are also getting on in years with nearly 82% are 51 or older, and 27% are 60 or older.