Ag producers' confidence surged during January. That's according to the latest reading of the Ag Economy Barometer, which is compiled by Purdue University and the Center for Commercial Agriculture. Sentiment has improved dramatically since the November election. The January reading — the most positive in the Ag Economy Barometer's history — was 153 and is 21 points higher than December's survey and 61 points higher than in October 2016. In addition to being the highest reading on record, it also represented the largest month-to-month change since data collection began in October 2015.
Once again, producers' favorable outlook regarding the future was the largest contributor to the increase in optimism. The Ag Economy Barometer, which is based on a monthly survey of 400 agricultural producers from across the U.S., is based on the Index of Current Conditions and the Index of Future Expectations. In January, the Index of Future Expectations reached 169 — 23 points higher than the previous month. The Index of Current Conditions saw a substantial increase in January as well. The reading for current conditions was 118, up from 102 in December.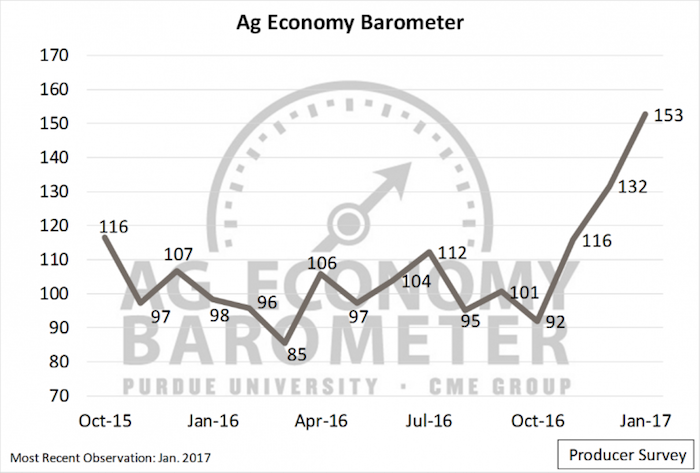 According to the reports authors, "The improvement in producers' perceptions of current economic conditions is tempered by the fact that in January a majority (58%) of respondents indicated that their farm operations' financial conditions were worse than a year ago. Although producer responses to this question have improved markedly since August, when 81% of respondents felt their farms were in worse financial condition than a year earlier, it still indicates financial conditions have been worsening on most farms."
While producers are more optimistic, it's not clear if this will have any impact on ag equipment sales for dealers and manufacturers since their financial conditions are still unsteady.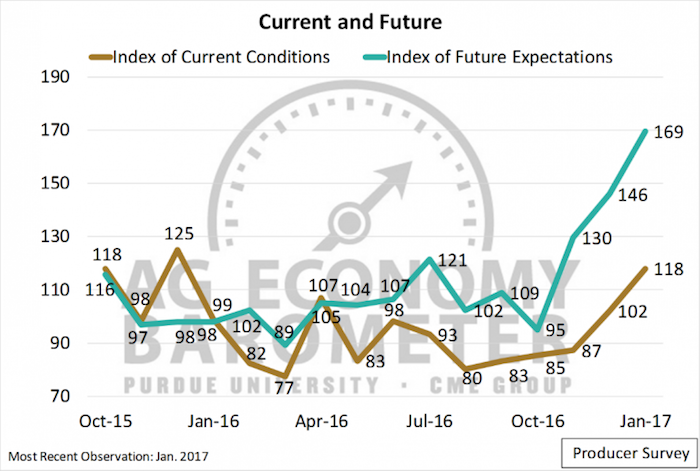 Looking ahead 12 months, producer sentiment has improved greatly. In October, 17% of producers were expecting conditions to improve over the year ahead, the report says. In January that number grew to 39%, the most positive reading since the survey began in 2015. While the report notes that producers' perspective on commodity prices is often a key driver for their future expectations, it's not clear if that is the case with the January survey. "When asked about corn, soybean, wheat and cotton prices 12 months ahead (January 2018), the percentage of producers expecting higher prices was, with the exception of wheat, only slightly higher than in October. There was, however, a notable difference in wheat prices expectations from October to January as one-third of respondents expected higher prices on the January survey compared to just over 20% in October," the report says.