The results of the Purdue University/CME Group Ag Economy Barometer survey indicates that farmer sentiment improved modestly during September as fall harvest got under way across most of the U.S.
Based on a monthly survey of 400 agricultural producers, the Ag Economy Barometer was at 101 in September (Fig. 1). While this was moderately above the August value of 95, the barometer's current reading remains well below its peak of 112 in July.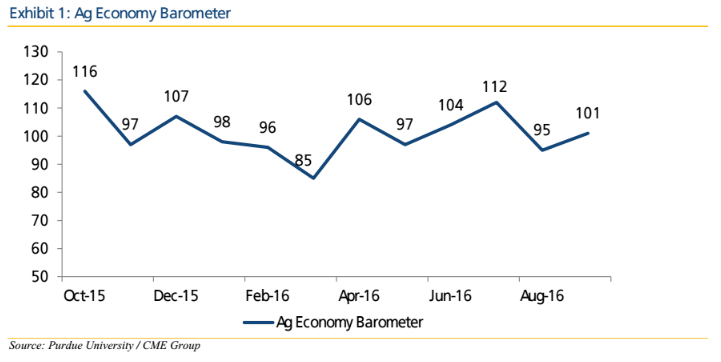 Figure 1.
In an investors' note, Igor Maryasis, senior research analyst for Avondale Partners, said, "Views of current and future expectations both experienced positive movement in September; however the divergence between the two, highlighted by the summer months, was reinforced (Fig. 2). The index of current expectations continues to remain depressed, yet the index of future expectations came in with the second highest reading since the 2016 crop-growing season began in April.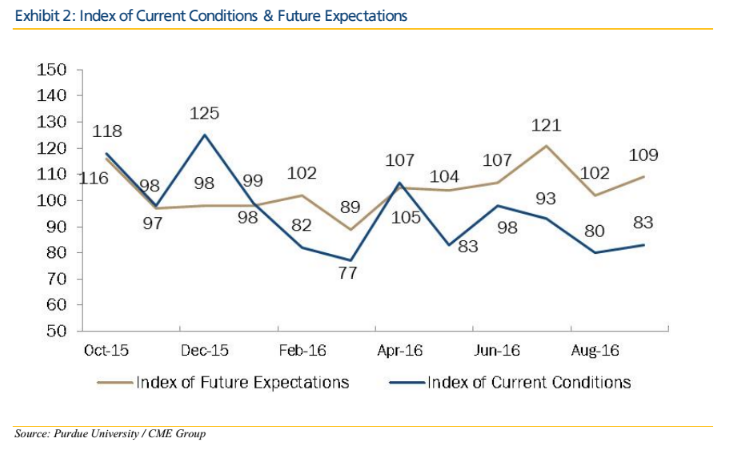 Figure 2.
"Improving sentiment among crop farmers is incrementally positive, however it is still well below the readings seen earlier this summer. While the September rebound is a welcomed sight, we point to 2017 "Early Order" trends and depressed commodity prices as signs for potentially a further decrease in the odds of any meaningful recovery in machinery sales for 2017," said Maryasis.
Sentiment Continues to Favor Livestock
According to Purdue researchers, survey respondents continue to be more optimistic about future economic conditions in the livestock sector than in the crop economy, although most respondents don't actually expect widespread good times in either sector. "Interestingly, the gap between expectations for good times in crops vs. livestock has narrowed appreciably since late 2015. For example, during fall 2015 the percentage of respondents expecting good times in livestock over the next 5 years exceeded the same reading for crops by 11%. During July-September 2016, the gap in expectations of good times between livestock and crops averaged just 7% suggesting that expectations of strong profits in livestock production have diminished."