The growing push to adopt conservation tillage practice to help improve overall soil health appears to be giving some traction to the use of strip-tillage practices. According to the results of the 3rd Strip-Till Operational Benchmark Study, average acres planted to strip-till increased to 1,139 acres in 2015 compared to 948 acres in 2014 and 877 acres in 2013.
The survey, which was conducted by Strip-Till Farmer, a sister publication of Ag Equipment Intelligence, produced 416 responses from farmers in 22 states and Canada, who identify themselves as strip-tillers. The full report appears in the August 2016 edition of the Conservation Tillage Guide. The average corn acres strip-tilled continues to climb to 860 in 2015, up from 737 acres on average in 2014 and 707 acres in 2013.At the same time, the average soybean acres that are strip-tilled fell back to 413 acres last year from a high of 476 acres in 2014.
According to USDA, strip-tillage combines the benefits of no-till and full-width tillage, but tillage is confined to 6-8 inch strips into which dry fertilizer and/or anhydrous ammonia and seed are placed. Crop residue in row middles is left undisturbed, satisfying the USDA's definition of "no- till."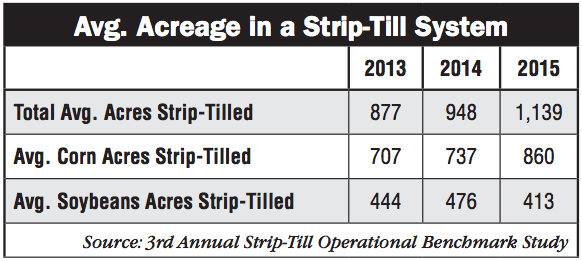 As a result, strip-till acres are often combined with that of no-till. Studies conducted by the Agricultural Resource Management Survey indicate that continuous no-till is utilized on 21% of acres planted to corn, soybean and wheat. According to Jack Zemlicka, managing editor of Strip- Till Farmer, 97% of the survey respondents report strip-tilling corn, while 44% strip-tilled soybeans.
Strip-Till Yields 
The study also indicated that strip-till produced somewhat higher yields in both corn and soybeans. For 2015, farmers participating in the 8th Annual No-Till Benchmark Study reported an average of 191 bushels of corn per acre with strip-till compared with 168 bushels per acre with no-till. For soybeans in 2015, farmers achieved 54 bushels per acre with strip-tillage and 52 bushels per acre with no- till. USDA estimates the over- all 2015 average corn yield for all practices is at 168 bushels per acre. The average U.S. soybean yield for 2015 is estimated at 47.2 bushels per acre.
Strip-Till Equipment 
From an equipment perspective, there is no "typical strip-till rig." Zemlicka explains, "Finding the right mix of equipment to maximize performance and productivity in the field is an evolving process. It may takes years or even decades of experimentation with different tool- bars, row units and attachments to find the right combination."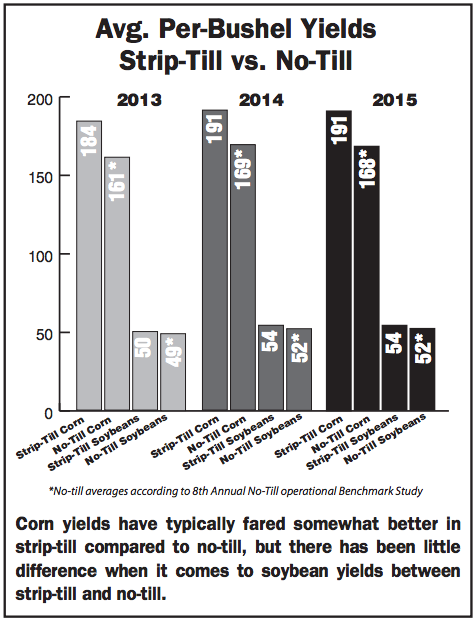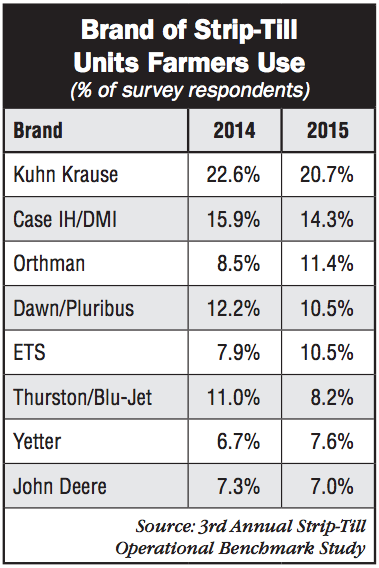 In other words, building a strip-till rig can be complicated and the final configuration of a strip-till system often boils down to farmer preference based on his or her experience and field conditions.
Zemlicka noted a trend toward upsizing of equipment for strip-tilling. "With strip-till acreage on the rise, it makes sense that farmers are increasing the size of their equipment to cover more ground in a shorter amount of time. While 44.4% of farmers utilized a 12 row strip-till rig on their operation in 2015 — by far the most popular size — 37.5% used 16 or 24 row machines, an increase over prior years."
He goes on to say that this year's study showed that 31.7% of strip-tillers used a 16 row rig, up from 28.7% in 2014 and 25.7% in 2013. Those farmers running 24 row strip-till rigs also continued to climb to 5.8% in 2015, compared to 5.4% in 2014 and 4.3% in 2013.
Also noted was a significant increase in horsepower used by strip- tillers. "Given that more farmers are pulling larger strip-till rigs, it made sense that tractor horsepower continued to increase," says Zemlicka. Farmers averaged 325 horsepower to pull their strip-till rigs, compared to 310 in 2014 and 278 in 2013.
"On the other end of the spectrum, only 18.2% of respondents used 8 or 6 row strip-till rigs. This continued a downward trend for use of smaller rigs, with 7.7% running 6 row strip-till machines, vs. 7.6% in 2014 and 15.7% in 2013. Farmers using 8-row rigs also declined to 10.5% from 12.4% in 2014 and 11.4% the prior year." 
— Ag Equipment Intelligence, July 2016