If there's an upside to how dealers view their business prospects for 2016, it's that more dealers expect revenue from new equipment sales to be at least as good or better in the year ahead than they were in 2015. Overall, 56.9% of dealers see revenues improving or flat for 2016.
More specifically, 17.2% of the 282 dealers who responded to the 2016 Dealer Business Outlook & Trends survey expect revenue from ag equipment sales to be from 2% to more than 8% better in the year ahead, while 39.7% are looking for overall sales of new machinery to be flat vs. 2015.
This compares with 50% of dealers in last year's survey who projected increased or flat revenue for the current year. A year ago, 19.3% of dealers expected revenues to increase at least 2% to more than 8%, while 30.7% anticipated flat sales.
Last year, half of all dealers responding to the survey expected sales to drop from 2% to more than 8% throughout 2015. This compares with 42.5% of dealers this year who are forecasting declining revenue from sales of new equipment in 2016.
Couched in relative terms, of course, a projection calling for "flat" revenues isn't necessarily a neutral outlook for 2016 when it's compared with 2015. When all is said and done, this year could possibly be the poorest sales year for farm equipment in the last decade, at least for sales of high horsepower tractors and combines.
Mixed Bag for Tractor & Combine Sales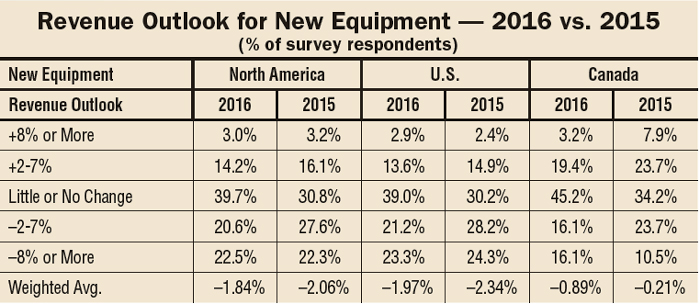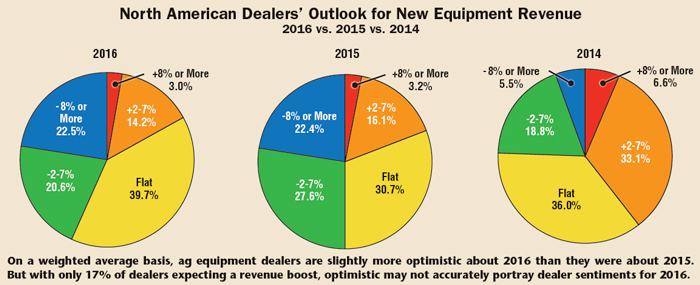 Declining year-over-year sales of high horsepower tractors and combines doesn't tell the whole story of farm equipment sales during the past year, but it offers a pretty good view of overall industry mood.
How Did North American Dealers Fare in 2015?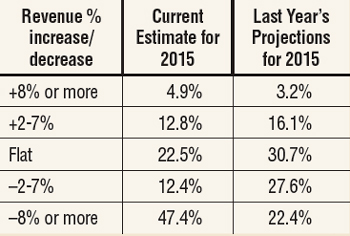 The percentage of dealers who projected a year ago that revenue from new equipment sales would improve vs. 2014 were very close to the percentage who are reporting that business revenue did increase in the past year. Those expecting business to be flat and/or to decrease in 2015 compared to the previous year, on the other hand, missed the mark by a much larger margin.
A year ago, 19.3% of dealers polled expected their revenue from the sales of new equipment to increase vs. the previous year. In actuality, 17.7% of dealers report their sales in 2015 will have improved over their 2014 performance, representing only a 1.6% difference.
Last year at this time nearly 31% of dealers expected new equipment sales to be flat and 50% expected sales to be down. In actuality, nearly 60% of dealers report 2015 sales of new equipment declined vs. 2014 and about 22% said it was flat.

According to the Assn. of Equipment Manufacturers, over the past 12 months, unit sales of row-crop tractors in the U.S. and Canada are down nearly 31% (1,771 units vs. 2,562). The last time the industry saw positive results for a month was in July 2014, when year-over-year sales increased by 1.2%. Beyond this, sales have been in negative territory since February 2014. Just under 20% of dealers expect a pick up in sales of row-crop equipment, while 37% forecast a continued decline in 2016.
Sales of 4WD tractors were down 54.7% in August on a year-over-basis. The last time 4WD tractor sales experienced a year-over-year gain was in December 2013 when North American dealers sold 960 units, which was most likely given a boost by advantageous Bonus Depreciation and Section 179 depreciation schedules. Slightly over 20% of dealers anticipate an increase in the sales of 4WD units, but more than double that, 42.7%, are looking for a drop in sales.
With the exception of sporadic decreases, sales of compact (under 40 horsepower) and utility (40-100 horsepower) tractors have fared far better than their bigger counterparts during the past 12 months.
Year-over-year sales of utility equipment through August were down 5.6% (5,120 units), but this followed a 19.6% increase in July (7,097 units). Over the 12 months between September 2014 and August 2015, sales of utility tractors were up for 8 of those months. And dealers have a more favorable outlook for the sale of utility tractors in the year ahead. Nearly 26% of dealers in this year's survey expect increased sales of this tractor category in 2016.
Dealers handling compacts are also expressing a higher level of optimism for increasing sales of small tractors during the next year. Nearly 29% are forecasting a boost in sales of compact equipment in 2016. This confidence comes from a solid year of improved sales from September 2014 to August 2015. Year-over-year in August, compact tractor sales slipped by less than 1% (9,688 units), but they're coming off a 27.5% (14,342 units) sales jump in the month before.
Between a Rock & a Hard Place
The most obvious cause for the downturn in new farm equipment sales is low commodity prices. But if commodity prices are the rock, then the huge backlog of low hour, high priced used equipment many dealers have on their lots is the hard place. This is where dealers found themselves in the past year.
Demographics of 2016 Survey Respondents
Some 282 North American dealers participated in Farm Equipment's "2016 Business Outlook & Trends" survey. The charts below show how the participants broke out by country, regions, mainline suppliers and dealer revenue sources. This year 88% of the respondents were from the U.S. and 12% from Canada.