A mid-year look at how dealers' expectations for 2015 are shaping up indicate that, on average, those responding to the July "Dealer Sentiments & Business Conditions Update" survey are looking for a year-over-year falloff of 15%. A year ago, dealers were forecasting a 6% year-over-year decline for 2014.
A net 37% of dealers are forecasting a sales decline for the year, similar to the May survey results.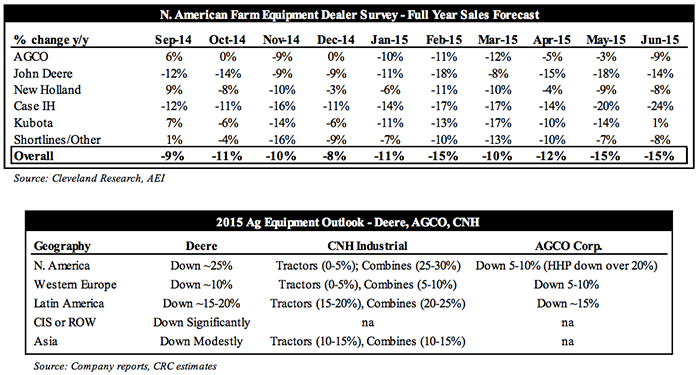 A net 37% of dealers are also reporting that new equipment inventories remain "too high." This is a slight improvement over the previous survey, but continues to be at the high end of our survey history. Used inventories appear to have deteriorated somewhat in June, with 40% of dealers reporting inventory was "too high" vs. 34% of dealers in May.
Dealer Commentary
Dealers offered the following comments regarding the observations of current business conditions.
"The only bright spot is corn. Low prices have farmers down and uninterested in new. Any of their trades are virtually at junk prices."
"The only thing that sells product is a low or zero interest lease, or 0% financing. We haven't quoted a single MUD deal so far."
"Too much rain, not enough heat."
"Excess rain led to little hay getting harvested."
"Enthusiasm remains for class 4 and 5 combines."
"Manufacturers are shipping anything you order, they're running scared."
"The market for 5,000 hour, 150-200 hp, 10-20 year old tractors remains stable."
"Most of the compact and small ag items are open orders, without caps or targets by manufacturers as of mid-June."
"Lack of spring goods EOP sales from fall 2014. Continued downturn in grain markets is our largest issue this spring.  Lack of good planting weather and reduction of Gov 179 tax benefit."
"We would have had a great month but we had record rainfall in the state of Oklahoma and none of our customers were able to work. That includes lawn/landscape people, farmers, ranchers and construction people."
"We are selling used, but new tractors over a 100 hp are big zero."
"We just don't know where the bottom is."
"Managing our used inventory means probably selling less new."
"Our focus is on used  … need to reduce used inventory in order to take more trades."
"It reminds me of the  '80s when farmers were not interested, no matter how cheap a price you offered."
"The lack of concern by the major manufactures is surprising. Deere came out and said this would be one their best years of the last five. They feel they can weather the downturn by manufacturing less. I am more concerned about 2016 than 2015 as we may have a big surplus of ag commodities, driving down the need for equipment further."