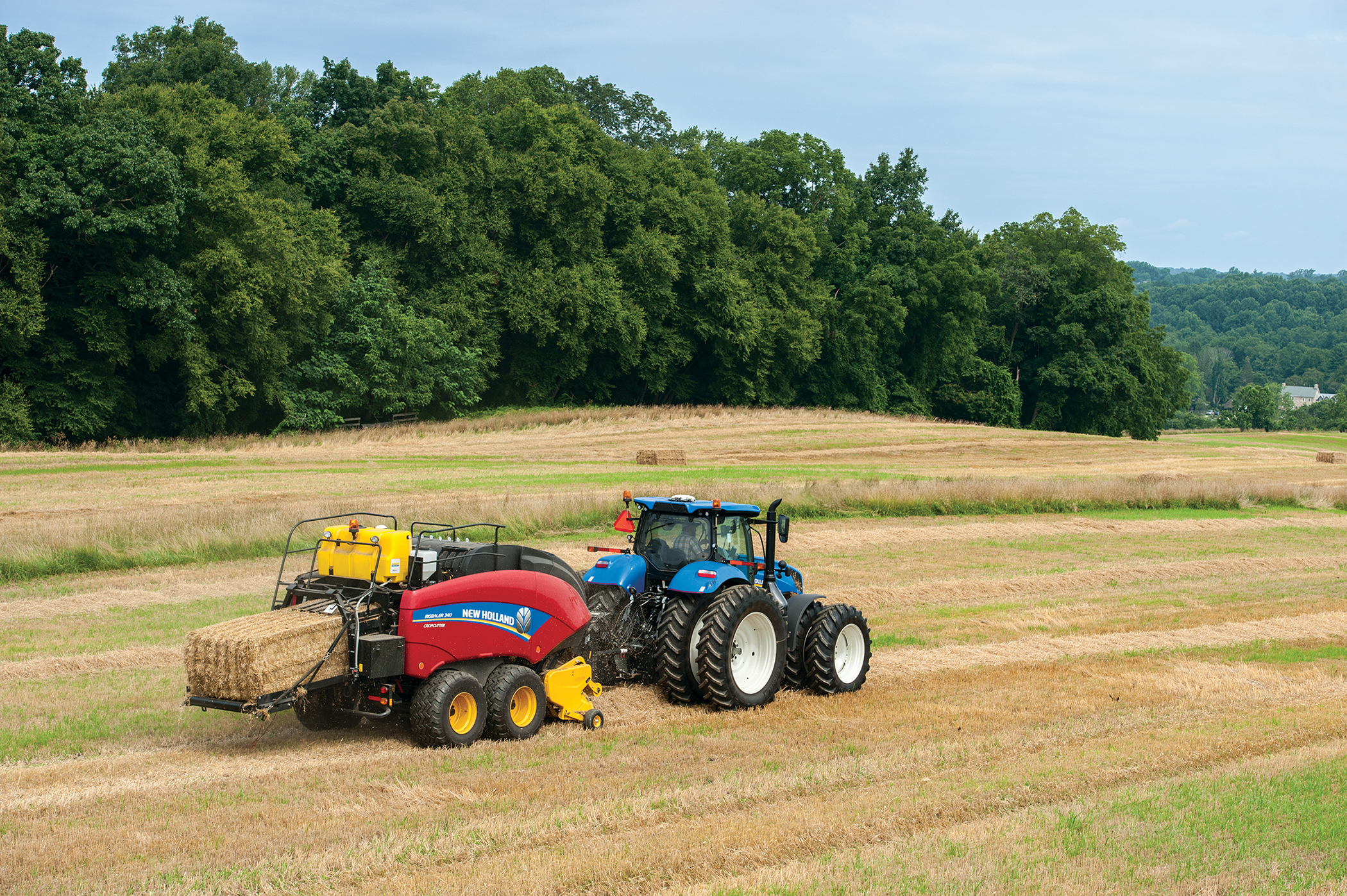 New Holland New T7 Series Tractors 
New Holland expands its tractor offering
with brand new models, the T7.290 and
T7.315. These new T7 Series tractors are
ideal for row-crop work, baling hay,
mowing, hauling manure or other big
chores. The Horizon cab provides a quiet
and comfortable operating environment, along with precision technology that enables growers to optimize efficiency and performance, while staying connected with their entire farming operation. These new models also feature New Holland's IntelliCruise tractor-baler automation that allows the New Holland BigBaler to control the tractor's speed according to changes in the windrow to maximize productivity and bale consistency. 

The T7.290 and T7.315 engines feature New Holland's ECOBlue Hi-eSCR (High-Efficiency Selective Catalytic Reduction) technology to meet Tier 4 Final emissions standards. This after-treatment system, which has no CEGR or DPF, allows the engine to optimize combustion, torque and fuel efficiency. An electronically controlled variable geometry turbocharger delivers the torque required to operate at low engine speed and react quickly to load changes.
These new T7 series models also feature New Holland's Auto Command continuously variable transmission (CVT) with four direct drive points with 100% mechanical efficiency. These points have been positioned to ensure they match perfectly to the most frequently used speeds during high-speed field work such as baling or mowing, high-speed transport and heavy draft work.
A four speed rear PTO and a two speed front PTO allow the engine to be operated efficiently. If mowing in light crop conditions, the operator uses the in cab speed shift to select 1,000 rpm Economy for the front and rear mowers.
Hydraulic circuits have been redesigned to reduce parasitic losses. No oil moves on these tractors unless it is required. With a 220 liter per minute pump available, significant oil flow can be obtained at low engine speeds.
The two new models can mount larger group 48 and 49 tires, and customers have the option of rear and front dual wheels. This results in improved traction and minimal soil compaction. Tire pressure can be monitored on the IntelliView IV display: the ideal pressure for the job can be set and monitoring can be done on up to 16 tires. The operator receives a warning if the tire pressure moves away from the set values.
T7 models include the new generation Auto Comfort ventilated seat. The new seat, together with the standard Comfort Ride suspension and new heavy-duty suspended front axle, provide a smooth and cushioned ride. The high-intensity 360-degree LED work light packages provide illumination when working after dark safely and productively.
The T7.290 and T7.315 automation features include the latest generation Headland Turn Sequencing, IntelliSteer auto guidance and PLM Connect.
The new models also feature New Holland's IntelliCruise ISOBUS Class 3 tractor-baler automation technology that enables the baler to control the tractor's speed to optimize feed rate and produce a constant flake thickness.
With IntelliCruise the baler automatically adjusts the tractor's forward speed in relation to the crop yield going into the baler. It calculates the best speed based on the information received from charge sensors, ensuring the optimal feeding rate is maintained in varying field and crop conditions. The operator doesn't need to control the tractor's speed or monitor the capacity graph and far fewer interventions are required.
With IntelliCruise, inexperienced operators can achieve up to 9% more productivity, as the system automatically maintains maximum efficiency. This also results in fuel savings, as the tractor remains at optimum speed, making only necessary adjustments; a fatigued or inexperienced operator could save as much as 4% fuel.