New Holland has introduced its next generation of hardworking utility tractors, the T4 Series. This tailored offering produces between 84 to 106 horsepower thanks to powerful 4-cylinder engines with Common Rail technology and a Cooled Exhaust Gas Recirculation system to meet Tier 4A compliance.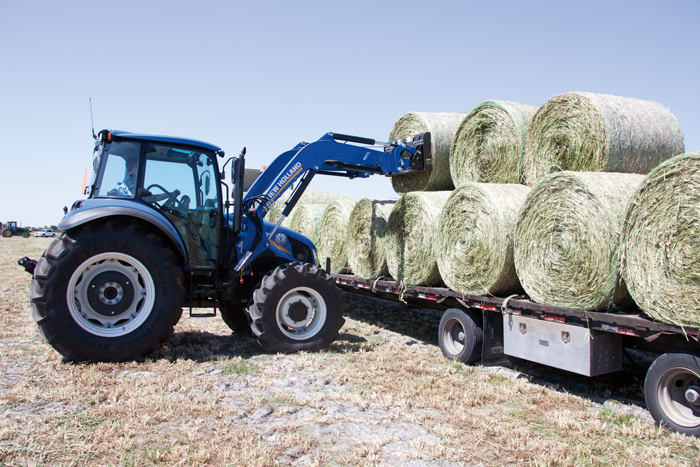 Features include the deluxe VisionView cab, the ergonomic CommandArc console, and distinctive, eye-catching New Holland styling.
"The comfort and convenience of the T4 Series is well-suited to the demands of livestock and dairy farmers who carry out extensive hay and forage and feeding applications, as well as for diversified operations requiring a highly productive, mid-range utility tractor," says Michael Cornman, New Holland Dairy and Livestock Marketing Segment Leader.
A Comfortable Choice: The Deluxe VisionView Cab
Operator comfort is a prerequisite for optimum productivity, especially during long, demanding days. The deluxe VisionView cab, which is also available on the T5 Series of tractors, was designed with operators in mind. Using state-of-the-art virtual reality techniques, T4 Series tractors provide ergonomic excellence as a standard feature. All controls fall perfectly to hand for operators of all shapes and sizes. The most frequently used controls, including the throttle, PTO, and hydraulic remote levers, have been placed to the right of the operator on the ergonomic CommandArc console to reduce fatigue and increase operator precision. 
A dedicated foot pedal to adjust the position of the steering column is located on the floor between the clutch and brake pedals. This pedal provides operators with a comfortable driving position with an unobstructed view of the easy-to-read instrument cluster.
The curved, opening rear side windows deliver a clear line of sight for implements like rear-mounted off-set mowers. Visibility is further assisted by 15° of seat swivel. The repositioned exhaust muffler, now in line with the A-pillar, also enhances visibility with a perfect view of the inner tire wall, which is ideal when working in narrow row-crop applications.
An all-new dual zone air conditioning system features 10 individually positionable vents that deliver even flow for optimal total body comfort, thanks to dual-zone technology. The B-pillar mounted controls for air speed and temperature can be intuitively adjusted while on the move.
The deluxe VisionView cab has been designed with traditional livestock operations in mind, with an overall height as low as 102.5 inches (2,603 mm) (with 420/85R30 tires), enabling a T4 Series tractor full access to low buildings.
Rugged ROPS Option
Operators who require traditional, rugged productivity will select the ROPS platform,, enabling them to benefit from the same operating environment and ergonomic layout as cab models. All configurations can be specified in this format, which can be further enhanced with a fully FOPS (Falling Objects Protection System) compliant canopy. The foldable ROPS is the perfect choice for operations with low clearance requirements.
Tailored Offering
The T4 Series benefits from an extensive transmission offering, which means producers can tailor the tractor to suit their individual needs. Choose from a 2WD, ROPS, mechanical shuttle version for basic PTO horsepower all the way up to a 4WD, cab, electrohydraulic shuttle model for deluxe comfort and all weather versatility. On ROPS models, operators will benefit from the same operating environment and ergonomic layout as cab models. ROPS models have been further enhanced by enduring, weather-resistant materials to ensure ultimate durability in even the harshest operating environments. A deluxe ROPS platform enhances durability with the addition of a rubber floor mat, grab rail windows and a FOPS canopy.
Both cab and ROPS models are available with two mechanical transmission options: the 12x12 Synchro Command shuttle and 20x12 Synchro Command shuttle with a creeper. The left hand column-mounted shuttle enables operators to change directions without having to remove their hand from the steering wheel.
All models can also be equipped with the electrohydraulic, column-mounted power shuttle versions of the 12x12 and 20x20 creeper transmissions, the latter providing speeds as low as 0.1 mph (0.2 km/h), perfect for applications where going slow is important. The electrohydraulic, column-mounted power shuttle offers clutchless fingertip shuttling.
T4 models are fitted with a 207-cubic-inch (3.4 liter), Common Rail F5C engine, which has been developed in partnership with FPT Industrial for agricultural operations. These engines benefit from state-of-the-art Cooled Exhaust Gas Recirculation (CEGR) technology for Tier 4A compliance. This is in alignment with New Holland's T4A plan. Due to reduced cooling demands, machines producing under 120 horsepower are fitted with CEGR technology.
F5C engines deliver between 84 and 106 engine horsepower and offer outstanding transient response thanks to Common Rail technology. Productivity in demanding conditions is further enhanced with an impressive 35% torque rise. Sustained maximum power is available from 1900-2300 rpm, the most common operating band, to deliver outstanding flexibility in the majority of tasks. Furthermore, all engines are compliant with B20, 20% biodiesel.
Powerful Hydraulic Packages
New Holland knows that different hydraulic requirements are needed for different applications. The 19.8 gpm (75 l/min) option features a dedicated 12.5 gpm (47.5 l/min) implement pump for hydraulic applications and a 7.3 gpm (27.5 l/min) steering pump, which is a perfect combination for standard farming applications. Farmers who carry out more demanding hydraulic applications, like bale wrapping, will opt for the optional large pump combination, which has a combined total flow of 25.9 gpm (121 l/min). With this larger system, the implement pump now provides operators with an impressive 16.9 gpm (63.9 l/min) of flow for uniform performance. Furthermore, the 9.0 gpm (37.0 l/min) steering and services pump ensures easy and responsive steering.
Up to two rear remotes and two mid-mount hydraulic remote valves can be installed at the factory, which are all conveniently controlled on the CommandArc console. An additional third rear remote can be installed by any New Holland dealer for those who need additional rear hydraulic remotes.
Flexible PTO Options
The T4 Series is available with a choice of PTO speed options. Owners can choose mechanical or electrohydraulic engagement and the entry level 540 and 540/1,000 rpm shafts. All PTO speeds are selected from the comfort of the cab or operator platform for efficient engagement. 
Model

Engine Horsepower

PTO Horsepower

T4.85

84

70

T4.95

98

82

T4.105

106

91

T4 Series tractors will be available in the second half of 2013.