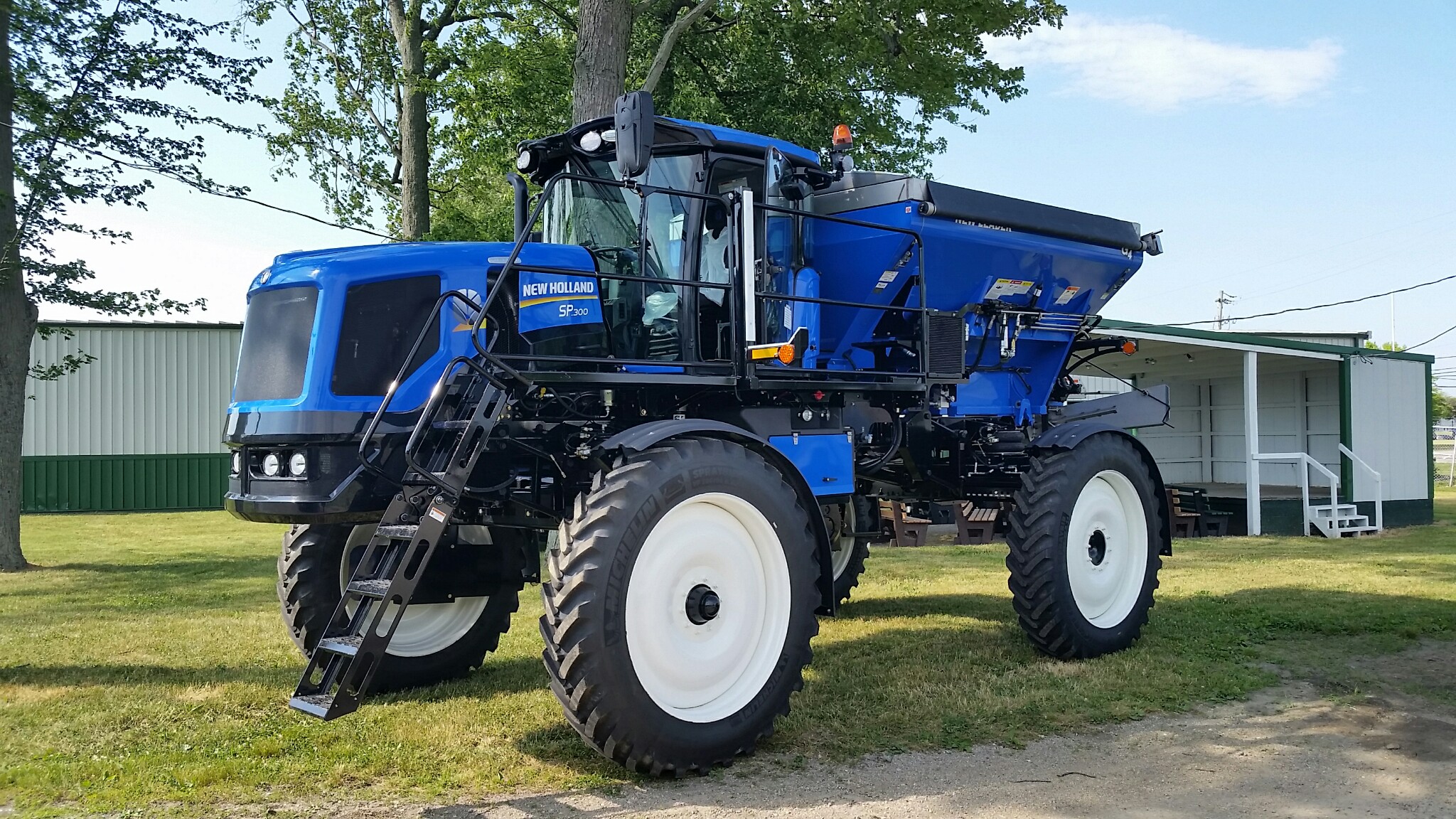 New Holland Guardian MY2016 Series
Rear Boom Sprayer
New Holland launched the next generation of rear boom sprayers, the MY2016 (MY16) Guardian Series, which features three new models: SP.260R, SP.300R and the SP.300C.
The MY16 Guardian Series includes two new
rear boom models: SP.260R and SP.300R.
They feature a smoother ride thanks to the added second rear suspension valve and improved leveling on side hills and crowned roads and 6.7 liter QSC Tier 4 Final engines. Operators will have the option to choose from a 1,000 or 1,200 gallon tank made from poly or stainless steel with both the SP.260R and SP.300R models.
The new models continue to offer a simple rear boom design with automatic transmission, single pass coolant system and mechanical drive system for enhanced speed, durability and traction. The MY16 Guardian sprayer also qualifies for the New Holland Top Service program for easy service and maintenance.
The SP.260R model is rated at 260 horsepower (max 270), and has boom width options of either 90 or 100 feet. This model also features an exclusive angle drive and new fixed axle option that can reduce weight and operating cost, and also means fewer moving parts thanks to the simple design.
The larger SP.300R model is rated up to 300 horsepower (max 310) and can accommodate an optional 4WD assist. This model also has the added option of a 120 foot boom, in addition to the 90 and 100 foot options available.
Both combination dry box and combination liquid system are available, but sold separately. Operators can switch between Combo Liquid and Combo Dry systems in approximately one hour. The SP.300C combo chassis comes standard equipped with 2WD and an optional 4 wheel assist and boom widths of 90, 100 or 120 feet.
Combo Dry attachments can be ordered as a single bin/product or as a multi-bin/product configuration. Both feature a hydraulic load sensing system to maintain spread pattern during deceleration. Units with the single bin option feature a 255 cubic feet (8.29 ton) tank, and are MultApplier ready, whereas multi-bin option sprayers feature a small hopper inside the main tank to apply two products. The large main tank is 134 cubic feet (4.35 tons), while the smaller tank is 100 cubic feet (3.25 tons).
The Combo Liquid system offers a 1,200 gallon poly or stainless steel tank, electric rinse system and electric agitation adjustment (standard feature), mono boom or truss boom option, and product circuit hoses stay connected and mounted on skid including an optional educator/induction system.
Both combination options feature quick attach front and rear mounting systems that are spring loaded for operator convenience. The mounts do not have to be removed, but rather the operator is able to loosen and swing out of the way.
The MY16 Guardian series Tier 4 Final engines reduce fuel usage while offering added horsepower. Updates have also been made to the cooling system to accommodate Tier 4 Final. Designed slightly wider with additional venting than previous models, the hood allows for a 15.5% larger oil cooler than before, in addition to a larger radiator and added radiator overflow.
The MY16 Guardian Series cab features a joystick control. The indexing section control allows for manual manipulation of all 10 and 12 section boom options. Improvements made to the feel of the buttons and increased response time allow for greater control for the operator.
The windshield wiper has been upgraded for improved performance. Also included are left and right adjustable dome lighting, USB power point behind the operator's seat, circuit pressure gauges relocated for convenience and a backup camera to assist the driver while operating in reverse.
Finally, the new Tier 4 Final ISO-ready monitor features a 7 inch touchscreen display, which places control (from hydraulics, sprayer valves to engine and electrical), at the operator's fingertips. Optional equipment can be added to provide even more function.
Platform deck and lighting packages on the new MY16 Guardian Series models have been updated to provide improved visibility during day and night spraying, operating in row crops and the addition of a lower rail has increased user safety. Now, four hood headlights are equipped with high and low beam settings, and the auxiliary lighting kit has been upgraded to LED fixtures, which provide a whiter and brighter light while using less power.