The most recent figures released by the Assn. of Equipment Manufacturers indicates that North American inventories of new tractors and combines are improving vs. a year earlier. This may come as little comfort to 40% of dealers who say they still have "too much" new equipment on their lots.
According to the survey results published in Ag Equipment Intelligence's June 2015 "Dealer Sentiments & Business Conditions Update," 38% of dealers say they're still sitting on too much new inventory. This is down slightly from 40% in the May report.
With the exception of compact tractors, the inventory of other categories of farm tractors has gotten better over the past 12 months. The inventory of utility-type tractors (40-100 horsepower) in April was up by 3.4% compared to April 2014. A year earlier, inventories of utility tractors were up 17.5% vs. April 2013.
For row-crop tractors, April inventories were up only 2.1% compared with a year ago. Five months earlier, in December 2014, inventories of row-crop tractors on dealers' lots were up 13.6% year-over-year. Inventories of 4WD tractors in April were down 31% compared with April 2014. Inventories of these units were up by 19.6% vs. a year earlier.
Combine inventories were down by 19.7% in April compared with April 2014. At that time, inventories were up by 1.4% compared with April 2013.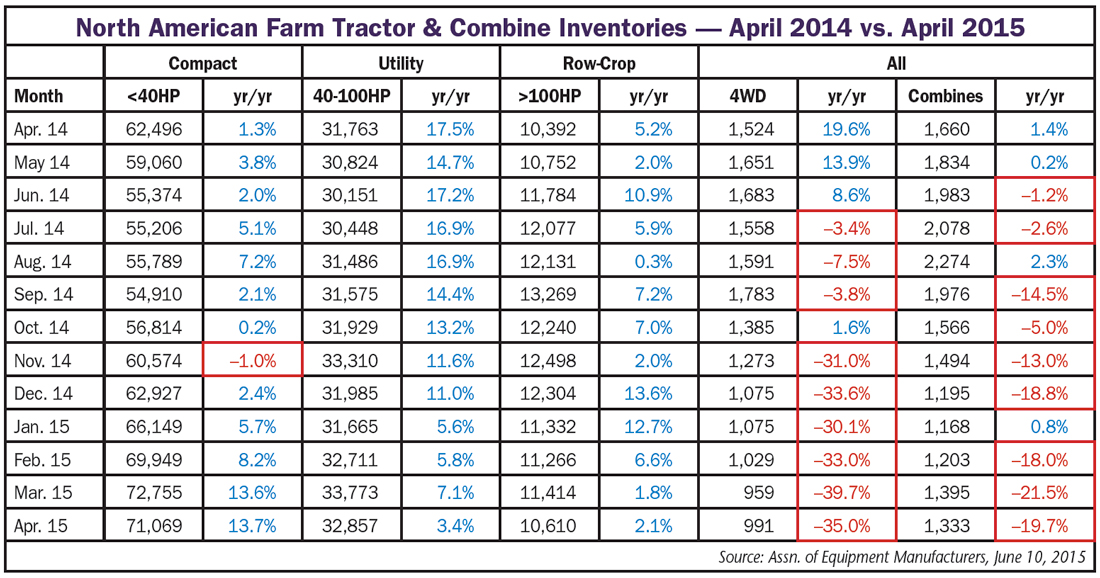 Click to enlarge