A large industry is evolving that is attempting to collect and analyze data to predict and expand future sales. It's not just in the car business, but in almost every major industry. That's because technology now exists to anonymously track the Internet habits of millions of customers. By combining this with what is already known about the average buying habits of consumers and utilizing CRM tools, targeted marketing programs can be sent to likely customers early in the purchasing process.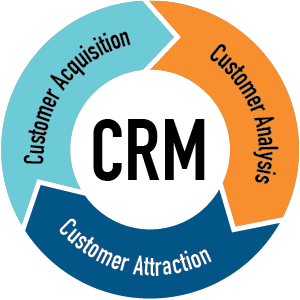 Like it or not, we live in a world where large amounts of data are available on almost every customer because so many do their shopping, research, pricing — and in many cases, purchasing — online. Every click is being monitored. By comparing the Internet habits of vast amounts of people, the culmination of the shopping cycle can be predicted in a fairly consistent manner. It's called predictive analytics and it's being pursued extensively by the automotive world.
Predictive analytics experts are using big data to answer the question, "What do people who have been doing what they've been doing tend to do next?" They've found that the majority of information gathering for car shoppers starts about 6 months before the purchase. The typical customer goes through several periods of intense online shopping, and when they reach a fairly common point, they've made a decision and will likely purchase within 72 hours.
Eric Brown is CEO of Dataium, a firm that specializes in gathering vast amounts of data for the auto industry that couples past trends with Web activity to predict customer actions. "Because car shoppers' Internet habits are tracked, the dealership can be alerted when they've clicked VDPs, or Vehicle Description Pages, multiple times."
In a recent survey, the buying habits of customers could be predicted with over 75% accuracy by analyzing the "clicking" done on automotive websites.
New Metrics from Data
Brown says the retail world is rapidly evolving. "There's a whole new set of metrics coming forward, not only in this industry, but every industry, thanks to the power of being able to tie volumes of data together.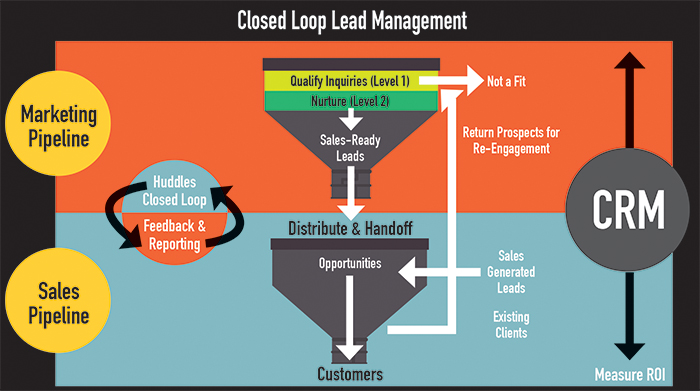 This chart depicts a closed-loop lead management system, the role of CRM in both the marketing and sales pipeline.
Source: Lead Generation for the Complex Sale by Brian Carroll
(McGraw-Hill 2006, p. 161).
---
"Our company processes 4 terabytes of data every day to look at 20.9 million consumers. We're observing their auto shopping and saying, 'Who's buying a car today and what are they buying?' If you look at the path to purchase, there is a cadence to the online behavior. It's generally, start, stop, start, stop, then sprint at the end to the purchase. You can see it, you can record it and you can respond to it," he says.
"When that person sprints, that contact information is going to a sales department for a call. Or it's going to the email provider for a message with an offer that gets them in the store today, because I know they're in the sprint to purchase, based upon observed online behavior.
"On the good side of things," he adds, "when you have massive data, aggregators like myself and other companies can take all of that information and it gives us a lot more clues about what consumers intend to buy and when they're going to buy it. What I'm describing is shopper analytics. Five years ago this data didn't exist, because the technology didn't exist to process terabytes of data in seconds."
Brown says the goal is to separate the "curious" buyer from the "serious" buyer and then use the dealer's CRM database to target the latter group with direct mail and email advertising campaigns. That makes efficient use of marketing budgets. Dealers are investing to increase sales, not to spend it on people who have no intent of purchasing. "Those working in the field can look at all the traffic on your website, they can look at everything on your CRM. They can then identify, through analysis, those consumers who are the best prospects for conversion tomorrow, and then the next day, based on their behavior."
The most progressive auto dealers are on the cutting edge of using this technology to their advantage. Predictive analytics not only allow for more efficient use of advertising dollars, but may also enable dealers to intercept customers who have been shopping online at other dealerships and redirect them.
It could also help them to order and stock only the products that will be in demand and target the shipments of new ones so their time on the lot is much shorter. Also, having the products in stock that customers want can result in less need for negotiation and heavy discounting, so margins are improved.
Analytics & Ag Equipment
Can this technology be applied to the farm equipment business? The use of predictive analysis by ag machinery dealers is most likely a ways down the road. There are three reasons why it would be more difficult to apply this approach to ag equipment dealers at this time.
First, there don't appear to be any companies in the industry that anonymously track and analyze customer visits to farm equipment websites. So, the Web habits of those who are looking at farm equipment on the Internet aren't well established. Having said that, some information is being gleaned from OEM sites where farm customers are able to "build and price" a tractor or another piece of equipment, and that information is generally conveyed to local dealers for follow up.
But farm equipment dealers don't typically rely on third-party lead sources that charge for customer information, for example. Shoppers who search for cars on Autotrader.com, Cars.com or True Car, or check trade-in values through Edmunds.com or KBB.com, are tracked by those websites, who then sell that contact information to retailers. Of course, automotive retailers would prefer that shoppers go directly to their business websites to avoid these fees, but customers don't. As a result, auto dealers need these third-party leads to reach prospective buyers and have little choice but to pay for them.
In the farm equipment business, websites like Tractor House, Equipment Trader, U.S. Farmer, Fastline and others may track leads and send them to local dealers, but that's all usually included in their monthly fees. And, from my personal retail equipment experience, more often than not, those leads have minimal value.
Second, the volume of cars sold dwarves the number of units sold in the farm equipment industry. So, from an economic standpoint, paying an outside supplier to analyze Web traffic and create sales models based on past performance would be difficult to justify. Larger car dealers are doing it, the farm equipment OEMs are likely doing it, but, based on volume, the costs to establish such a predictive analytics program would be difficult for most farm equipment dealers to justify — at this point in time.
Third, the buying patterns of farmers are dictated, in large part, by the weather. Without such an insurmountable variable, the auto industry is able to construct predictive models that cover the economy and car buying trends with a high degree of accuracy. For farm equipment sales, a drought, flood or unfavorable temperature fluctuations at the wrong time has a direct impact. For all of our technological breakthroughs, the farm equipment business remains largely dependent on the good graces of Mother Nature, which make buying trends difficult to predict.
But like so many trends and technologies, as the shopping and buying habits of the general public gravitate toward the Internet, over time, agricultural clientele will follow that same path. At some point, there will be enterprising individuals entering the emerging field of predictive analytics who will see an opportunity to capture the Web habits of agricultural consumers and marry that data to CRM data to produce predictive models for farm equipment sales. When they do, they'll be knocking on the door of every dealer in the business offering to sell the information.
Predictive analytics will eventually reach the farm equipment business and those dealers who use it to their advantage will be able to capture a larger piece of the pie.
It will probably show up first in the rural lifestyle and outdoor power equipment segments. Because the profiles of these customers' more closely resemble that of the average car buyer, and the number of units sold is greater, this capability will probably emerge sooner than later. It will be a little longer before the full-time agriculture customer's purchasing can be predicted through website use, but there's no reason it won't happen over time.
As with car dealers, using this data along with the CRM system, dealers would be able to order and stock only the models of equipment that are likely to sell quickly. Because they have the exact inventory needed at the time the customer wants it, negotiations could be reduced and margins increased.
The success of effective marketing and predictive analytics all hinges on the dealer knowing as much as possible about every one of his current and prospective customers. To get ready for what's coming, it will be crucial for dealers to give gathering, organizing and utilizing customer data the same priority as their sales efforts. And in this way, a dealer's success in the future will be achieved in much the same way as success in the past — by knowing their customers better than the dealer down the road. A properly maintained CRM system is the first big step in getting there.