In the very early years of the 35-year-old Stoltz Sales & Service (a three-store Ontario dealer group) General Manager Marlin Stoltz and his brothers who founded the business saw that parts and service was where all the margin exists. And they realized you don't make money in the shop if you're focused solely on chasing new wholegoods orders and pushing farmers out of their late-model units before they're ready.
Those principles are well entrenched today, and are being reinforced again in times like these when the quest for higher market shares on new machinery can often rule the day.
This article explains those factors, and why the significant shop investment in an 18,000 square foot facility at the firm's Listowel, Ontario, store proved to be a "bankable" decision.
Aftermarket Maxims
Stoltz has strong feelings against the notion of measuring dealership success by market share and ordering wholegoods only to have to exert energy (and the erosion of pricing power) when you must sell your way out of an inventory problem.
But that's nothing new for this dealership. For its entire history, Stoltz Sales has operated below the manufacturer's market share target for wholegoods — because of a laser-focused concentration on parts and service. Unlike many dealer-principals who came up through the sales side, Stoltz's roots were in accounting and parts and service.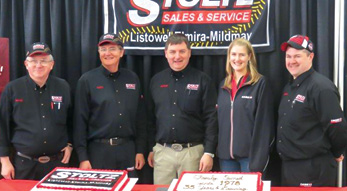 Stoltz Sales & Service, Ontario, Canada
From left, company founders Wayne and Keith Stoltz, with current owners Marlin Stoltz (complex general manager), Melissa Stoltz (controller) and Carson Brown (manager of the Elmira store).
Founded: 1978 by Wayne and Keith Stoltz.
Customer Base: Vast diversity from small acreages to 10,000-plus acre farmers. Includes all the livestock segments and cash crop producers, most in the 300-500 acre range. "Everything from horse-drawn mowers to satellite-driven combines and parts for everything in between," says Marlin Stoltz, general manager.
Locations: 3 (Listowel, Mildmay and Elmira, Ontario).
Mainline: Case IH.
Shortlines: Kuhn/Knight/Krause, H&S Manufacturing, MacDon, Cub Cadet, Horst Welding, Demco, Merlo, Meyer, AgroTrend (Art's Way), Hagedorn.
Employees: 65.
2103 Revenue: $45.8 million (76% wholegoods sales, 16% parts, 9% service).
"We have the poorest wholegoods market share in our region," he says, noting that he is accustomed to watching neighboring dealers turn more wholegoods sales. "But we buy more parts from CNH that any other dealer in Ontario. So that says something, and that we do have the population of customers."
Consultant and peer group facilitator Dr. Jim Weber drove a lesson into Stoltz's head in the early 1980s (he joined the business full time in its third year). "Weber said, 'Sell your parts and service, and sell a few pieces of new along the way. Concentrate on parts and service and you'll put more money in the bank than chasing an OEM plaque to hang on your wall.'"
To paraphrase, trying to buy status through wholegoods orders is a recipe for bankruptcy.
The dealership's customer base naturally holds its machines longer, and that's a benefit for Stoltz' aftermarket business. "We don't drive farmers to roll or flip their machines. They'll hold things together with baling wire and duct tape; their units are well worn out when they're traded in." But that brings a lot of parts and service opportunities for the dealership along the way.
The key, says Stoltz, is the balance of the revenue mix — with objectives for 70% wholegoods, 20% parts and 10% service. "If you get higher than that 70% level on wholegoods, profitability suffers. We'd like to see our total
wholegoods drop into the 60s; our most profitable year ever was when it was at 65%."
Stoltz made an attempt to boost its market share numbers in 2013 and bought more inventory than normal (see "An Initiative to Lift Wholegoods Sales" on p. 43). The experiment resulted in a mix that grew out of its correct proportion. "The least profitable of our stores last year had a 77% wholegoods mix, while our best was at 71%," he says. "That's not a coincidence."
An Initiative to Lift Wholegoods Sales
"Traditionally, wholegoods market share is rented, we're trying to earn it," says Marlin Stoltz, complex manager of Ontario's Stoltz Sales & Service. While Stoltz Sales is in "category of its own" in the parts business (a top parts performer of CNH that buys more parts than groups with nearly twice as many stores), it's at the low end on new wholegoods market share for the region.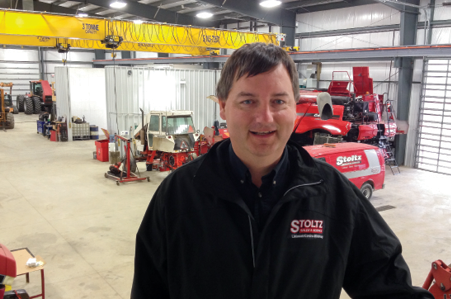 "The service work literally came out of the woodwork. Farmers recognize you have more space now, aren't too busy to handle them and will fix them up better and faster…"
—Marlin Stoltz, General Manager
"Meeting the market share target would require us to sell another $8 million, and that's a 25% increase," he says of a business with many variables where a one-size-fits-all directive doesn't work. And while Stoltz is comfortable with the dealership's focus on aftermarket, the business is working hard with the help of the major-line to see how it can improve its new wholegoods performance.
The dealership worked closely with Case IH in 2013 to increase market share by ordering new inventory and hiring additional salesmen. "We will continue to do so as long as our ratio of business mix doesn't get out of whack," says Stoltz.
"They were committed to helping us try to earn market share, by expanding product, better educating our people and committing to demos. There's a thought that you can rent market share by throwing money at it, but together we spent our time discussing all the non-money things that impact it."
Despite the efforts, the results in 2013 showed what Stoltz had witnessed throughout his 30-year-plus career. "While we had more retail purchases, we gave up profitability as our year-end wholegoods as a percentage of revenue had grown." Companywide, the wholegoods percentage in 2013 was 76%, well above the 70% maximum threshold that Stoltz has tried to maintain.
"We buy more in parts than any other complex in the area, including 5-store groups," he says. "We'd rather invest our dollars into parts, shop expansions and more bodies in parts and service departments. The numbers have to add up—it's a fine balance."
Shop: A Sound Investment
With its foundational philosophies on aftermarket, the shop is a comfortable place to put one's dollars — and a better use of dollars than ordering the wholegoods that creates additional worries. Nevertheless, the decision to build the new shop that opened in February last year was a long deliberation. Stoltz says it was the culmination of idea-gathering (likes and dislikes) and article clipping that was a decade in the making.
Before the new shop in Listowel, the 4,800 square foot service area had the dealership feeling like a "100-cow herd in a 50-cow barn," Stoltz says. Two of the techs had been working outside or offsite all year long. Stoltz wanted to provide more comfortable work conditions before they were worn out by the Ontario elements.
He drew up plans for a 90 x 200 square foot adjoining structure that was nearly 4 times larger (18,000 square feet), and had a price tag of $1.7 million. "We had a gut feel that the service work was out there; we just needed a better facility to do it."
"Build it and they will come" proved true in regard to the new shop, he says. "The service work literally came out of the woodwork. You can't take that to the bank, but it's true. You shouldn't need a new facility to get farmers to bring out more repair needs. But it seems the farmers may now recognize you have more space, aren't too busy to handle them and will fix them up better and faster. The result for us here is that our service work is booked out farther than it's ever been, and that's with having added three more techs."
Shop Innovations
Visitors to the Listowel operation see a change in the work flow, without a middle aisle and with work areas running "across" instead of lengthwise. Machines now arrive from the sides rather than the ends of the shop.
The work flow, says Stoltz, is more "free-spirited." There aren't set bays, but an organized flexibility that allows changing work flow patterns depending on the time of year, he says. Last spring, the shop accommodated 9 combines, 9 Steigers and a 50-foot cultivator all at once. Specialty tools are located where they're used (vs. a centralized tool system) that saves techs from time spent retrieving and returning them.
Stoltz listed several items that he's most proud of with the new shop, which just saw its one-year anniversary in February:
In-Floor Heating & Air-Conditioning for Tech Comfort — Calculating the lost time in service labor that occurs on high-humidity days, Stoltz found that the cost of the two roof-mounted AC units would be fully paid for in 60-some high-humidity days. With Ontario's weather, the AC be paid within 2-3 years, he says.
Overhead Cranes — Two cranes (3- and 5-ton) are allowing one mechanic to do a task that used to take two. "They are a tech's third hand," says Stoltz, sharing how a tech had finished setting up a 54-foot cultivator by himself and beating the standard set-up time. "He was smiling ear to ear. Parts and pieces are getting bigger, heavier and more awkward, and whatever we can do to help these guys work longer and at what they most enjoy the better we all will be."
Indoor Wash Facilities — Located in the middle of the building, the wash bay is centrally located to all techs and many machines are cleaned before going to the techs. The usable space is increased as the wall of the wash bay creates an additional work area.
Water Recycling — A cistern collects rain water from the roof and the soft-water system is used in the wash bay and to cool the dynamometer.
Zero Exhaust Hoses — With the advent of clean tractors (and the 1990s-era smokers that will soon be out of circulation), the dealership chose a ventilation system that eliminated the need for tractor exhaust hoses. Four fans are hooked to sensors to measure gases.
"If detected at any of the three heights, the fans kick in with enough cubic feet per minute power to clear the entire 18,000 square foot shop in 10 minutes," Stoltz says. The only time they are activated is when a tractor 24 or so years or older is being worked on.
Natural Light — Stoltz chose translucent overhead doors for natural lighting that keep the shop bright, even before the lights are turned on. "A Ploydoor was 40% more costly," says Stoltz, "but the natural light from the four doors makes a big difference. You used to see techs grab a flashlight every time they grabbed a wrench. They're not needed any more, and all the workstations are more productive."
Stand-Alone Power — A 100 kW stand-alone generator system (powered by a 100-horsepower engine) was installed with the new shop. When two ice storms knocked down power lines this year, says Stoltz, the dealership remained open while other businesses were closed for 2-3 days. "We're now set up to be an emergency shelter for the community in case of long-term outage," he says, noting that one staffer brought his family into the clean and comfortable shop when their home's power was out and they did not have heat.
Repurposing the Old Shop — Dedicated Showroom & Demo Space Doubles Mower Sales
The 2013 expansion for Stoltz Sales' main shop at the Listowel, Ontario, store also brought an unforeseen byproduct.

The old 4,800 square foot service shop was converted into a lawn mower showroom and demo space that can accommodate up to 50 mowers. General Manager Marlin Stoltz says the dedicated area was key to the doubling of riding mower sales in 2013.
With the old service shop vacant after the 2013 expansion, Stoltz Sales & Service repurposed it as lawn and garden indoor showroom and demo area, and transferred mowers from its other two stores. The result: a 100% increase in sales (to 40 riding mowers). Very little formal advertising was done, General Manager Marlin Stoltz says, noting it was mostly word of mouth. "But when customers get here, there's a very high success rate."
Previously, the dealership could display only 2-3 mowers in the showroom. "I'd always wanted an indoor showroom, but we didn't sell enough lawn and garden equipment to warrant building one," Stoltz says. "This was a way to test the idea."
Every customer in his diverse database — whether a farmer, rural lifestyler and everything in between — has lawns to mow. "I don't want them going somewhere else and buying a product we don't sell or service. I want to be their complete supplier."
Stoltz notes that a larger percentage of customers who operate the mowers are women. The showroom and demo area is exactly what you'd expect from a converted shop. Building "comforts" weren't important to customers, but they liked a dedicated area where they can see all the mowers and discuss what best fits their needs. Less than 20% of buyers require an indoor demo, says Stoltz, but they all know they can do that at his store if they like.
A Safe Investment: If Backed Up Properly
After immediately filling the space and wishing he'd built it even larger (the shop is at near capacity when he expected to be at 66% at this point), Stoltz is developing plans now to expand the shops of his other two stores. And as always, he'll be searching for additional techs as part of those plans.
For an aftermarket-focused dealership like Stoltz, a major shop investment no longer requires a lot of hand wringing.
When asked about the maxim of "Always hire a good tech whenever you can; they pay for themselves," Stoltz replied that he'd generally apply the rule to a shop investment as well.
"If you have a good shop facility, it'll look after itself," he says. "But you must have good people inside for it to work. Without the knowledge to fix it properly and efficiently, the most modern shop in the world won't stay busy. Our new shop brought more customer work in, but the tech experience and ability is why it works and stays busy."