Four-year-old startup Carbon Robotics of Seattle has unveiled a precision laser weeding machine which offers growers of high-value vegetable crops an effective weeding alternative to hand hoeing, machine cultivation and herbicide applications.
The product joins European engineering which uses electrical current to contact weed species and destroy them with on-the-go high-voltage/amperage current, but rather than relying on weed contact, the LaserWeeder identifies weeds by leaf characteristics over a range of plant growth stages and destroys individual pest plants with sniper-like, millimeter accuracy. 
Globally, weeding systems which don't rely on hand-labor, use chemical herbicides or disturb the soil surface with traditional cultivation methods, are in high demand as economic and environmental concerns become more acute.
Like its predecessor, a much smaller — and totally autonomous — robotic weeder introduced in 2021, the new LaserWeeder features a sophisticated bank of artificial-intelligence memory of weed species' characteristics and can recognize individual weeds on-the-go in time to aim and destroy them with thermal energy generated by on-board lasers.
The new machine uses similar technology as the original robot, but it was created with the input of a number of West Coast vegetable growers and comes armed with 30 CO2  lasers spanning three crop rows — about 20 feet — and provides up to 2 acres per hour of weeding.
The LaserWeeder offers a flexible configuration for in-cab touch-screen adjustments for row widths ranging from 60-84 inches.
The machine is also designed to be pulled by traditional row-crop tractors on a 3-point hitch, to allow the technology to be used by growers with a variety of field tractors.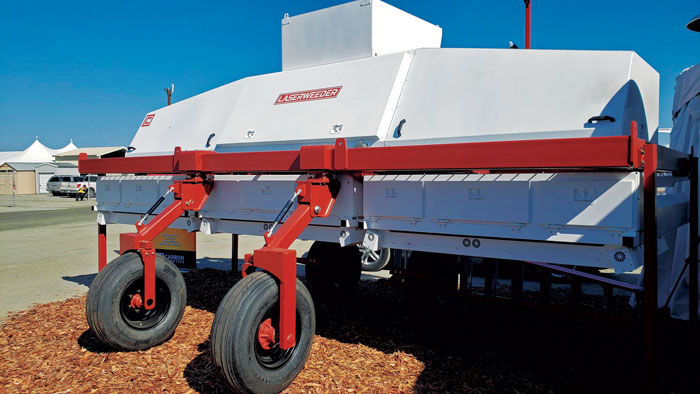 Carbon Robotics' new LaserWeeder checks off a number of environmental and economic boxes by providing a liftable solution to growers with row-crop tractors in a pull-behind weeder that eliminates herbicide use, traditional cultivation and hand-hoeing on high-value crops.
"We've proven the effectiveness of our laser weeding technology," says Carbon Robotics founder and CEO, Paul Mikesell, "To best serve farmer needs, we've adapted the design of our product to make it fit with existing farm equipment infrastructure." 
Mikesell says growers using the technology are seeing up to 80% reductions in weed management costs and estimates most will see a break-even on the machine within 2-3 years. In addition, the technique solves health and environmental issues associated with the use of chemical herbicides, drastically reduces the expense and management required to hand-weed developing crops and does not disturb the soil which reduces erosion.
"Laserweeding is an innovative, reliable and sustainable solution for growers and has proven to be effective on more than a dozen crops," he adds.
From the grower perspective, Josh Roberts, president and general manager of Triangle Farms in Salinas, Calif., says the pull-behind weeder addresses an acute labor shortage on farms producing high-value crops.
"Securing labor continues to be increasingly challenging, so we are always looking for ways to automate our processes. The LaserWeeder automates one of the most demanding, costly and time-intensive tasks on the farm: weeding.
"The implement design is familiar and easy to integrate into daily operations while streamlining weed maintenance and providing consistency that farmers rely on."
Field tests and early-adopter response has been positive for the LaserWeeder, which was introduced in early February, so much in-fact, 2022 production of the machine is sold out, and Carbon Robotics is taking orders for 2023 production.