A MAC colleague, Bill Mayes, has a way with words His article last month sets up our 2021 theme of "Creating a Customer Centric Culture" and is a great concept. But how do we get there? Given that you can't manage what you don't measure, we define here how to measure customer retention.
Customer Satisfaction Indexes (CSI) are expensive, antiquated and designed to work in a retail setting where there are:
Millions of prospects
The loss of a customer, though not good, is not significant and
The new customer pool is large
CSI surveys are backward looking and not in real-time, making us reactive vs. proactive.
Change Focus from New Sales to Retention
A change in focus is vital to create a customer centric culture. Although dealerships must find and keep new customers, it takes time and energy in sales processes or new customer accommodations. Focusing on new customers results in chasing rainbows and often takes our eyes off the real prize of creating repeat customers. 
Statistics show that if we deal with any customer issue quickly and reasonably, customer satisfaction improves by 85%. On the other hand, a delayed response gives the perception of mediocrity in both service and support that can leave a dealer undifferentiated from competitors. Mediocrity in addressing or anticipating a customer issue always causes customer indifference, avoidance or the need to seek alternatives to your dealership. This may be incorrectly called lack of customer loyalty. In fact, the failure is the dealership's focus on selling to new customers and not solving current customer issues quickly.
Real time customer retention is focused on immediate and continuous interaction. Their retention requires a real time process you can do with data you already have.
Simple Definition of Customer Retention
The first step is to help your team create the data to do a simple and quick calculation:
1. Take the prior year's list of people who purchased something from you. 
I recommend that you do this by department and as a total.
2. List customers who have purchased something from you in the last or current 12 months.
3. Subtract the new customers in the current year in the same format as above.
You may need to set up a flag in your business system when you set-up of a new account.
4. Divide the current list number less new customers by the prior year total list number.
Example: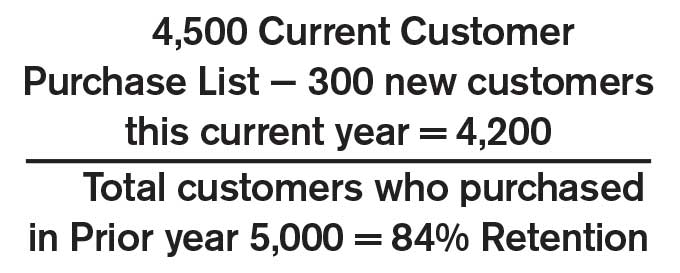 To further refine the calculation, count total customers in prior years 3, 4 and 5 in the denominator. Take the year with the biggest gap or lowest retention, sort by name and by department and cross reference past names vs. current year names. At a minimum, compare the top 100 names from each department. 
With a Good Measure, Manage & Take Action
To improve customer retention, you should:
Call on those who are not on this year's current purchase list.
Identify those who may be on one department's list and not on the other two and determine why.
If any prior year customers have not purchased in the last 6 months of the current active year, call or visit them.
Do this analysis and take action monthly.
If you do this regularly, with discipline and with focus, your customer retention will become real-time and proactive, not reactive. And, no surveys are required.
There are many "best practices" that allow your sales teams for parts, service and wholegoods to hit home runs in developing customer relationship and retention, which we'll cover in the future. At minimum, customer follow-up and active communication among all departments are critical. Both will dramatically improve customer retention and require leadership to drive the discipline and effort to make it happen. 
As a leader interested in customer retention, you may need a culture change in your dealership.  Following the in-line management measure defined here, you'll see the results on the bottom line. According to SmallBizGenius, increasing customer retention by 5% results in profit improvement between 25% and 95%.  
It is indisputable that the cost of retaining a customer is less than obtaining a new customer. If done properly with the tools have available, "retaining customers" will result in "satisfied customers," making a concept real.