Last month (March 2019), the new "Our Dealer Story" podcast featured a one-on-one with Landis Stankievech of Trochu Motors, a large single-store farm equipment dealer in Alberta. It was a fascinating interview, as it isn't every day that a young Ivy League athlete, Rhodes Scholar and fast-tracked corporate professional moves back into their parents' basement to join a farm equipment dealership.
Much of that interview is in audio form here, but we gathered more that could be fit into a crisp audio version. Here's a recap of some dialog that didn't make to the podcast's "final cut."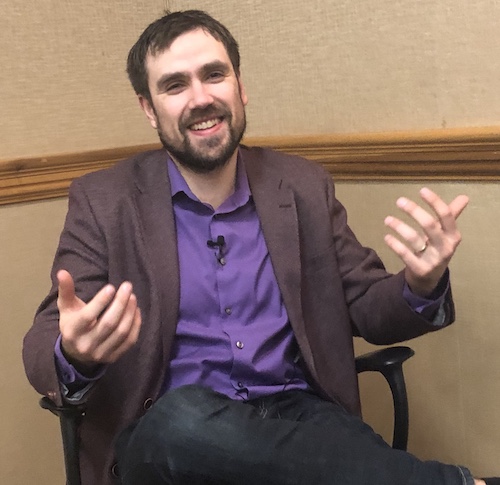 Landis Stankievech
Stankievech asked some questions of me during our early morning interview at the WEDA International Dealer Conference, and at one point I'd shared an observation of my career prior to coming back to our family business. I'd wanted to find out what a 34-year-old thinks about young talent and today's industry.
I'd told Stankievech about my 12 years of working as an editor/publisher in industrial metals production, namely the foundry industry. Sometime in the late 1990s I'd been researching the talent pool concerns that faced the industry and the reasons why. One longtime industry exec (an engineer) explained what the dark days of the 1980s had permanently done to the industry's talent pool and hindered what otherwise would've been the natural development of young professionals.
Basically, he'd told me that the industry was in such economic disarray in the 1980s that hiring of metallurgists and other engineers grinded to a halt and didn't recover before another recession hit. By the time the demand for cast metal products was thriving again in the mid 1990s, the leaders were growing weary, and the mid-level talent wasn't prepared — because it hadn't been developed. At the same time, the other industries that hadn't sat on their hands had cherry-picked classes upon classes of top graduating talent. (The foundry industry isn't exactly an easy one to recruit A-level talent compared to the other industries knocking on those engineers' same doors.)
The situation creates winners and losers. It fostered a great opportunity for younger personnel choosing that career path. Another exec told me he chose the industry because he was confident that with less competition, he'd enjoy a wide-open opportunity. But that prolonged vacuum of fresh talent coming in hurt in so many other ways. Employers had no choice to take their lumps with personnel that had not been properly seasoned, which must have taken its toll on both those individuals and the businesses.
Did Stankievech see any corollary to that story from the past? And did he see the farm equipment as an attractive place for young people to land?
"I definitely see great opportunity on the growing side of ag today," he says, citing the 20-somethings who see those farmers in their 60s who are ready to retire or rent their land. "Fifteen years ago, very few young people were coming back to the farm. Yes, on the farming side, anyone that's young and ambitious and willing to take some risk should be able to see the opportunity. In our area, they can get access to rent land and to grow."
The equipment dealership side, though, is more challenging. "You see those gaps in dealerships right now — particularly in service technicians and in parts. Sales is a challenge as well but those roles can be more easily recruited from other industries. "It's hard to immediately step in from another industry and be an ag technician or know the customers' needs and applications in parts.
"But in any role, there's a lot of room to move up in this industry, and if you want to become a senior technician or get into management you can — if you work to develop those skills."
He'll encourage talent outside of the farm equipment to "come on in," especially now that management roles are being filled from nontraditional backgrounds vs. a generation ago. Specifically mentioning accountants and engineers, he points out that some grew up on the farm and may felt they needed to do their own thing somewhere else first. But like him, they can came come back in their early 30s and can fill important roles in an important business.
He sensed that opportunity and challenge, and that's why he left a consultant gig in the big city to come back home, and without the promise of ownership. "I see exciting changes ahead," he says, as well as the big gap in retirements. As that trend accelerates, it'll benefit young talent like him willing to develop and earn an opportunity to lead.
Stankievech, who never imagined working in a farm equipment dealership, now says "I'm seeing a lot of young people with high ability and ambition who feel very differently about ag today, including a lot that had been drawn to the oil fields 15 years ago."
He cited Devin Dubois, who spoke at the WEDA Conference and at the Precision Farming Dealer Summit, several times as an example. A political science graduate turned lawyer, Dubois is now leading a 6-store dealer group through precision ag transition. 
Is that story — of the opportunity for incoming talent in our industry — being told? With the retirements ahead, and our businesses competing with every other type of employer for the same talent pool, we'd better start telling it.
Related Content: See "Vision for Tomorrow Requires Solutions Today," following a visit to Pennsylvania's Binkley & Hurst and the cooperative effort started among competing dealers.