The auction price caught my eye as soon as I saw it: $39,000 for the 2013 John Deere 569 round baler on a Nov. 3, 2016, farm auction in central North Dakota. Here are the listed specs on it:
"Mega Wide Plus pickup, Cover Edge surface wrap or auto twine tie, hyd. pickup lift with push bar, John Deere moisture meter, John Deere monitor, 1000 PTO"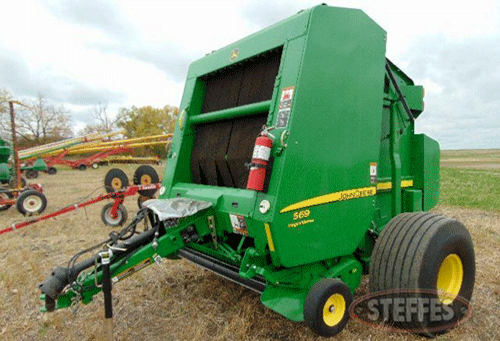 Here's a picture of it:
I immediately checked the Machinery Pete "Auction Price Data" and found that $39,000 is in fact tied for the highest auction sale price ever in the U.S. on a John Deere 569 round baler. The other $39,000 model 569 also came from Dakota, on a Mar. 4, 2014, farm sale in the east-central part of the state. The same auction firm, the Steffes Group (www.steffesgroup.com) sold both of the $39,000 John Deere 569 balers.
I found some further interesting data on 2013 model John Deere 569 round balers in the "Dealer Center" analytics at MachineryPete.com. The average dealer list price in the past 30 days on a 2013 model John Deere 569 round baler was $31,383, which is down from $32,233 90 days ago. Compare this current average dealer list price to the average auction price on 2013 model 569s sold during the past 365 days, which is $27,139.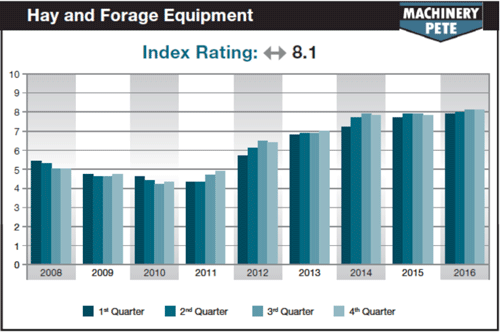 Do the math here and we find the current average auction price is 86.5% of the current average dealer list price.
Wow, not much gap is there?
This jives in general with what I saw on the auction front late in 2016. There were stronger sale prices on good condition used hay equipment. Here's a look at this used Hay Equipment category from my Machinery Pete "Used Values Index" fourth quarter 2016 report (based on auction price data I've been compiling for 27-plus years now).