A sale to set the market is how the Nov. 29, 2016, absolute dealer auction for SEMA Equipment in Rochester, Minn., was being viewed by all in the farm equipment space — dealers, ag lenders, famers, auction firms. It's easy for me to be on hand for this big sale as it was right where I lived for the past 27 years, in Rochester, Minn.
And things went very well.
There was a huge on-site and online bidding crowd. Over 1,000 bidding numbers were given out on site and Sullivan Auctioneers had over 700 online bidders taking part. Folks at the sale noticed how many times online bidders either got the item or pushed the bid. One interesting thing Sullivan Auctioneers did for this big absolute dealer auction was they got the usual online bidding fee waived. That's no small thing there. Folks at the sale were talking about this feature, as were folks heading up the sale. Sullivan Auctioneers first did this on another large absolute dealer auction they held in late March 2016 for Van Wall Equipment in central Iowa.
That March auction was a similar success.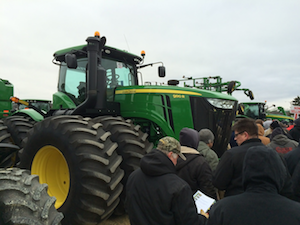 This 2012 John Deere 9510R 4WD with 136 hours sold for $247,500 on a Nov. 29 auction for SEMA Equipment.
Notice how many times I referenced "absolute" in describing these big dealer auctions. It makes a huge difference when it comes to bottom line final sale prices. Bidders just prefer if a sale is "absolute." I realize the risk this carries as a dealer looking to sell millions of dollars of large late model used equipment, but all you have to do is look at the results.Check out the sale prices on tractors and combines from the Nov. 29 SEMA Equipment absolute dealer auction below. Note the two I've highlighted. This pair had the auction crowd talking: the 2012 John Deere 9510R 4WD with only 136 hours sold for $247,500 and the 2014 John Deere S670 2WD combine with 340 engine hours sold for $232,500. That $232,500 price is the highest auction sale price I've seen so far in 2016 for an S670 combine.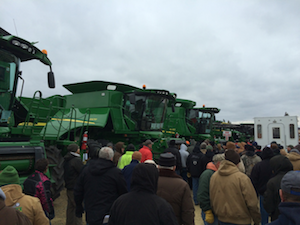 This 2014 John Deere S670 2WD combine with 340 engine hours sold for $232,500 on a Nov. 29 auction for SEMA Equipment.
Here's what I see becoming ever more important: "Who" you have selling your equipment at auction. I've worked with 1,000-plus auction firms throughout North America for 27 years, and there are tons of great auction firms out there. But the risk is simply too great these days, too many of your dollars are on the line, so if you do go this dealer auction route, you have to be absolutely sure your auction firm gets the right people to the sale, the right people online bidding and also does everything humanly possible to flood awareness of your auction sale event.
That's right — this needs to be treated as an event!
For both the Van Wall Equipment absolute dealer auction back in March and again at the SEMA Equipment absolute dealer auction Nov. 29 in Rochester, Minn., Sullivan Auctioneers and the dealer hosted a fun, free dinner event the night before the sale. They had me come in and speak. I just talked about fun stories and tales from 27 years on the machinery trail, fun human interest things, and I shot the audience straight: now is still a great time to be looking to update in late model used equipment, so talk to your local dealer back home, pay attention to sale events like this. And farmers should just be a prepared buyer.
They were. Again, just check the final sale prices.
I was blown away how large and lively the pre-auction dinner event was Nov. 28 on the Olmsted County Fairgrounds in Rochester the night before the SEMAEquipment absolute dealer auction. There was an overflow crowd, steaks and beer — and great fun.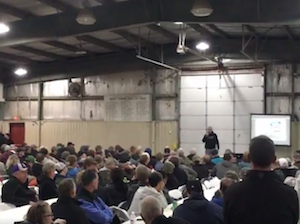 Going the extra mile paid off for both these dealer auctions. It was thinking outside the box. Make your auction an event. Use our Machinery Pete targeted email blasts in advance of the auction, message directly to 2,000-plus acre corn/soybean growers in 3, 4, 5-plus states. Make sure everyone knows about your sale. That means everyone!
I've seen proof of how it works. And it adds up in dollars.