With Lessiter Media's 35th anniversary celebration next week (we're taking our staff and their spouses out for an overnight stay in the city), our team has been working on some special things here to commemorate the milestone. They've been chronicling memories, philosophies and visions from that tough start-up by my parents (Frank and Pam) in 1981, and how they got through that daunting first decade during a horrendous ag economy.
A lot of the words shared to describe those lean years were spun around "passion" and "commitment." It reminded me of a string of emails received last spring, after several privately-held, family-owned manufacturers sold out to a large OEM, something that we've continued to see throughout the year. One Farm Equipment subscriber, in sharing his observations on the changes, wrote, "It's not a total surprise, as things seem to go with multi-generational companies as eventually the genes—passion —purpose —pocketbook becomes less.  Stay on top of that passion of you, your dad and the team there at Lessiter Media. Have lots of kids, bring them in early to drink the fantastic Kool-Aid and keep it going!"
Last week, my 16-year-old son (Drew) and I embarked on something that my dad and I did decades earlier. With his high school baseball season over, I figured he could join me for a couple of days in the truck on visits throughout Minnesota and Iowa, and maybe pick up some of the driving so I could try and keep productive in the other seat during the long stretches of windshield time.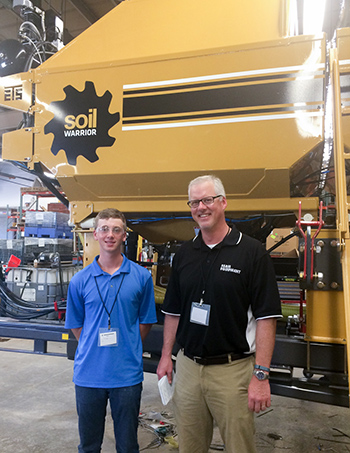 Touring Environmental Tillage Systems' facility in Faribault, Minn., where Drew learned about work-in-progress, raw material inventory levels and overhead.
This was something I experienced as a kid, tagging along on some of Dad's trips, getting onto farms and farm building sites. The talks on those long drives were among the best for father-son time, and we often tacked on an extra excursion or two. We shared some laughs, rarely passed a dairy store without grabbing a cone or shake and I got to see him work. Looking back now as an adult, the biggest takeaway from those trips was the passion he brought to his craft, and how he interacted with the people he served out in the field.
Drew has been to a couple of farm shows with me before, but this was his first real "business trip." I tasked him with mapping out the visits to manufacturers, and he chose the hotel and fast food joints, packed the cooler, and even figured out how we could take in a minor league baseball game over supper.
Now, I'm not sure if I turned him on to farm equipment or the media businesses (he dreams of running an NBA team as a GM, not unlike the dreams of his old man at that same age), but I think he picked up on the pride and camaraderie of people like you that we met with on our stops. Whatever career path he eventually pursues, I want him to be wise enough to be able to spot a good thing when he sees it.
That's something we should all do with the next generation — whether it's our kids and their friends, the FFA or 4-H, or the college kids who join us for the summer. Take the extra steps to expose them to a "good thing" and our industry's "good people," and we'll be able to keep more of that talent in the years ahead.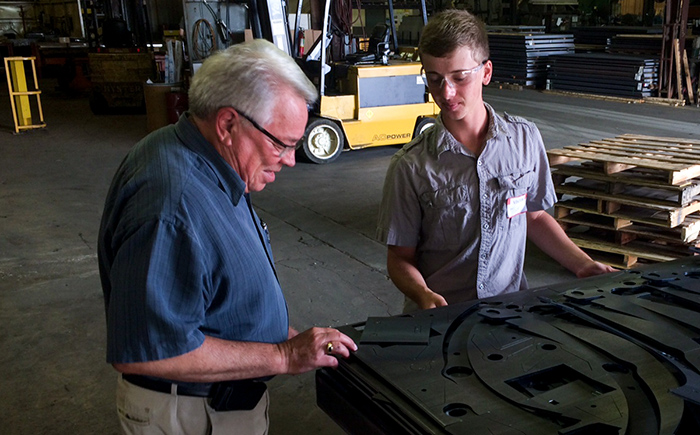 At Hiniker in Mankato, Minn., Wayne Buck explains the layout of parts produced on its laser cutter.
P.S. If you're interested in reading about succession planning in the farm equipment industry, check out this special ebook, available for FREE download on our website.