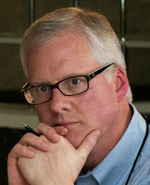 Several of the Farm Equipment staff attended the Wisconsin Farm Technology Days Show in mid-July in Lake Geneva, Wis. During blazing temperatures, we took numerous opportunities to escape the sun by ducking under exhibitors' tents for water and conversation. Despite sparse crowds and another fall in commodity prices, I'd say the mood of those conversations was fairly decent, including several manufacturers who noted business had picked up as of late and that dealers were reporting pricing/shopping activity for next year.
One of the more interesting stops I had was with Jason Faulkner, national sales manager for Degelman, Saskatchewan, Canada. From what I've been hearing, the manufacturer, who also opened a new distribution operation in Hillsboro, N.D. this year, has been bucking industry trends by moving a lot of its Pro-Till (high-speed tillage) units during a time when demand has been soft.
Faulkner shared with me how it was accomplishing these different results. It all stems from the manufacturer taking the risk of the demo on its own back, which it's been doing since starting with the Pro-Till unit in 2013.
Of course, Degelman wants dealers to stock iron as does every other manufacturer, but soon realized that some dealers weren't ready to put $150,000 in a new type of equipment when their major line was pushing them for their required orders. "Collectively, we saw that the demos were our best way to get people to know about this different kind of tillage," he says, adding farmers' need to see it working on their own kind of dirt.
Degelman learned early on that getting dealers to cover the freight for a demo was going to be a tough order, so they plowed ahead anyway — on their own. The solution that the company arrived at was a "demo-sale-repeat" cycle. "The only cost for a prospective dealer is the time to unload the machine and get it out to the field," he says. "It's not going to work if the dealer is the type who expects customers to come and knock on the front door of their dealership, but if they're prepared and committed, it's working out very well."
So with a new dealer, Degelman ships a unit and puts its own resources into getting it sold. "And when it's sold, we put another machine on the road for them and keep it going."
It's an enormous amount of work, he says, which is why you don't see more manufacturers doing it. "The manufacturer needs to be willing to invest the time and money to let the territory manager (TM) take 3-4 days — accounting for rainouts — with a single dealer to get a demo planned and executed. Our guys pretty much have their personal lives on hold between now and November 15, but that's what it takes these days."
On Monday, a dealer in Idaho called and said he could gather up 5 farmers for an on-farm demo. "We needed to be flexible enough to juggle our personal schedules. But we'll have a unit leaving tomorrow (Friday) to be there on Monday along with one of us to get the demo done on Tuesday."
A manufacturer-driven demo is not an inexpensive proposition, and there's a risk on the order of $10,000 on every unit leaving if it has to be shipped home again. That happens, Faulkner says, but only rarely. The numbers speak for themselves. He estimates that they've done 300 demos and sold 250 machines. "When our TMs know the dealers as well as they do, it's a pretty low risk for us."
He cited a dealer in Texas who committed to keep pulling machines out of Degelman's Hillsboro facility as he sells one. "He's seeing that there's a market for this tool, and we expect he'll book a few machines for next season." That confidence and first-hand account of a manufacturer's hunger and willingness to go work for the dealer should lead to stocking a full line of products within a year, he says, noting that the manufacturer is following a protected territory model.
Beyond the tillage tools, this demo concept has worked wonders on rock pickers, he says. Degelman sent a rock picker out for a demo in 2012 in a part of the country it had never sold one before, and is now shipping that same dealer nearly 1 a month, Faulker says.
Yesterday's discussion with Faulkner reminded me of a whitepaper (based on information published a few years ago) on the demo's key to winning the sale. You can download it for free here.
We'd like to hear from you ... What are you seeing from your suppliers to help you "demo your way into sales" in this business climate? What is working best for you?