Autumn Dickerson with Team SI, a digital marketing firm
The service and parts department should be looked at as the heart of your equipment dealership.

The service department is for taking care of those people who already bought from your equipment dealership. They believed in your dealership enough to buy your equipment. They may not need to buy another piece of equipment for a couple more years. However, when they do need one again, you should want them to think of your dealership.

So how do you, the dealer, keep current customers' trust and respect in the meantime? Provide them with great service when they break down by getting them the parts they need quickly. 
You can even do this from your business's website. Growing up on a farm, I know that if something goes down you need an instant fix. Although an instant fix is nearly impossible, you can make it seem instant with two simple processes. 
What is the first thing equipment owners do when they need assistance? They look up the dealer's number online. Since they're already on the dealer's website, provide them with the tools to finish what they started. 
So many times I've called an equipment or construction dealership only to end up on the phone with the service department. Service technicians are too skilled to be tasked with answering phones. To make better use of their time, consider placing a form on your equipment dealerships website like the one found below: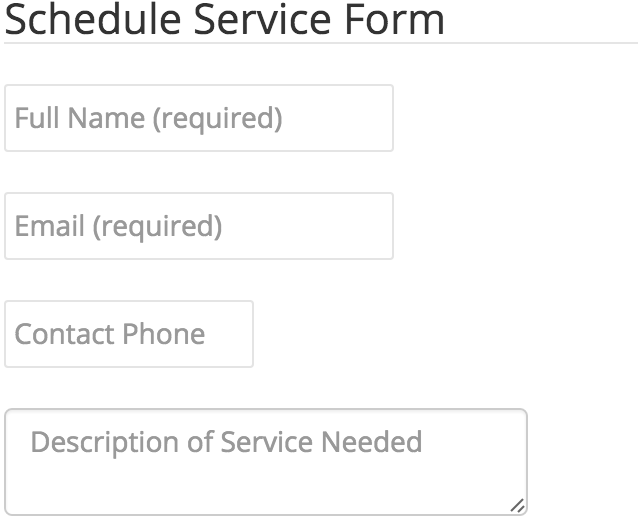 There are two reasons this form is important to you and the consumer.
First reason: The consumer feels as if they're one step closer to a resolution by being able to fill out a form. 
Second reason: It is a benefit to you because it gives your technicians the ability schedule a service call when they're available instead of spending 20+ minutes of their time on an unexpected call and not being able to complete the task they were handling. 
Another thing you should consider is putting more information in the parts department section of your equipment dealership's site. So many times you see equipment dealers sending consumers elsewhere to find parts. This is sending money directly out your door and into someone else's business. 
Providing them the information to find the parts they seek as well as a form to request these parts will bring you additional income, give your employees more time to assist consumers in person and build a stronger relationship with those invested consumers.
Are you using a service request form on your site? If so, how has it worked for you? Leave your thoughts in the Comments section below.