Welcome to the 2016 SOURCEBOOK. We'd be remiss here if we didn't acknowledge the year-round effort of Directory Manager Donna Schwierske in compiling this year's annual SOURCEBOOK for you, with even more companies, products and brand listings than last year. Despite this year's challenges, the participation shows the keen interest of a supply base still focused on connecting with you, the foot soldiers of our industry's innovations.
In addition to the listings yielded by our database, make sure you check out this year's Special Report. It was borne from dealers' desire to understand, and contribute to a more sophisticated dialog with high-end customers — well before equipment PO's are talked about.
Our staff stretched itself and set a compass north of where the dealer is often brought into the conversation. Our aim was to explore what goes on in that farmer's mind in those late nights at the kitchen table. Executive Editor Dave Kanicki spent a lot of time with farm management consultants who work with high-income farmers/ranchers to bring these pages to you.
And to emphasize knowledge and not just information, our writers borrowed from the Harvard Business Review case study format (homework and all) that you'll remember from your business school days. Why? Because understanding the results from specific actions is not nearly as important as the thought processes behind them. We hope you'll give the homework a shot and also weigh in online.

There are also a couple news items to point out. First is our acquisition of Implement & Tractor. Implement & Tractor has been part of the landscape since 1885 and likely shared the desk of many of your fathers and grandfathers. We'll enjoy revisiting vital lessons from the past, and also welcome the contributors and subscribers who are now part of this community as well.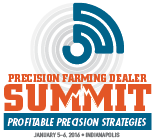 Second is the annual Summit we're hosting next January, in response to a need many of you shared with us as we take the third generation of the Summit to another plane. Dealer interviews this summer validated surveys that showed the "business side" of precision farming was where you most sought help. Our editors are preparing a special gathering to exchange challenges, successes and failures for dealers aiming for a profitable offering in precision ag.
We're eager to capture the energy from dealers who are reducing farmers' input costs through precision, and making a return on it, too. Some defining moments of tomorrow's leaders are being cemented right now.
As our industry turns the page to the important fourth quarter, 2015 has reminded us all that the discomfort that change and uncertainty bring can sharpen our wits, too. The one thing you can count on is no yellow flag. In a competitive business, you're usually either advancing or yielding your position; rarely does it stay the same.
Changing times affords champions through a focus and application of energies toward that focus. In fact, the first case study in our report is about "doubling down" in a time of transition. Your dealership and customers face a similar choice. You can help make it.