What is the value of the knowledge, experience and analytical ability (or troubleshooting) that your dealership has developed in order to sell and support your customers? This ability, which has been developed over time and exists in the minds of you and your employees can rightfully be called dealership wisdom.
The question here is how to monetize or earn a financial benefit from your hard-earned dealership wisdom.
This column was prompted by a recent controversial column written by Dave Kanicki, executive editor of Farm Equipment, which appeared in the Feb. 24 issue of its E-Watch newsletter. It was entitled, "The Next High Tech Battle in Ag," the focus of which was ownership of the intellectual property and ability (or lack thereof) to hack into a machine's software. I say controversial because 283 peopled have commented on it, so far.
Here's the money quote from the article: "Dave [the farmer] paid for the tractor; he owns what's tangible: the wheels, the metal chassis, the gears and pistons in the engine. But John Deere owns everything else: the programming that propels the tractor, the software that calibrates the engine, the information necessary to fix it. So, who really owns that tractor?"
The controversy centers on the perceived intent of manufacturers to protect the service income of their dealers who sell their equipment. I won't wade into that debate beyond relating examples of ways to monetize your dealership wisdom, and to do so not by customer choice or other constraints, but by utilizing good business practices.
Here are some examples:
A farmer calls your service manager because the guidance system he purchased appears to be malfunctioning or is not being set correctly.
A shade tree mechanic comes in looking for the torque specs for a transmission.
A specialized implement requires the adjustment and setting of hydraulics to operate.
Your dealership wisdom has value to these people in these situations because there are few other places for them to get the knowledge they're seeking quickly and easily. How do you ensure that your dealership is compensated and earns a return for the time, training and tools behind your dealership's knowledge?
"Think of dealership wisdom just like you would any product that you sell…"
There are a couple perspectives to think about to monetize dealership wisdom.
Is it a service that can be sold?
Is it a tool of the trade?
A service is something dealerships perform for a fee. You do something needed and/or wanted, and customers pay for it. It's that simple.
But what is a tool of the trade, and why is that relevant?
Here are some examples of tools of the trade:
Your sales department has vehicles, computers and phones it uses to sell equipment.
Your parts department has computers to access information and machines it uses to fabricate hoses.
Your technicians own their own tools and the dealership owns special tools required to repair or maintain certain machine parts or systems.
If a customer wanted to use any of these without paying, would you allow it? I highly doubt it. These are literally the tools of your trade. They have value to you and your employees know how to use them to do their jobs selling and supporting customers.
My proposition is that you should think of your dealership's wisdom as an intangible tool in your business. You use it to fix and maintain machinery. This knowledge and experience has value and you should be compensated and earn a return on it. While wisdom may not be tangible like a wrench, or any tool in your toolbox, it allows you to utilize your capabilities to perform services for your customers.
And just as you sometimes need a special wrench, you sometimes need special wisdom. A special wrench costs more than a standard wrench. Specialized wisdom costs more and should be priced higher than a standard service.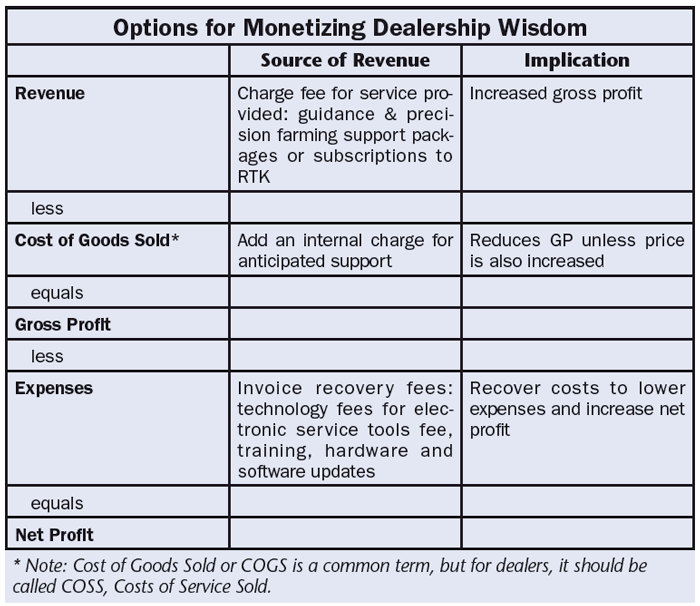 You can use the basic financial statement on the next page to determine how to monetize your dealership's wisdom and to determine whether it is a service or a tool of the trade. A basic business approach is to consider revenue, cost of goods sold and expenses.
This structure helps you determine whether you monetize "dealership wisdom" as a service (revenue or increased Cost of Service Sold), and/or as a tool of the trade and how you can treat "dealership wisdom" as an expense.
Think of dealership wisdom just like you would any product that you sell. It has a cost; the more special the wisdom, the higher the price. Don't be afraid to charge for wisdom.
Now, to answer the question we started with: Should the farmer who purchased the tractor have access to the proprietary technology used to operate it?
The point of this article is that dealership wisdom has value to you as a dealership. So my answer to the access question is similar, which is, "Yes, and for a fee." Please write if you disagree or agree.