Freeing planter mechanisms from chain/clutch drives has opened up a new frontier in variable-rate technology, one which sees several planters going afield this year capable of carrying more than one hybrid and planting them in specific parts of the field according to soil maps and planting conditions.
Electronics and electric drives on seed meters are now an integral part of several machines fielded by Kinze, Precision Planting and CleanSeed Agriculture Technology to test multiple-hybrid planting.
At Kinze Manufacturing, a collaborative effort between the Iowa planter maker, Raven Industries and Beck's Hybrids has culminated in a Kinze 4900 planter equipped with the company's new electric drive option and two seed meters per row. The design offers producers the opportunity to switch between hybrids "on the fly" and allows growers to put high-performing hybrids on better soils to take advantage of their yield potential, and then switch to more traditional "workhorse" varieties elsewhere.
"The technology will allow farmers to maximize yield in every part of their field, and not have to make compromises," says Rhett Schildroth, senior product manager for Kinze. "So far, the yield gains in our trials varied from two bushels per acre to more than 10 bushels per acre by using multiple-hybrid planting. And, unlike other crop practices that seem to have good results one year and negative results the next, every trial we've conducted with multiple-hybrid technology has resulted in a yield increase."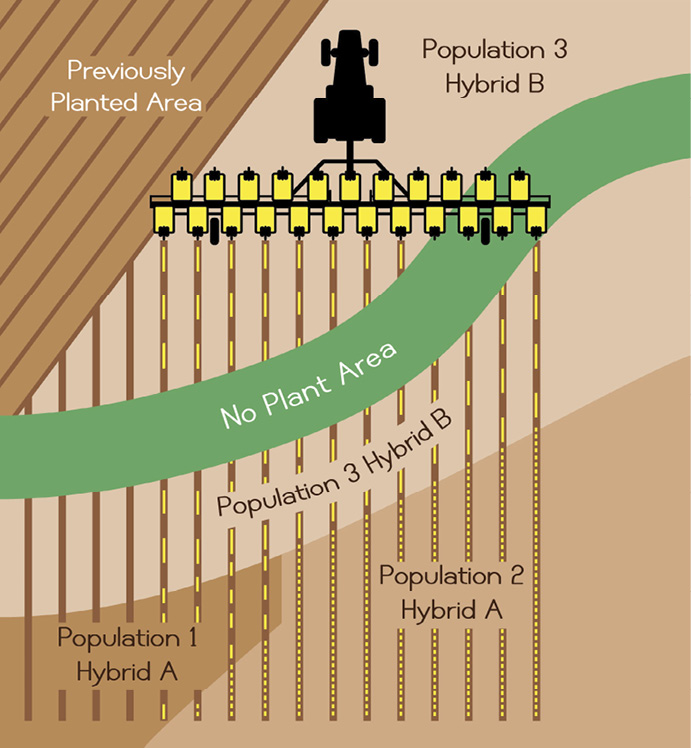 The Raven system uses a map similar to that of VR fertilizer applicators and planters, but it has a separate file in the map that, instead of reporting how fast, it tells shows how many seeds per acre and whether it's Hybrid A or Hybrid B.
---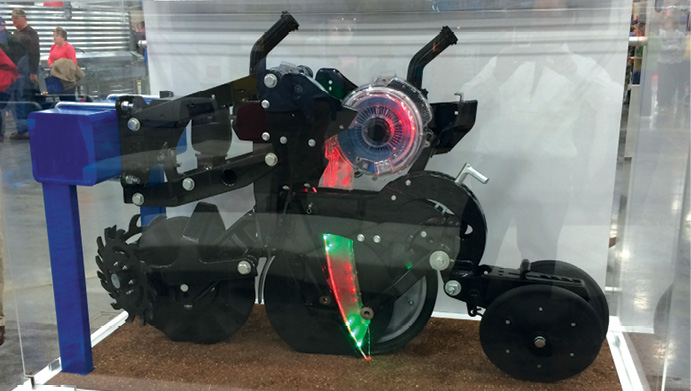 The business-end of the Kinze electric drive multi-hybrid planter was on display at the National Farm Machinery Show in Louisville, Ky., in February. Note the two hoppers for separate hybrids.
---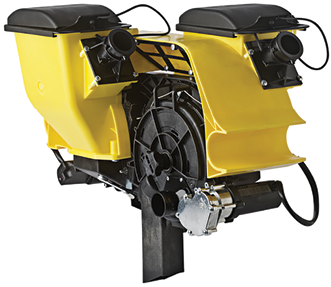 Precision Planting's multi-hybrid meter uses the company's vSet meters and a vDrive electric meter control system to frequently switch between hybrids.
The Kinze planter's two meters feed a single seed tube, so the row unit gauge wheels, openers and closing wheels are identical to a standard Kinze 4000 row unit. By eliminating the drive chain and clutch, engineers were able to orient the meters close enough together to feed the single seed tube.
"The system uses a Raven field computer in much the same way as a system operating a variable-rate prescription application," says Doug Prairie, Raven Industries product manager. "It uses a map of a similar format that VR fertilizer applicators and planters have used for a decade, but it has a separate file or layer in the map that, instead of "how fast," it's telling you how many seeds per acre and Hybrid A or Hybrid B."
As part of the effort with the Kinze planter, Beck's Hybrids, Atlanta, Ind., is providing its expertise in multiple-hybrid planting based on work it began with its own planter designs in 2012 through the company's Practical Farm Research Program (PFR).
Beck's became a leader in multi-hybrid corn planting system when initial planter designs were developed and tested by Jason Webster, central Illinois PFR director. Those on-farm tests showed an average of 9.5 bushels per acre yield increase with a net profit of $54.24 per acre.
"As a seed company, it's our goal to bring farmers quality, high-performing products for their operations," says Scott Beck, vice president of Beck's Hybrids. "We're excited to be a partner in this new technology, and to bring Midwest farmers the opportunity to use the multi-hybrid planting system on their own farms."
On-the-Go Precision
At Precision Planting, Tremont, Ill., engineers have developed, a retrofitable multi-hybrid metering system for on-the-go changes in hybrids during planting using the company's vSet meter technology and a new vDrive electric meter control system. The meters are fitted within the existing row unit frame and deliver seed to a single, standard seed tube. The electric drive system allows for instantaneous switching from one hybrid to the other — including the ability to plant each hybrid and each row at different populations. The Precision Planting system uses the standard dual-bulk seed supply tanks available on most planters.
While no commercial release for the system has been announced, it will be tested in the field this season in varying field and environmental conditions.
'Smart' Drill is Coming
In British Columbia, Clean Seed Capital Group is developing a unique seeding system named the CX-6 SMART Seeder. The unit, which was awarded the People's Choice Innovation Award at Canada's Farm Progress Show 2013, can electronically meter up to six products simultaneously, blending and applying the desired input at each opener across the entire drill, according to the company.
Noel Lempriere, vice president production & marketing for the group, calls it, "the world's first electronically controlled variable-rate smart seeder. Our advanced metering technology unleashes agronomic practices and expands the potential for medium to large scale farming operations."
Lempriere explains, "Our SMART Seeder is designed to be compatible with existing industry standard software platforms and connectivity solutions. This technology allows agronomists and farmers to utilize detailed seed and nutrient prescriptions from field maps for precision input control on every square foot of the field."
Clean Seed's variable-rate system is a plug and play cartridge located in the "pod" directly above each opener, which is fed by a regulated air system. Each internal cartridge has six mini-hoppers equipped with electric stepper motors controlled through wireless signals to the tractor cab.
He adds that some make the assumption that the CX-6 is a planter, but emphasizes that it is a precision variable-rate seeding drill. "We're demonstrating that seeding can become like planting with more precise delivery of inputs and seeds while offering on the fly access to up to six different products. The product moves from the air cart freely and is metered at each opener independently like a planter, which has never been done before with any seed drill.
Clean Seed Capital Group plans to unveil its full size (60 foot) wireless variable-rate seeder later this year, Lempriere says. "It's been tested it to destruction and the metering pod and assembly are ready to go."
Pricewise it's expected to compete with current market air seeders.