Robert Saik, author of The Agriculture Manifesto and founder and CEO of The Agri-Trend Group, thinks 3-D printing is one of the drivers that will shape agriculture in the next decade. Saik writes, "I think this is going to revolutionize the parts and the equipment industry going forward — and it's going to drastically change how we handle our inventories and the delivery of repair parts to farmers."
We spoke with Cathy Lewis, CMO of 3D Systems, and Jon Cobb, executive vice president of corporate affairs for Stratasys. Both companies are working to revolutionize manufacturing through 3-D printing.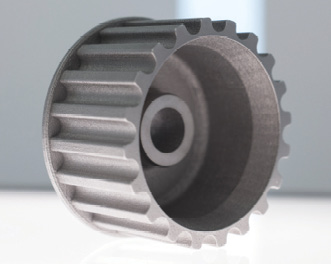 3D Systems' direct metal printers are capable of producing detailed and durable parts of a maximum 10x10x13 inches and are being used to make end-use car parts.
Photo Courtesy of 3D Systems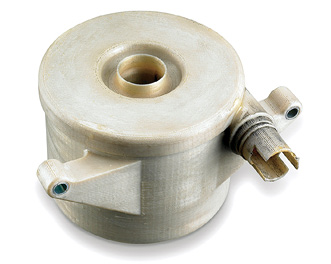 Some farm equipment manufacturers like John Deere are using 3-D printer technology to speed up the design process by 3-D printing plastic prototypes.
Photo Courtesy of Stratasys
Cobb told us there are more equipment manufacturers using 3-D printing than you might expect, noting Caterpillar and John Deere, which use it for their prototyping efforts.
Will this technology be moving out of prototyping and into dealerships? Cobb thinks that it would be simple enough. "What needs to happen is for the OEM to feel comfortable that its original designs would be safe guarded and only printed out by its dealers," he says.
Cobb says what's holding it back is the OEM would want to ensure that the part quality is something they could stand by. He adds it's just a matter of time for companies like Stratasys and original equipment manufacturers to certify the use of 3-D printing for the manufacturing of an end-use part.
Lewis of 3D Systems says they already see companies using 3-D printing for the manufacturing of end-use parts. She says companies like John Deere and others are thinking about how they can use 3-D printing to shorten the supply chain.
"The worst thing that could happen is that a tractor goes down and the farmer is in the field in the middle of a harvest. They need a spare part fast and either they don't know what part they need or the part is so old that they can't tell what it is," Lewis says. "Manufacturers are talking about ways they could barcode the parts and have someone in the field scan it to see what's available where, if the part is on back order, or if the part has been digitized and can be printed locally.
"It all depends upon having the digital file, making sure it's been designed for this purpose and that it matches the manufacturers' intent. You would need a partnership between the manufacturer and the dealer. Then they could begin the concept of printing on demand and storage would become digital files. Turnaround time would improve," she says.
Digital Files
The digital file Lewis is referring to is a digital drawing or design, created using CAD (computer aided design) software, of the part or object that will be 3-D printed. Once you have a CAD digital file of the part or object that you want to print, you convert the CAD file into STL (standard tessellation language) format. After that, you can designate the size and orientation for printing and send the file to the printer digitally through a computer.
The build process at the printer is mostly automatic, as the printer builds the object or part in layers that are about 0.1 millimeter thick. Depending on the machine, the material being used and the object's size, this process can take a few hours or a few days.
Not Just Plastic Printing
3-D printers can print a variety of materials including wax, various plastics, metal and ceramics. Plastics include polylactic acid, ABS, like thermoplastics, PVA, polyamides, like nylon, and alumides. Metals being 3-D printed include titanium, stainless steel, bronze, brass, silver and gold. Titanium, stainless steel and bronze are all printed using a metal powder. Resins can also be used by some 3-D printers.
---
"You would need a partnership between the manufacturer and the dealer…"
---
"Thirty years ago when we started this business, you needed a highly skilled operator who had to learn how to optimize the machine and it took hours to set things up. It was far more complicated than it is now. Today, you might have 30 machines in a room and a control center with one operator who is managing all of the systems," Lewis says.
While many people still only think about 3-D printing for its use in prototyping, Lewis notes, 3D Systems has taken many industries from prototyping to direct digital manufacturing.
Cost of 3-D Printing
3D Systems has also recently added direct metal 3-D printing to its portfolio. But direct metal 3-D printing comes with a higher price tag, Lewis says. "We offer a couple of options in metal. There are three sizes, the smallest is about $250,000, the next size is $500,000 and the largest runs about $800,000."
However, metal doesn't have to be the only option for 3-D printing farm equipment parts. Lewis says some of the plastics that 3-D printers can print have the same longevity and mechanical properties as traditional materials and are much lighter weight. Plastic printers can cost as little as $5,000, but most that are used in end-use manufacturing range from $300,000-$700,000.
Both companies offer lower cost plastic printers, but these are typically used for prototypes due to the smaller build envelopes and material choices.
Lewis says the U.S. government is currently using plastic 3-D printing for end-use parts in fighter jets. The printers used for the jet parts cost upward of half a million dollars.
With hurdles like printer and material costs and the need for OEMs to feel comfortable allowing their products to be printed by dealers, you probably won't be seeing 3-D printers in dealerships tomorrow. However, both Cobb and Lewis agree we could see 3-D printers in dealerships as soon as 5 years from now.