AGCO, Your Agriculture Company (NYSE: AGCO), a worldwide manufacturer and distributor of agricultural equipment, today held its third annual AGCO Africa Summit in Berlin, Germany. The Summit is a joint initiative of AGCO, Bayer CropScience, DEG – Deutsche Investitions- und Entwicklungsgesellschaft, Rabobank, De Lage Landen, and the John A. Kufuor Foundation. This year's Summit focused on innovation — the application of technology and science to tackle and overcome the challenges inherent in Africa's agriculture, and to exploit the opportunities to raise Africa's agricultural productivity levels for all farmers. "Africa lies at the heart of what promises to be a new agricultural revolution," said Martin Richenhagen, Chairman, President and Chief Executive Officer of AGCO. "A new roadmap for ensuring a sustainable food supply has to be developed — harnessing the expertise of the private industry sector, and the knowledge of local communities and farmers."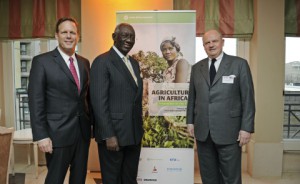 Rob Smith, AGCO Senior Vice President & General Manager Europe, Africa and Middle East, John Agyekum Kufuor, Former President of Ghana & Chairman of The John A. Kufuor Foundation and Martin Richenhagen, AGCO Chairman, President & CEO at the AGCO Africa Summit 2014. (Photo: Business Wire)
A key element in Africa's agricultural revolution is intensification and suitable mechanization. Currently, the majority of power for farming in Africa is provided by draught animals or human hands. This not only severely limits productivity but the hard work for so little return also makes agriculture an unattractive occupation. According to the United Nation's Food and Agriculture Organization (FAO) farm power (from human, animal and engine driven sources) is a crucial input in the agricultural production process. Mechanization of farming has allowed an increase to the area that can be planted and has contributed toward increased yields.
The FAO study 'Contribution of Farm Power to Smallholder Livelihoods in sub-Saharan Africa' states that there are significant economic and social benefits to be reaped from farm-power mechanization:
economic: increasing the efficiency of labor, reducing costs, increasing the area cultivated, undertaking more timely production, improving the quality of cultivation, increasing yields, adopting new crops, reducing harvest and post-harvest losses, and earning a rental income through hiring farm-power services to others.
social: reducing drudgery and workloads, improving safety, gaining prestige, and encouraging younger and more innovative people to remain in rural areas and work on the land.
"In the last decades, sub-Saharan Africa has faced significant challenges in reducing hunger, food security and poverty," said Rob Smith, AGCO Senior Vice President and General Manager for Europe, Africa & Middle East. "However, Africa has a huge growth potential in the agricultural sector because nowhere else in the world is there such an abundance of untapped resources. That is a major driver for AGCO to be engaged in the World Economic Forum's Grow Africa Initiative and why we are committed to the New Alliance for Food Security and Nutrition of the G8." 15% of the world's arable land lies in Africa, of which more than 80% remains uncultivated. Pre-1960, Africa provided 10% of the world's food, that figure is less than 1% today. After decades of decline, the sub-Saharan agricultural sector – 80% of which consists of smallholder farmers – finally started to grow over the last few years.
"Innovation and investment has driven agricultural productivity to new highs in developed countries, and now these resources should be redirected towards a continent that has the means and potential to feed the world," explained Mr. Richenhagen. AGCO continues to be engaged in Africa and has developed a strategy that focuses on investment in human capital to improve farming know-how, improvement of distribution and expansion of AGCO products and services.
AGCO plans to continue to collaborate on establishing further demonstration farms and training centers in different African countries. These facilities will allow local farmers and dealers to be trained on new farming technology. Currently, Zambia has an AGCO Future Farm and Training Center already operating, and it has yielded its first harvest of maize and soybeans in the last year. A key component to the success at Zambia's Chalimbana Farm and Training Center are the strong partnerships that have been forged. The purpose of these partnerships is to bring together subject matter experts from various backgrounds that can create a roadmap to educate and train farmers on how to increase their agricultural productivity.
Through its global tractor brand, Massey Ferguson, AGCO has more than 50 years of experience in African agriculture. During this time African farmers have come to rely on the quality, reliability and support provided by Massey Ferguson, which was a major player in the power farming revolution, mechanizing and increasing farming efficiency across the continent. Recently, AGCO started a joint venture with companies owned by the Algerian government to locally produce Massey Ferguson tractors. This venture will continue to build on innovation in the field, and mechanization as well as encouraging farmers how to become more productive.
This year's AGCO Africa Summit turnout was exceptional, and AGCO is proud and excited at the success of the journey started together three years ago.