Starting off the fourth quarter of 2013, North American ag equipment dealers reported year-over-year sales grew 4% on average. But considering declining corn prices and the uncertainties surrounding equipment depreciation, they're looking for only 1% growth in revenue for 2014, according to the latest "Dealer Sentiments & Business Conditions Update" survey results.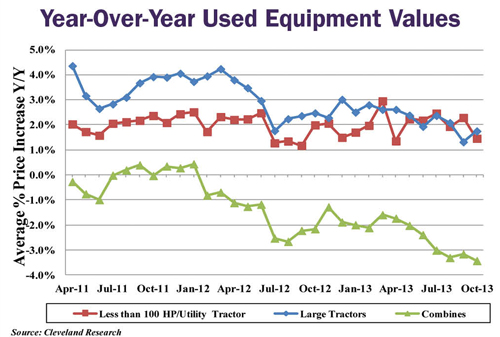 While used equipment inventories remain higher than North American farm equipment dealers would like, used tractor prices have held up fairly well. The same can't be said for used combine pricing. According to the most recent "Dealer Sentiments & Business Conditions Update" survey, a net 21% of dealers said their used inventory levels were "too high" (37% too high; 47% about right; 16% too low), down slightly from 26% in the previous month. In terms of pricing, tractors over 100 horsepower were up 1.8% year-over-year on average, following an increase of 1.3% reported the previous month. Prices for used tractors under 100 horsepower were also up 1.5%, which was down from 2.3% during the prior month. Compared to a year earlier, used combine values fell 3.4% in October compared to a decline of 3.2% in the month prior.
Broken out by equipment lines, the least optimistic were AGCO dealers, who expect a decline of 3% for the year. The most optimistic are dealers who handle shortlines only. This group is anticipating a 6% increase in sales for 2014.
Dealers carrying John Deere equipment are expecting a 2% revenue increase, while New Holland retailers anticipate a 1% sales gain for the year. Case IH dealers are looking at a flat sales year, and Kubota dealers are expecting a 1% drop in revenues in 2014.
Other Notable Trends
A net 8% of dealers categorize their new inventory as "too high" (25% too high; 60% about right; 15% too low), vs. 14% in the previous month. This was the third straight month new equipment inventories among dealers are too high following a period of 12 straight months of new inventory "comfortable" or "too low."
The "Dealer Optimism Index" fell for the third consecutive month in October. A net 10% of dealers said they were "less optimistic" (15% more optimistic; 60% same; 25% less optimistic). This follows -9% and -12% readings in the previous two months.
Dealer Commentary
Comments from dealers indicate some growing concerns for 2014: "Low crop price expectations are hurting large tractor sales" ... "Customers are deferring new purchases into next year" ... "We believe there is money from grain left over, but farmers maybe keeping it for a cushion."
North American Ag Equipment Sales Levels Mixed in November
As 2013 headed into the home stretch, U.S. retail sales of tractors and combines posted solid gains for both November and year-to-date, but Canadian sales declined overall.
Total U.S. unit sales of 2WD tractors were up 5.5% year-over-year in November and all tractor sales increased by 5.6% compared to a year ago. Compact tractor sales were up 10.7% in November, mid-range/utility tractor sales declined by 3%, row-crop tractor sales rose 8.6% for the month, and sales of 4WD units rose by 6.5%. Sales of combines were up 25.5% for the month and 6.8% year-to-date.
Canadian tractor sales declined overall, with total 2WD units falling by 1.9% in November and 4WD tractors slipping by 14.3% vs. a year earlier. Combine sales for the month grew by 26.3% in November vs. November 2012.