One year ago, a net 16% of North American farm equipment dealers said they were "more optimistic" about their prospects for ag machinery sales for 2013 (31% "more optimistic," 54% "about the same," 15% "less optimistic). But it's a different story this year as overall a net 9% of dealers are "less optimistic" than they were 12 months earlier (14% "more optimistic, 62% "about the same," 23% "less optimistic"), according to the latest findings from Ag Equipment Intelligence's "Dealer Sentiments & Business Conditions Update."
At the same time, dealers continue reporting solid sales levels at least through September.
Overall, ag equipment dealers reported year-over-year sales grew 4% on average in September, up from 3% in August. A net 8% of dealers reported better than expected results for September (27% "better than expected/above budget," 54% "in line with expectations," 19% worse than expected/below budget). The previous month's reading was 13%.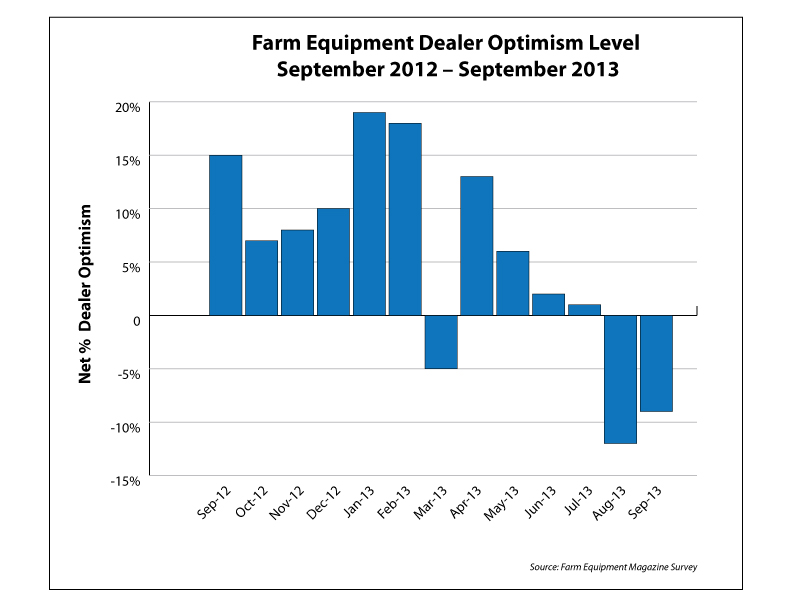 According to the Assn. of Equipment Manufacturers, the total North American tractor sales through September 2013 were up nearly 12% vs. the same 9 month period of 2012. Total combines sales were up nearly 12.5% during the January through September period of 2013 compared to the same period of 2012.