The last time Stotz Machinery (known then as Arizona Machinery) graced the cover of Farm Equipment (featuring the Avondale location's famed saguaro cactus) was in April/May 2005 ("Making Multi-Stores Manageable"). What captured attention at the time was the firm's ability to manage 13 stores (a large number for those days) in 4 states from a remote location.
Exclusively Online:
- Dealership of the Year Video Series
- Depth Charts: Pipeline for Finding Talent
- Acquisitions Trials & Tribulations: Righting a Wayward Ship
 
Eight years later, the company added another 10 stores (to 23) without outside capital, established an Executive Leadership Team (ELT), transitioned to a new organizational structure and launched a training program to ensure that its appetite for growth wouldn't be curbed by a dearth of talent to chase it.
Officially known as Stotz Equipment as of this year, the firm also launched a precision farming services group, two highly profitable new divisions (contract-mowing and irrigation), changed business systems (to PFW Systems) and built three new facilities.
Yet what most stands out about this dealership is its continuous desire to get better and a willingness to invest in different areas to fuel that growth. In fact, its participation in providing the required information following its Dealership of the Year nomination appeared more an exercise to spark dialog on achieving new heights than it was to celebrate accomplishments.
Stotz Equipment (new identity as three companies known as Arizona Machinery LLC, AA Equipment LLC and Greenline Equipment LLC were consolidated in 2013)
Founded: 1947 by Fred Elder (grandfather of Tom and Rob Rosztoczy) and Jim Deaderick as the John Deere and Caterpillar dealer for most of the state of Arizona. In 1959, Elder and Deaderick split. The Caterpillar dealership was sold and Deaderick retired, while Elder retained the John Deere franchise for farm and industrial equipment in Maricopa County.
Employees: 380
Major Line: John Deere
Other Lines: AerWay, Alamo, Art's Way, Bigham Brothers, Brandt, Darf, Demco, Domries, Frontier, Gearmore, General Implement, Great Plains, Harvest Tec, H&S, Haybuster, Hillsboro Trailers, Honda, J&M Manufacturing, Jay-Lor, JCB, Loftness, Kirby, KMW Loaders, Krone, Kuhn/Kuhn Krause, Landoll/Brillion, McNeil Marking, Orthman, Paiute Trailers, Parma, Rhino, Riata Rakes, Stihl, T.G. Schmeiser, Tiger Mowers, Wil-Rich, Wishek
Locations: 23 — Arizona (8: Avondale, Buckeye, Chandler, Casa Grande, Stanfield, Thatcher, Tucson and Willcox), Utah (5: Tremonton, Bluffdale, Beryl, St. George and Nephi), California (4: Montclair, Escondido, El Cajon and Indio), Wyoming (2: Riverton and Casper), Nevada (1: Las Vegas), Idaho (1: Preston), Colorado (1: Cortez) and New Mexico (1: Farmington)
2012 Revenue: $235 million (73% wholegoods, 18% parts, 9% service)
2012 Market Share: 45%
2012 Return on Assets: 15.2%
2012 Parts & Service Absorption Rate: 82.7% (Dealership does not actively monitor absorption rates, instead tracking parts/service profitability.)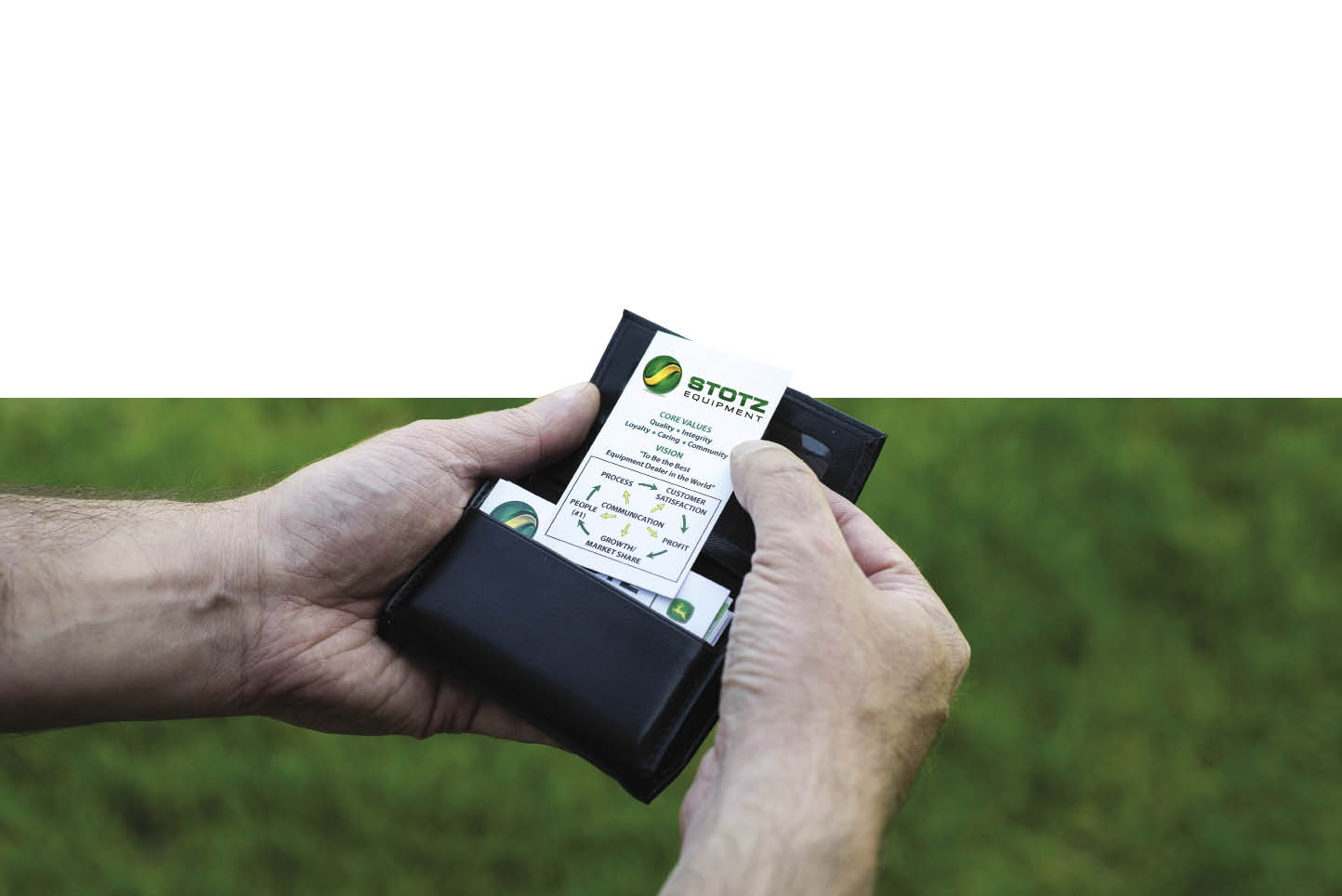 The Stotz culture is ever-present. Employees are issued cards to remind them of the core values, principles and "Circle of Success."
This very process-oriented group thinks most of what it does is just "business as usual" for any company that strives to be the best equipment dealer in the world. Thus, it's not "exceptional" nor "beyond the call of duty" for the staff to make middle-of-the-night visits to farms or perform other acts of that ilk. Management wouldn't know about a lot of it if it weren't for the employees' bragging on each other's efforts during "State-of-the-Dealer" meetings.
Embracing a 'Circle of Success'
Every top-performing equipment dealer fiercely protects its operating culture and Stotz is no different. While the core values had been established in the early 1990s, the firm took an additional step during its Executive Leadership Team (ELT) retreat in 2007, where it established the "Circle of Success" and a new vision statement.
Pictured at right, the "Circle of Success" reaffirms for the entire enterprise the steps to attaining success, from the first position of "People" ("people are number one") on to encompassing "Process-Customer Satisfaction-Profit-Growth-Market Share."
Because each item the circle can be (and is) measured, progress can be communicated back to the entire company. The word most often cited by the ELT on culture is transparency. "The information is available and there's a sense of pride in everyone knowing the score," says Scott Martinez, consumer and commercial equipment sales manager. "They know management trusts them when they're shown everything."
The vision statement is another bold and public declaration of where Stotz wants to be. Simply stated, it is "to be the best equipment dealer in the world" and is publicly posted in the dealerships.
President/CEO Tom Rosztoczy said he has long held to that goal as his blue-sky vision, but it was the ELT who knew it was time to lay it out there. "We continued to see what the people in our company could step up and accomplish," he says. "We were seeing all this collective greatness in small parts and determined we were the only ones holding ourselves back. The employees were showing us that we could be the best. They weren't afraid of any goal put in front of them."
For example, the ELT saw how measurement and personal pride in their work were driving employees to amazing feats. A "stretch goal" of $400,000 in wholegoods gross margins with a reward of an Alaskan fishing trip caused several salesmen to blow right past it. The firm once applauded a service manager on a good closed work order score of 4 days only to rile him up. That manager said it wasn't good enough and immediately insisted on, and achieved, a 2.5 day score. The examples go on.
What Others Say...
Jim Connor, John Deere, Territory Manager: "It's a very well-managed business from Tom Rosztoczy (president/CEO) all the way down. They're ambitious, have a great sense of the business and do so many things right. They faced challenges but did well bringing acquired stores into their business. With their expansion into the Integrated Solutions Group, they're providing total solutions to the customer; not just iron. That total system approach — along with their wide geography, customer diversity and organizational structure — makes them unique."
Steve Kost, Executive Vice President, Far West Equipment Dealers Assn.: "What makes them different is Tom as a leader and visionary. They saw early on what manufacturers were trying to do in consolidation. Besides that vision and leadership, they found the very best people they could — in terms of character, work ethic, ability and enthusiasm — and then trained them to perform as a team. They're not afraid of new areas; they'll put resources, time and money behind new things that will make them stronger. They're looking forward all the time."
Their successes are based on a culture that they now try to ingrain in employees before their first day on the job. That stems from hard lessons learned following an acquisition, when management was "too loose" on culture transfer.
Today, when a store is acquired, culture is job 1, with a 250-item to-do list for establishing culture with a new team. When the firm acquired the 2-store, 20-employee Utah-based Crossroads Equipment last March, a team of 9 dealership employees (nearly a 1:2 ratio) was sent for the first 2 weeks after the acquisition. "All employees at a new Stotz store are assigned a mentor to teach them, with the biggest emphasis on culture," says Rosztoczy.
It's so important that the start of each site's biannual "State-of-the-Dealer" meeting involves the reciting of vision and values. "With nearly 400 employees in more than 8 states and 23 locations, there's no other way to get a consistent performance and 'one-store' experience for the customer."
He adds: "We need that consistency in thinking, because we couldn't handle the phone calls if everyone had to get our approval first. As long as our people act with consistency on our principles, then whatever they decide is going to be correct."
Says Jason Behrend, new business development manager: "When employees face a decision at the parts counter, we tell them to ask themselves, 'What would the best equipment dealer in the world do?' They're the ones who are going to bump into this farmer at the grocery store every day. They have the flexibility in the process to do what needs to happen."
This is easier for some stores than others, but they all get there eventually. Martinez says the last two acquisitions assimilated quickly. "They went from calling us asking what to do, to calling to say what they did to not calling at all. Once those shackles come off, it's surprising how quickly decisions can be made."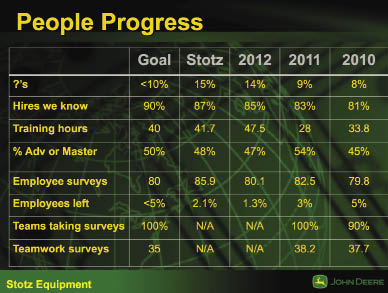 Stotz is unique in its proactive measurement of its "people assets." Above is a slide from CEO Tom Rosztoczy's "State-of-the-Dealer" presentation shared with all employees.
Operations Manager Keith Greenwood says that autonomy — and accountability — can be a shock. "We expect the managers to run it like their own business. We give all the back end support they need, but they're accountable in the end and it's up to them whether their business will be successful or not." While difficult for some newly acquired stores, he says that once they are in the system they really like it.
He's seen newly acquired stores who were very inefficient because they'd operated under a fearful no-spending policy. "We learned of a shop whose techs were walking 400 feet several times a day when a $500 investment would have brought compressed air directly to them," Greenwood says. "They had to be told it was OK to spend the money. They're not puppets here, we expect them to manage the business, know where they're making money, and know when and where to spend it."
Job 1: Measuring People
Like every other benchmark dealership, Stotz knows that its people are the key. But where they're different is the diligence in measuring "people factors" and their progression. They measure each of what Rosztoczy refers to as the four dimensions of people, including talent, knowledge, job satisfaction and teamwork.
The table at left was part of a PowerPoint presentation at a recent "State-of-the-Dealer" meeting by Rosztoczy. Here is a summary of the interesting things Stotz Equipment is doing with regard to its people assets.
Question Marks — Through ongoing reviews, the company identifies every employee with just one of two scores: Solid (meaning clearly in the right position with the right skills sets and training) or Question Mark (unsure of whether individual is in the right position, or in need of additional help to succeed in that position). Individual development programs exist for each employee. The goal is to keep the "question marks" under 10% at all times. All new employees are identified as question marks for their first 90 days or until it's clear that a good hire was made.
Hires We Know — Stotz knows that it has much better luck when hiring someone current employees know and recommend. Employees contribute to depth charts to keep a pipeline of known candidates on hand. Stotz wants 90% of new hires to be known and recommended by the work force.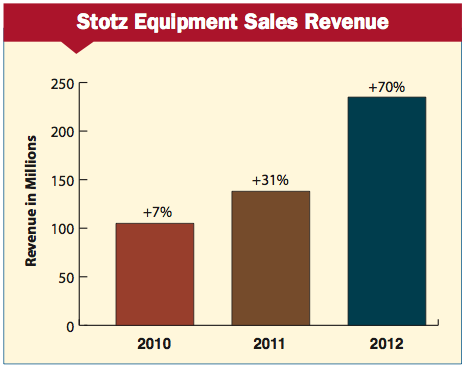 Stotz Equipment's revenue is up 240% since 2009, including both significant same-store growth and that from acquisitions.
Training Hours — Every employee is expected to get an average of 40 hours of training per year, double the standard that John Deere expects. Last year, Stotz averaged 47.5 hours and is on pace to surpass that this year.
% Advanced or Master — This measures the percent of employees who have earned "Advanced" or "Master" certification from John Deere as an additional measure of knowledge. The goal is 50%.
Employee Surveys/ Employees Left — "If we invest in people and they leave, there's no benefit to us," says Rob Rosztoczy, corporate sales manager. "We want happy, productive employees and want to keep them." Employee surveys provide for important communication channels, and more than 85% of employees provided positive survey responses last year, above the 80% target.
In terms of retention measurement, one criterion Stotz can objectively monitor is the number of employees who choose to leave for work elsewhere. Stotz wants that number to be under 5%. The last 12 months saw all-time records for job satisfaction and for lowest percent of employees leaving the company for other employment (just 8 workers out of 380).
Teams Taking Survey/Teamwork Survey — Every team within the company is expected to take a 15-question survey (based on a survey from the business book, The Five Dysfunctions of a Team) at least once a year. Out of a total score of 45, Stotz has set a goal of a 35 or higher. All results are examined as a group, including scores where the team is functioning well and where improvement is needed.
"We need to be building our depth at all times to prepare us for acquisitions," says Kim Kistler, corporate aftermarket manager. "If we do our job right with talent, there's no reason any of the stores have to have a poor performance."
Tracking Process, Customer Satisfaction
With the right people in place who are motivated and following a shared vision, the only limitation is a suboptimal process. Stotz has this area covered as well.
Operational processes are tracked through detailed audits. Each store and each department is audited and graded as either "Outstanding," "Below Standard" or "Poor." Only one grade in this scoring matrix is acceptable.
Dealing with 'Down Times' at Stotz
With a "people-first" culture, Stotz knows that good jobs and competitive wages (the firm has provided a profit-sharing match every year since 1987) are part of the formula.
So when staff reduction was needed in 2009, Tom Rosztoczy, president/CEO, says the company chose to shrink in a well-thought-out, deliberate fashion.
While some neighboring dealers chose to cut 20% in labor expenses across the board, they lost good personnel in the process.
Conversely, says Rosztoczy, "We shrank how we wanted to," noting the firm took a different route to the necessary expense reduction.
"For example, here in Avondale, we couldn't guarantee 40 hours for all the service techs. We identified three that, if conditions dictated it, would be laid off. We told them the situation, said 'we hope we don't have to do this but if we do, you're going to be the ones that will be laid off.'"
The other 12 techs, meanwhile, were told that they would not be laid off nor face a pay cut. "Two of the three techs on the bubble found a job before any lay-offs were necessary, and all 12 we wanted to keep stayed.
"We pruned ourselves from the bottom up so we could keep our top performers. We avoided hard feelings through that communication and came out a whole lot stronger."
Each store and department is audited every 3 months until an "Outstanding" grade is recorded, at which time the audits are conducted every 6 months.
That scorecard is maintained and communicated. For instance, each store's sales, parts and service departments know how it is performing year-to-date (and historically) on the "outstanding audit" scale and this performance is projected during Rosztoczy's "State-of-the-Dealer" meeting at each location. Store staff, and the enterprise as a whole, takes great pride in the number of "outstanding audit" scores.
Next on the "circle of success" is customer satisfaction. Stotz uses a Net Promoter Score process to measure post-transaction customer satisfaction, based on a concept borrowed from The Harvard Business Review.
With the customer satisfaction study executed in-house ("We have a history of doing everything ourselves; it's part of our culture," says Brent Johnson, chief financial officer), everyone in the chain sees the real-time results. "Any score of an 8 (a neutral score) or below requires follow-up by the manager," says Behrend, explaining that customers who score service as a 6 or under are "detractors." Year-to-date, Stotz is at a score of 80.3 (500 responses) on customer satisfaction. Behrend adds that a score of better than 75% is considered "world class" service.
The 'State-of-the-Dealer' Tour
Bringing the vision, culture and measurements to life are the twice-a-year "State-of-the-Dealer" talks that Rosztoczy personally delivers at each of the 23 stores. That's not a mild commitment when stores are 1,500 miles apart, but Rosztoczy insists that the in-person delivery is critical. There's no company plane ("That would directly contradict our culture," he says); just lot of Southwest Airlines frequent flier miles.
On meeting day, employees don't see a tailored-suit CEO peeling into the lot in a Mercedes Benz. They're seeing a leader they can look in the eye, shake hands with and who values the personal interaction with them. "We're a big company but a family business first," says Rosztoczy. "I feel we should know everyone and they should know us."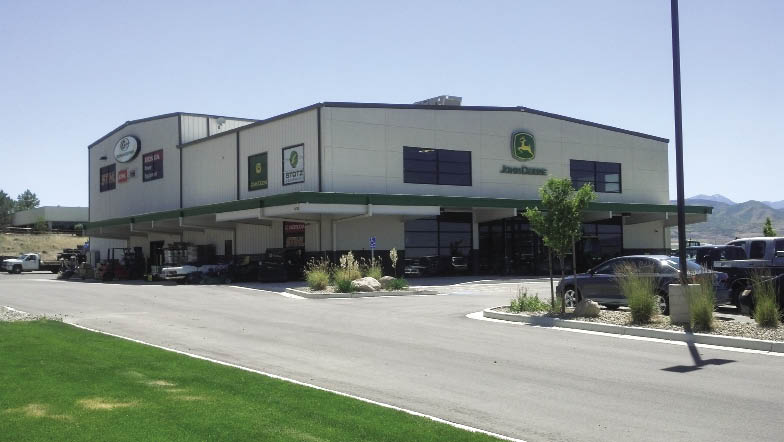 Stotz has invested $10 million in new building construction at three of its locations over the last three years, including Riverton, Wyo. and Bluffdale, Utah. Each new construction includes dedicated training space.
His day at each site begins with a 30-minute "State-of-the-Dealer" PowerPoint presentation that not only reviews goals and performance, but also includes the collective group reciting principles and values to note their importance.
The agenda affords time for "core values demonstrated" where feedback is solicited from the employees. They give accolades to fellow employees and share successes, like how a farmer called Stotz near midnight frustrated by his inability to reach a rival dealer for parts problems on his windrower. That farmer was met by Stotz staff at 6:30 a.m., and within 4 hours was cutting in a newly purchased green windrower. He's since bought three tractors from the store.
The meetings motivate each location, says Behrend, who notes that the employees look forward to and inquire about the dates of the meetings. "They're motivated and work toward a better bottom-line number by the next time Tom comes in for the meeting. Even a store lagging in a given area can take pride when it can say "we're in the middle of the pack now; we're moving up."
What the Judges Say...
"This 23-store location has been growing rapidly in the last 3 years" … "380 employees generate over a quarter of billion in total sales" … "Among the best of the 2013 nominees in absorption rate and ROA, but one of the most impressive stats was a 3-year growth of more than 120%" … "Does a lot with the Dept. of Transportation in several states and set up unique Stotz Mower division which mowed state highways last year."
The meetings aren't always "kumbaya sessions." Sometimes there's no easy answer to hard questions, says Rob, but hard times only solidify the firm's openness and transparency.
In 2009, the dealership's revenue tanked with the economy. "Our market wasn't the same as the ag dealers in the Midwest. We had to communicate that a huge part of our business was gone and how we were responding. Our business shrank by 25% that year, and we shrank staff by the same point," adds Rosztoczy.
A New Structure
When the firm began expanding from its 3-store structure in 1997, all store managers had at least a 5% ownership stake in the business. "We wanted their ownership and wanted it tied to that individual business," says Rosztoczy. It wasn't that difficult when there were only 3 stores, but presented challenges as acquisitions came, particularly with unconnected geographies.
That was why separate business units were established, under the names of Arizona Machinery LLC, AA Equipment LLC and Greenline Equipment LLC. The organizational structure was designed around these separate companies, with a general manager and sales manager for each company.
When the 7-store, 3-state Central Implement acquisition in 2011 came to light, the company could be connected into one contiguous territory for the first time in 14 years. "Had we started with this one footprint, we'd have a different organizational structure," says Rosztoczy. He turned to his ELT with the question: "If we had a blank sheet of paper to define an organizational structure today, what would be the ideal structure?"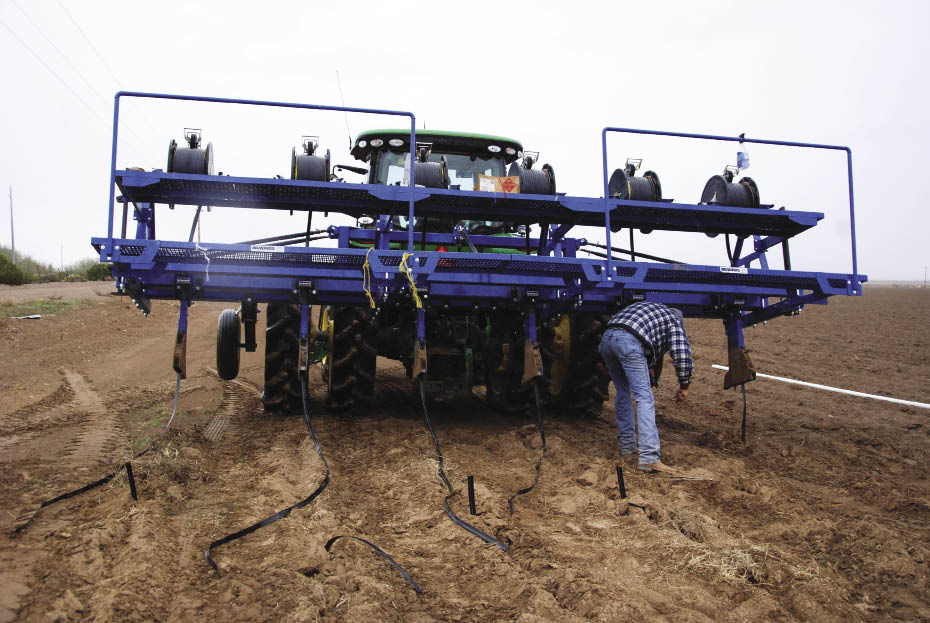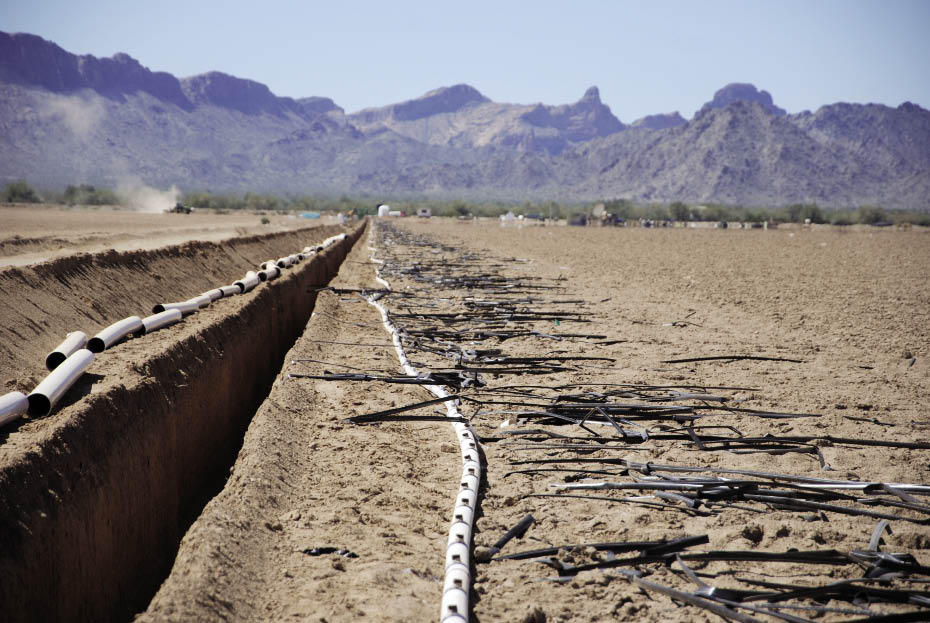 In December, Stotz became a pilot dealer for John Deere's sub-drip irrigation system. Stotz Water recently finished a 285-acre install project that included injecting 3.8 million feet of drip tape and 5.5 miles of piping. In June, Stotz Water was awarded a contract for 1,000 acres that will require nearly 17 million feet of drip tape. Visit PrecisionFarmingDealer.com for more information.
What the ELT arrived at was a single-company structure, giving key leaders functional-area responsibility for distinct areas of the operation. For instance, all field sales reps report to a regional sales manager who reports to a corporate sales manager. The same is true for the parts, service and aftermarket. Golf and turf remains split out from the ag, however.
"Before, we had 3-4 sales managers but still lacked a coordinated effort," says Rosztoczy. "We have a more holistic view now." Responsibility for inventory, for example, belongs to one ag sales manager with a big-picture view vs. the old days when not everyone in every store was always "playing well together."
And without the burden of managing salespeople, each store manager (Stotz's stores average $11 million in sales revenue — less than dealers in row-crop states) has the capacity to do something else, usually serving as the store's parts or service manager. With the diverse markets of the regions, it's not practical for a store manager to have breadth of all product lines and also run the operations. Plus, the more functional structure makes training easier, as managers possess a defined expertise and experience.
Store managers still have an ownership stake, but the 5% was too restrictive as the enterprise rose in value. Now the goal is for all store managers to have a 2% stake in the business.
With the reorganization came the opportunity to regroup under one name, one of the advantages of which was the single-entity volume bonus (about $500,000) that made the rebranding investment worthwhile.
There were a few "must-have" criterion in the new name. It would not be tied to geography or color, would be unique and differentiating from the masses and would have a family — not a corporate — feel. "Conveying our family history and atmosphere is really important, particularly with employees and customers after an acquisition," says Rob, readily recalling their family's long history in the business, which began 40 years before their grandfather's ownership stake. "If it feels like just another big corporation, everyone would feel differently."
The result, Stotz Equipment, is a respectful nod to the dairy operation ("Stotz Farms") started by Tom and Rob's father, Ferenc, in 1979 and continuing as one of Arizona's top dairies today.
Before the change in organizational structure, there was a perception (right or wrong) that the Avondale headquarters was dictating everything. With the new structure, the ELT is more aptly recognized as the source of decisions, and its members are located at multiple locations, not at a headquarters building.
There's no finger pointing or words about a region or acquisition pulling everyone down. "We're all under one name for the first time now," says Rob.
Home Growing the Talent
One of the most impressive things about Stotz's people development is the fact they aren't allowing themselves to get old; the oldest member of the ELT is 55. Instead, Rosztoczy and his ELT have personally taken on talent-development duties. "We aren't trained as educators nor public speakers, but we didn't feel there was any outside source that could give a canned program that would work. If we're all about culture, as we say, we need everyone to be spot-on in how they're thinking."
So, employees have internal training curricula (Aspiring Managers, Current Managers and Future Departmental Managers) that are personally overseen by Rosztoczy. Each of the programs consists of a 2-day class, held 3 times per year.
There's a lot of reading required, including all the same books pored over by the ELT, so they understand the foundations and principles behind the approach. The reading list includes The 7 Habits of Highly Effective People, Steven Covey; First Break All the Rules, Marcus Buckingham; The Five Dysfunctions of a Team, Patrick Lencioni; The One Minute Manager; Ken Blanchard; Who Moved My Cheese? Spencer Johnson; Leading Change, John Kotter; and Satisfaction, Chris Denove. More than 100 employees have read each of the books.
The real payoff will be how much stronger the culture will be in a year or two as a result. "We find a spot for talented people and then maximize the strengths they have," says Rosztoczy. "Then we just strap ourselves onto their coattails for the ride."
Current managers are also plugged into the training so there are no holes. While the courses have had 50-70 in attendance, a few employees bowed out. "That's one of the benefits of the Aspiring Leaders course; to understand yourself first. Some realize that while they may have the confidence and ability, they didn't really want to be a manager."
With each course taking 2 years to complete, Stotz intends to start a new session for each course every year, with the next group of "Aspiring Leaders" matriculates starting in November.
Stotz has also created functional best-practice learning through Internal 20 Groups by job function. "The dealer 20 groups have been some of the best training ground we've ever had," says Rosztoczy, who participates in groups facilitated by Currie Management Consultants. "We've learned so much and picked up new ideas through those meetings and relationships."
When Stotz acquired Central Implement, total sites surpassed 20, and Rosztoczy started thinking about the prospects for an internal "20 Group" where employees could meet with their peers from other stores.
Today, these peer groups consist of store managers, parts, service, ag, golf, inside sales, ag field techs, CSRs, golf field techs and shop foremen. The agendas are similar to the independent 20 group meetings, covering a specific training topic, "help me with" discussion and an exchange of best ideas. Each meeting is facilitated by an ELT member.
"Very few below a top management level would ever get that kind of opportunity," says Greenwood. "It's amazing to see the passion in the room; it's inspiring."
He recalled when a customer called the store in Montclair, Calif., to make plans to schedule his self-propelled forage harvester for PIP work. He said he'd have only a 3-hour window to be down and was already on high alert because the first time he brought it in, another dealer took 5 hours and still didn't complete it because of unfamiliarity and unnecessarily complex disassembly instructions. "Because it all happened during a field tech peer group, a tech in Utah that does lots of these was able to tell him how to do it in just over an hour. Because we had our Utah and California field techs in the same room, it was a huge win for both of them and the customer."
If not for the 20 Groups, a field tech in Wyoming and California may never cross paths. "But now," says Martinez, "when there's a problem, they immediately know who they can call for help."
When asked about ROI of the 20 groups, Rosztoczy leaves no doubt in the wisdom of the investment. "It will be continuous, and efficiencies will only increase. I guarantee you that our internal 20 Groups give an excellent ROI."
Future: 2013 & Beyond
At the moment, the key objectives for 2013 (as shared in the "State-of-the-Dealer" presentation) are as follows:
• People — Continue to unify (new store integration, Internal 20 Groups and Leadership Training Programs, ELT members traveling to all stores); improve morale (improved health insurance, adding staff in overtaxed areas, more casual social functions, significant investments in training); and improve depth (management training program, hiring outside talent, continuing to develop depth charts).
Stotz Principles
Borne from the Crucible
Despite some impressive achievements, the dealership has proven that it's human, too. While the business saw 33% revenue drops in 2 consecutive years (1982 and again in 1983), its darkest days came following the acquisition of Greenline Equipment in 2005. The problems encountered during those days might have been disastrous for another dealer, but were fixed by perseverance and quick action. (See web-only article on "Acquisition Trials & Tribulations: Righting a Wayward Ship," www.farmdealeroftheyear.com).
"We made an acquisition and returned home without having the culture set. We hired outside of our own to run it, and he didn't know our culture or how we did things," says Kim Kistler, Stotz corporate aftermarket manager. Adds Jason Behrend, new business development manager: "If the leader doesn't buy into your culture, it'll go back to whatever the 'old way' was."
Following a series of personnel changes, 5 managers, including Tom Rosztoczy, president/CEO, spent 3-4 days per week in the area for 6 months. "I don't think any of us want to ever live it again," Behrend says, "but we're glad we went through it."
Out of that dark chapter came one of its proudest moments when the corner was turned — through what Rosztoczy called "blood, sweat and tears." "One of our endearing traits is a deep-seeded faith that we can figure it out. Once we set our minds to it, we know there'll be a way. The real decision in a situation like that is whether we make up our minds to stay with it.
"Out of the crucible we formed our core beliefs," says Rosztoczy. That experience, adds Behrend, helped set a pattern on how to properly do all future acquisitions.
• Process — Streamline sales and administrative processes (rolling out completed processes to the sales team; continue working on the financials, accounts payable and accounts receivable systems) and get Integrated Solutions Group (ISG) department up and running.
• Customer Satisfaction — Improve customer satisfaction (get back to overall score of 75% Net Promoter Score, with no stores below a 50% score).
• Profit — Achieve 10% gross margins in sales, 13% of revenue in parts and 17% of revenue in service for a 5% return on sales for the business. Goals for market share include gaining 5 points of ag market share and 3 points of under-90 horsepower market share.
One of the most exciting things at Stotz is the establishment of a new business division, the Integrated Solutions Group (ISG), which is overseen by Behrend. The new product areas include precision farming services (RTK network subscriptions, value-added services, training and consulting). From zero employees last fall, there are now 5 full-timers and immediate plans to reach 16. Stotz is also one of a dozen or so John Deere dealers nationally who've earned Phase 4 FarmSight certification.
The ISG also is the incubator for new divisions in Stotz Water (sub-drip irrigation) and Stotz Mowing (equipment leasing and contract mowing services for state of Utah.) More information on these areas will be covered in Precision Farming Dealer and Farm Equipment E-Watch e-newsletters.
As for the future, Rosztoczy notes the company has doubled in size every 5 years since growing from its 3-store model in 1997. He thinks that pace will slow a bit, yet still double in 7 years. If that holds true for the next 14 years, when he will be 61, the business will be doing $1 billion in annual revenues.
"I'd say one-third of that revenue growth can come organically through improving same-store operations, but the remaining two-thirds will come from acquisitions," he says, noting that the window for acquiring stores is starting to close.
He and his team want their growth streak to continue. So what's next? "The only boundary for our growth would be a foreign country," he says, noting that they are already experienced in remote management of stores that leapfrogged states, traversed a thousand miles and had been non-contiguous for 14 years. "But the farther away it is, the better the opportunity it would need to be."