---
By installing tile themselves, customers can see a return on investment in less than a year and will continue to see the payoff year after year as crop yields improve. Photo courtesy of Soil Max
As land prices continue to rise, there's a growing need for producers to squeeze as much from their acreage as possible. Between growing commodity prices and land values, increasing yield is more important than ever. In order to improve yield without adding acreage, proper drainage is key. And more producers are starting to tackle the task of laying drainage tile themselves.
"I think all farmers know they need drainage and after a harvest, even in a dry year, they'll see by their yield monitors where the tile is. That benefit was seen even more with the high commodity prices last fall," says Todd Schaeffer, owner of Todd Schaeffer Equipment LLC in Marion, Ohio. "The other thing that I think is helping is it's hard to find farm ground, and at $5, $6, $7,000 an acre, maybe we need to fix up what we already have and get it up to its potential before we look to buy more land."
There's little doubt that improving drainage will improve yield for farmers, according to Travis Schwickerath of InField Technology LLC in Alta Vista, Iowa. "Good drainage out in farm fields basically leads to increased production, increased efficiency. This allows farmers to do a better job and increase their yield," he says.
Schwickerath has been selling Soil-Max tile plows for about two and a half years, and sales took off quite well he says. "I originally started selling this type of equipment in the fall of 2010 and that happened to be a very early fall, it was a dry fall. It was perfect year for farmers and contractors to get a lot of tile installed," he says. "We were actually really busy right off the bat and sales took off really well. Since then we've had good falls the last two years as well."
While sales were down a bit in 2012 due to the drought, InField sells approximately 30 tile plows a year.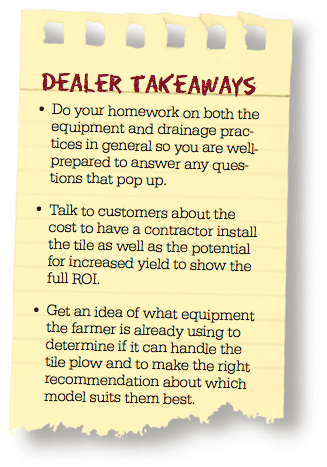 Schaeffer has been selling Waynes Tile Pro plows for about three years. He added the product due to customer demand. "It just fit in with the rest of the things we were doing and it was the product people were calling and asking for," Schaeffer explains.
While sales started off a bit slow for Schaeffer, he says once he got into the groove of selling the equipment things picked up. Schaeffer Equipment sells around 12 plows a year, and so far 2013 has been off to a quick start. By mid-February, the dealership had sold eight units since December 15, Schaeffer says.
Finding the Right Customer
According to Schwickerath, a good starting candidate for a tile plow purchase has 800-1,000 acres, but he has had smaller farmers interested in the product as well. "It's hard to really put a size or limit on that. More or less any farmer with drainage problems on their current operation is a good candidate for the equipment," he says. "One thing that it comes down to is do they have some of the existing required equipment for a tile plow already, which is a back hoe or a large enough tractor, things like that. More and more, guys are getting the larger equipment and are already three-quarters of the way there minus buying the tile plow."
Schwickerath stresses that it's important that the customer have some experience with tiling before making the purchase. "Previous experience around field tile or drainage and the drive to improve their own land would be the most important customer characteristics," he says.
Making the Sales Pitch
Experienced dealers suggest before plowing into the features and benefits of the machine, take the time to learn a little bit about your customer. Find out what existing equipment the customer has and also what sort of experience they have with tiling.
"Once they tell me what type of tractor they have, then I can make my recommendation whether a pull-type or a mounted plow is the right fit for them and explain the difference between those two models," Schwickerath says. "Then I get some feedback from them because it really comes down to the customer's preference. Once I have an understanding of what they have for existing equipment and have explained the different models, that's when I explain why this piece of equipment is better than the competitor's and really start selling the product after that."
According to Schwickerath, the pull-type model gets hooked up to the draw bar and carries itself on a set of wheels, whereas the mounted plow attaches to the three-point hitch on a tractor. Schwickerath says the mounted plows do have some limitations with what type of tractor they can be used with, so finding out what kind of tractor the customer has first is an absolute necessity.
Schaeffer starts and ends his pitch with reinforcing the importance of putting tile in the ground in the first place. After he's gone over the benefits of tiling, he discusses the difference between a mounted plow and a pull-type. Schaeffer Equipment only sells a frame-mounted model. "It stays on great and you get greater stability, mobility and traction on a frame-mounted plow,"he says.
Selling the Capability
Schwickerath and Schaeffer both agree that one of the biggest obstacles in selling the equipment is convincing the customer that this is something they can do themselves and that they have the right equipment to get the job done.
"North central Iowa has been pretty involved in drainage for quite a number of years, even back when clay tile was around. So many of the farmers are pretty knowledgeable about tile, they know how it works, they know the benefits. It just comes down to convincing them they are capable of installing the tile and designing the drain system," says Schwickerath.
"A lot of guys aren't sure they can properly size the tile or drain the farm the correct way. So that would probably be one of the biggest obstacles, just convincing them they are capable of doing it. The next one would be convincing them that their tractor is capable of pulling the machine," Schwickerath says. "A lot of farmers are concerned they don't have the right equipment or big enough equipment. Ninety-five percent of the time they do, they're just not confident that they do. The other concern is they don't always have enough manpower to do the job efficiently."
Getting the customer over that mental block adds a little bit of time to the sales process, but goes a long way in helping him become more productive. "It takes longer for somebody who hasn't done it before to develop the mentality that they can do it," Schaeffer says. "They have the tractor, they have the backhoe, they fix tile, they understand grade, but I think they also see that we're not getting it done and we're losing profits because it's not getting done."
Sometimes it can help convince the customer that he's making the right choice by having him come and see the equipment running first hand, Schwickerath says. "Then they can see it doesn't actually take that much to pull the piece of equipment."
Calculating ROI
Cost Comparison Example
1 mph=88 ft. per minute
*Average cost of tiling per foot=65 cents
88 ft. x $0.65=$57 per minute
$57 X 60 minutes=$3,420 savings per hour
Pay for $23,700 Plow in 7 hours
Pay for $29,500 Plow in 8.5 hours.
*Average cost of tiling can vary from one region to another and does not include cost of tile.
Source: Crary Tile Pro
Schwickerath installs tile on his own farm, so he will often invite customers out to the field to see the plows run, ask questions and get a general feel for the process.
Giving the customer that hands-on experience can help convince them this is something they can take on themselves instead of paying a contractor to do the work.
The return on investment (ROI) might be the strongest selling point for tile plows. While installation rates vary from region to region, in north central Iowa Schwickerath says it costs about 50 cents per foot to have the tile installed by a contractor. To help convey the ROI, he talks with customers about how many feet per acre need to be tiled. "So, if there are 726 feet per acre, you have 50 cents X 726 feet=$363 per acre.
"If they tile 100 acres, that's $40,000 right there. Once you explain this is how you determine how many feet are in an acre, talk about the average tile installation rate, they'll start to round some numbers in their head and will start doing their own calculations just to have their own peace of mind that the numbers I've given them are correct," he says.
Schwickerath says the payback on a complete tile plow set up — plow, GPS equipment, etc. — is usually around one year. He says the cost for the complete package usually comes out to be $50,000-60,000, depending on what model plow is purchased.
"That would be a complete set up, ready to go to the field and everything."
The payback will continue each year as production improves, Schaeffer says. He provides customers with a cost comparison to show how quickly they will see a return on investment. (See "Cost Comparison Example" below.)
Once the customers see the return on investment on just installing the tile themselves, you can start to talk about increased yield. Schwickerath says farmers can see on average five to 10 more bushels per acre with tile. "That's even more substantial on top of the money saved by doing it themselves.
"I'll see guys that I've sold equipment to in the fall during the winter farm shows, and they'll say, 'Well I installed 150,000 feet of tile that fall and right there the piece of equipment has paid for itself already.' They now own it and it doesn't cost them a thing," he says.
"We'll talk about seeing 20 extra bushel per acre when you're sitting on that tile in the field. You can see it in the combine monitor, and year after year tile will provide payback," explains Schaeffer.
"On the equipment side, I'll talk to them about how much you can install in an hour, that it doesn't take any time at all to pay for the equipment."
Personal Experience is Key
Having some first-hand experience with the equipment is an absolute must before picking up the line. Schwickerath stresses that if you haven't used the equipment yourself and don't have a strong understanding of it, you won't be able to adequately answer your customers questions.
"It's always been my philosophy that if I haven't physically used or am not knowledgeable first hand with a type of equipment, then I'm not going to sell it," Schwickerath says.
Schaeffer advises dealers to have an understanding of grade controls and a basic knowledge of the tiling process before trying to add tile plows to their equipment line up.
If you aren't already familiar with tiling, there are a number of drainage schools that can help you get a base understanding.
"A drainage school is going to be a good first step because it's going to help you learn about tile installation and tile layout," Schwickerath says.
A number of universities across the Midwest offer drainage programs, and Schwickerath says the top three are Iowa State Univ., Univ. of Minnesota and Ohio State Univ.
If a drainage school is out of the question, Schwickerath says the next best thing is to get out in the field and use the equipment for yourself. He suggests either working with a current customer who is already doing his own tiling or attending training opportunities provided by manufacturers.
A Growing Trend
If things continue the way they are now with high land and commodity prices, increased production costs and increased inputs, Schwickerath predicts that over the next three years there are going to be more and more farmers buying their own tiling equipment in order to sustain their current farm size and improve the land they already own.
"I think with the high commodity prices we've been experiencing, we'll see more and more tile being installed by the farmer," says Schaeffer.
---
Learn More