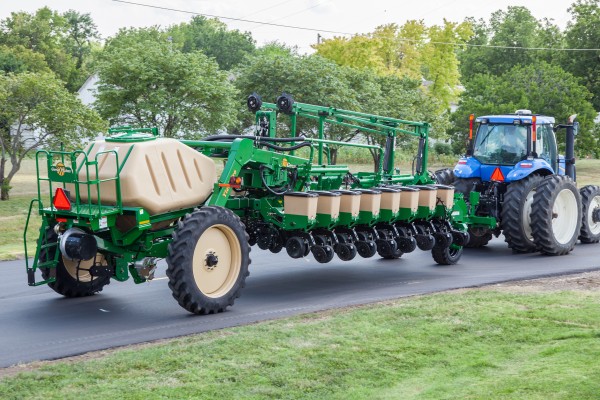 Great Plains introduces its new Yield-Pro YP-1630F 16-Row Planter, which combines the efficiency of one-step bulk dry fertilizer application and 30-in. row spacing. It utilizes a single 100- bushel poly fertilizer hopper and Great Plains' field-proven air drill metering system to accurately deliver fertilizer to each and every row.
The ground-driven fertilizer delivery system incorporates star wheel meters and a Zero-Max Gearbox to make fine-tuning fertilizer rates simple and easy. Seeding is also driven with a ground drive wheel on each planter section. Each row holds a 2-bushel seed hopper for a total capacity of 32 bushel. An optional 1-bushel insecticide hopper can also be added to each row. A DICKEY-john PM 400 monitors seed flow and includes blockage monitoring on each fertilizer tower hose.
The row unit is a 30 Series Opener with double-v closing wheels. The double disk opener features a 15" diameter 4mm thick blade, 205 triple-lip-sealed bearing, and ½" leading opener blade.
The YP-1630F is designed with a robust 40-ft. working width, but folds to a narrow 12 ft. 6 in. (or 13 ft. 4 in. with optional insecticide hoppers) for safe and easy road travel.
The all-new YP-1630F Yield-Pro Planter will be available for delivery in Spring 2013. It is one of the newest in a growing line of innovative planters by Great Plains, providing solutions to farmers in their quest to maximize yields while reducing input costs. Regardless of any farming practice, Great Plains has the right seeding configuration to achieve a uniform stand in a variety of crops.
Founded in 1976 by Roy Applequist, Great Plains Manufacturing employs 1,400 people in eight Kansas communities and Sleaford, England. In addition to its Ag equipment division, which manufactures seedbed preparation, nutrient placement, and seeding equipment, Great Plains Manufacturing's other divisions include Great Plains International, Great Plains Trucking, Great Plains Acceptance Corporation, and Land Pride, a maker of grounds maintenance tools such as mowers, tillers, and snow removal equipment. Great Plains continues today under the direction of Applequist and remains a family-owned business.