For the 35th year, farmers, farm equipment dealers and agribusiness professionals converged on the Saskatchewan Province town of Regina for Canada's Farm Progress Show. With 1.9 million square feet of indoor and outdoor exhibits and more than 45,000 attendees from 55 countries, it's the country's largest trade show.
Regina is nestled in the central western part of Canada. This is dry-land farming that extends down into the U.S. Great Plains. The farms in these regions are big and the equipment matches in scope. This was reflected in much of the equipment on display at this year's show, which could be characterized as big and getting bigger.
This year's show also featured the Farm Progress Forum — Professional Speakers for Professional Farmers program. Among the noteworthy speakers were Murad Al-Katib, president and CEO, Alliance Grain Traders Inc.; Dr. Raj Khosla,Colorado State Univ. professor of precision agriculture; Dave Sauchyn, research professor, Prairie Adaptation Research Collaborative (PARC), Univ. of Regina; Dr. Sylvain Charlebois, acting dean and professor, College of Management and Economics, Univ. of Guelph; and Derek Sliworsky, general manager, Canadian Wheat Board, Tokyo office.
Farm Equipment staff spent two days meeting with exhibitors and chatting with attendees that welcomed the newest innovations at this event designed to make their operations more efficient. Here are some of the highlights.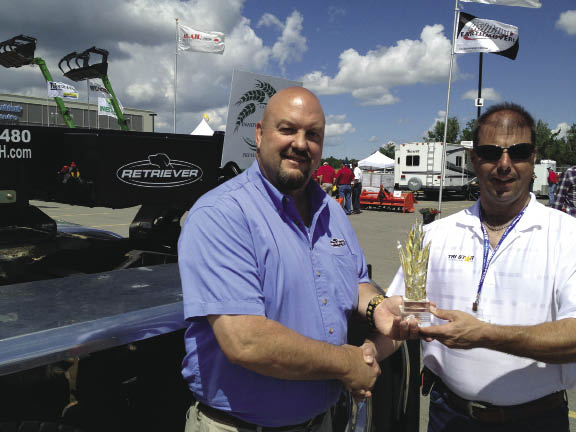 Bestway of Hiawatha, Kan., received Canada's Farm Progress Show Gold Standard Innovations Award for its Retriever transport hitch for towing large drawn planters and other oversized implements.
---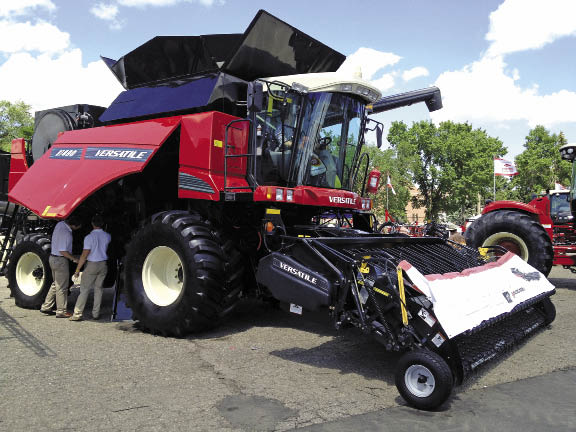 Winnipeg, Manitoba's Versatile had a big week with the introduction of two completely new ag products. The company officially launched its RT490 combine, reportedly the first new combine introduced to North America in more than 10 years.
---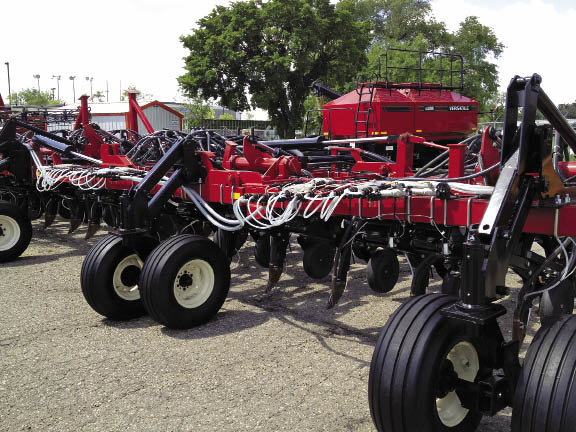 Versatile also rolled out its new Versatile ML Series air drill featuring ALIVE — Active Level Independent Vertical Emergence — technology. The new planter features independent shank technology, mechanical linkage and soil profile selection.
---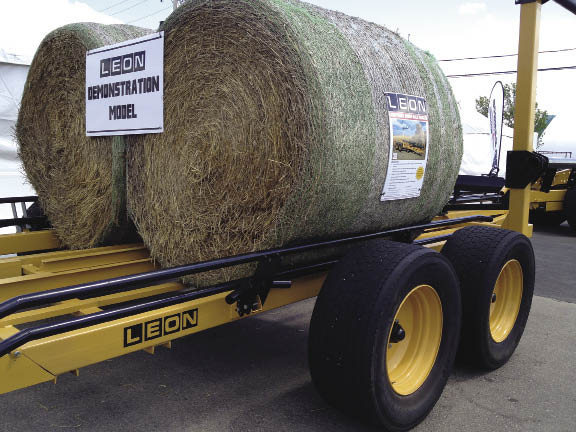 Leon Manufacturing unveiled its new BH855 bale hauler. The new model features hydraulic push-off technology that shoves bales off deck during unloading. The unit also features floatation tires for high-speed transport both on and off road, as well as bale-unloading capability from the left or right side. The new design also eliminates the use of chains, sprockets and hydraulic motors.
---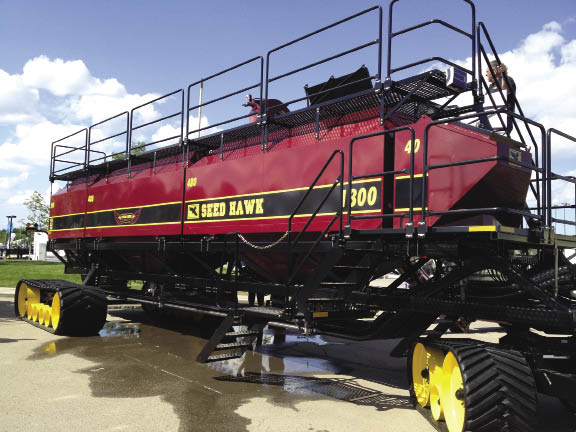 Canada's Farm Progress Show serves farmers with big farms and big equipment. A good example is Seed Hawk's all new 1,300-bushel air cart. The 1300 is 52 feet x 3 inches long and has a dry weight of 34,393 pounds. Despite the size of the 1300, early testing has demonstrated that the air cart produces minimal compaction and leaves a light footprint. Seed Hawk displayed a prototype model of the 1300 and expects it will be available for sale in late 2013.
---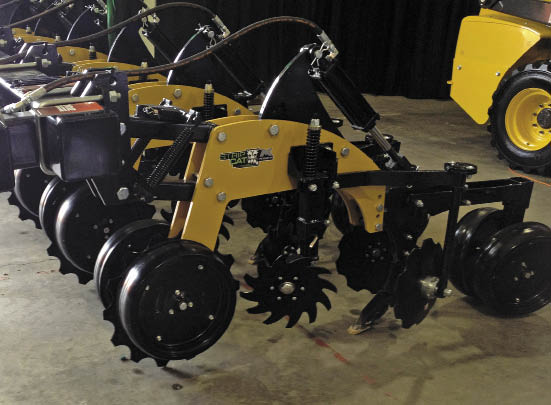 MK Martin presented its Strip Cat Strip Till System this year. The new unit is available in 4-, 6-, 8-, 12- and 16-row units with 30 or 22 inch spacing. The Strip Cat can be set up for liquid or dry fertilizer application, according to the company.
---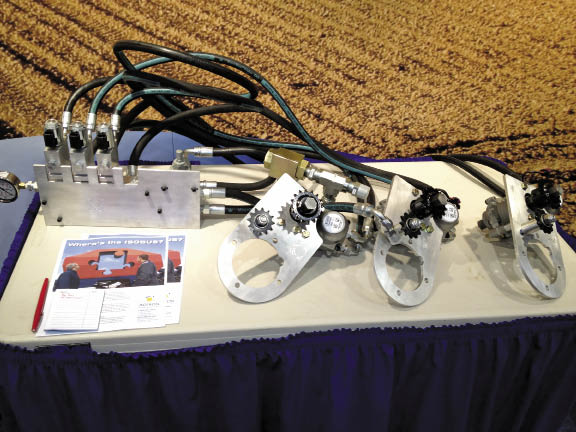 The Agtron ISOBUS air drill retrofit kit is designed to upgrade a growing number of air drills. According to Bill Baker, president of Agtron Enterprises, the kit can be used with the John Deere Greenstar 2, Pro 600 or GTA VT without the expensive non-ISO cab monitor. Older drills can also be updated to become ISOBUS compatible and work off newer cab monitors. He explained that farmers benefit by reducing overall weight and the number of components necessary to operate the new advanced systems.
---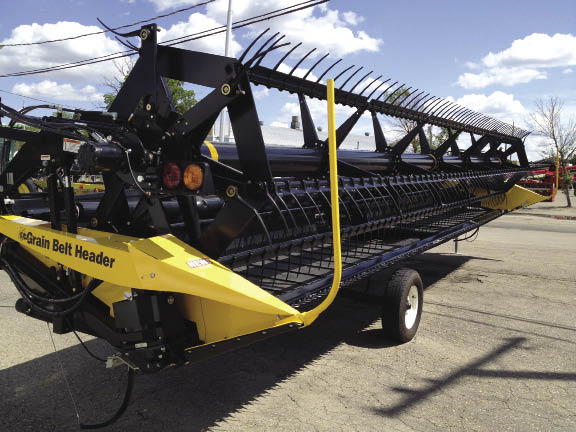 Honey Bee introduced its all new Grain Belt Header. Built on a design that allows flexibility and draper efficiency in pulse crops and rigid capability in cereal grains, the new header is designed to improve combine capacity by 20%.
---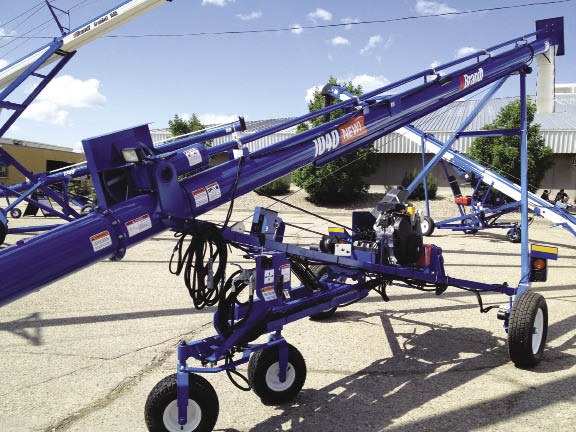 Brandt Agricultural Products displayed its new 1040 standard transport auger. According to Arnie Josephson of Brandt, the 1040 can move grain twice as fast as an 8-inch auger and features an industry leading 13.5-foot intake reach and new weight transfer axle. This allows it to reach farther without compromising its stability while unloading. The 1322XR features a 22-inch HP auger for unloading speeds up to 620 bushels per minute.
---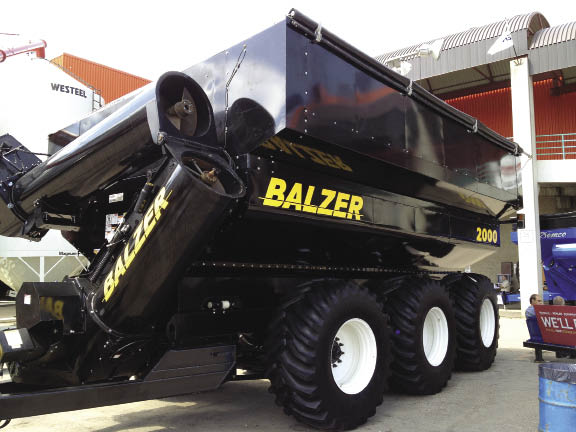 At the center of Canada's Farm Progress Show, where the trams load and unload and the outdoor and indoor shows converge, sat the Balzer 2000 grain cart. This huge cart could be seen from nearly every direction and epitomizes the grand scale of the equipment required to work the Western Canadian farmland.
---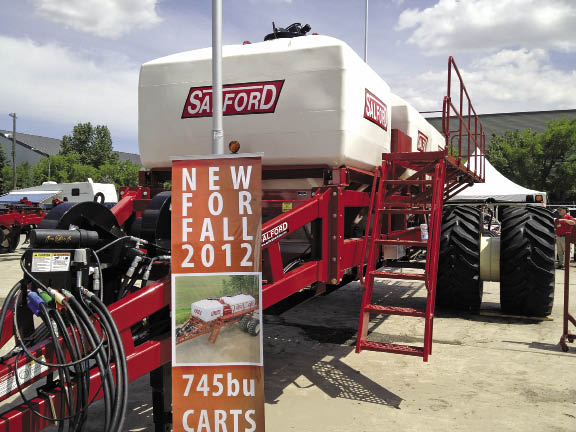 Salford Machine unveiled a prototype of its new 745 bushel commodity cart. The cart is slated for availability in the fall of 2012. The new unit represents a significant increase in carrying capacity from the company's current 505 bushel model. In addition, it's also capable of carrying seed and fertilizer. Models can be towed in the between or tow-behind position.
---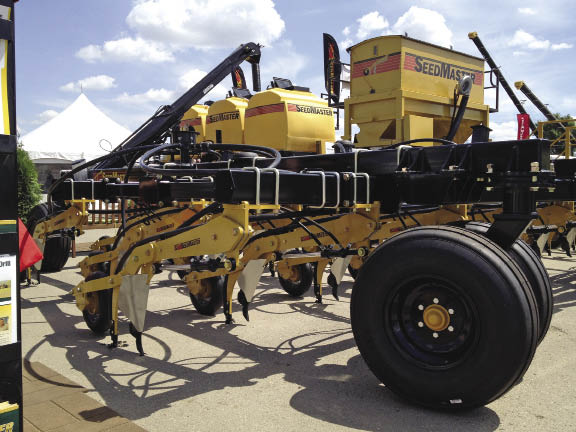 SeedMaster introduced its new 100-foot drill this summer. Touted as the largest seed drill in North America, the company also says it's the largest true double-shoot air drill available. The massive air drill comes equipped with carts for granular or liquid application and is ideal for no-tillers growing Canola on the plains.
---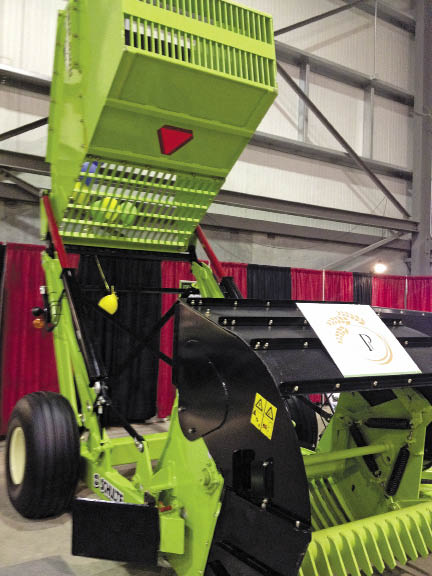 Schulte is celebrating 100 years in production in 2012, and received an Innovation Award from the organizers of this year's Canada's Farm Progress Show for its 2500 Giant Rock Picker. According to Schulte's Hal Carnago, the 2500 and the larger High Rise 8000 model have several options for grate and reel components as well as a hydraulic swing hitch, high-rise dumping and a standard flow control kit.