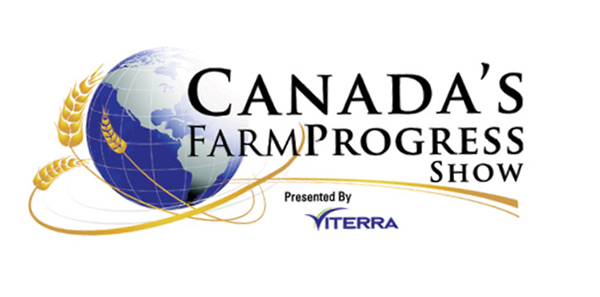 Farm Equipment Staff
Once again, farmers, farm equipment dealers and agribusiness professionals gathered in Regina, Sask., for Canada's Farm Progress Show, June 17-19. This year marked the 38th year for the farm exposition. With nearly 2 million square feet of exhibit space, the show featured 720 exhibitors and attracted 41,897 attendees from around the world.
Located in the western-central part of Canada, the area is known for dryland farming that extends down into the U.S. Great Plains. The farms in these regions are big and the equipment is sized to match the width and breadth of the area's agriculture.
Farm Equipment staff spent two days meeting with exhibitors and talking with attendees who welcomed the newest innovations at the event designed to make their operations more efficient. Here are some of the highlights.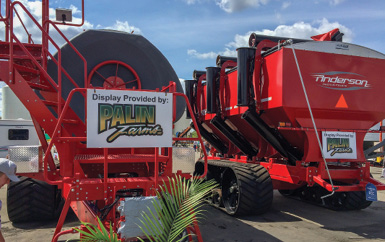 Horsch and Anderson Industries presented the 900 TerraTender (right) paired with the Horsch SW750 commodity cart. The commodity cart features three 250-bushel tanks with an optional 60-bushel canola tank. The TerraTender with three unload augers works in tandem with the SW750 and is capable of bringing total fill times down to under 5 minutes and total time to fill the cart to less than 10 minutes.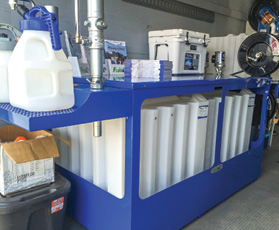 Fluidall's Multi-Fluid Work Bench tank provides efficient storing and dispensing of automotive fluids and lubricants combined with a 69 x 36 inch work surface. It encloses two single-wall, 120-gallon storage tanks enclosed in a 140-gallon secondary containment vessel and is equipped with a universal side-mounting shelf that utilizes a Graco fluid dispensing package.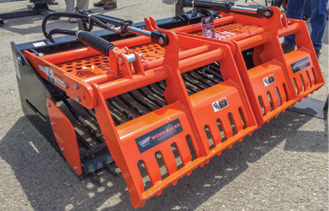 New from Worksaver is the Sweep Action Rock Grapple (SARG). The SARG allows the operator to own one tool to sort large or small debris. The front grapple operates in a sweeping action, pulling rock or debris into the unit. The grapple design retains debris and allows the operator to rock the attachment to sift dirt from the material.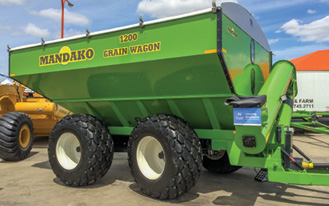 Mandako Agrimarketing displayed the MGW 1200 grain wagon. The 1,200-bushel capacity wagon features an auto-steer front axle with hydraulic rear axle suspension. The 20-inch auger can unload approximately 400 bushels per minute with hydraulic grain flow control on the bottom auger with bottom clean-out. Other features include LED lighting on auger and tank, adjustable auger spout and independent balance placing no load on the hitch.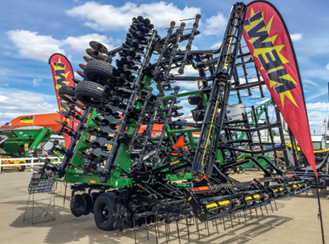 Summers showcased the VRT2530 variable-rate tillage tool that allows the operator to adjust tillage on the go, giving them the flexibility to move from conventional tillage to vertical tillage, or something in between, depending on the conditions in the field.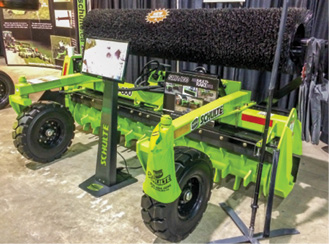 New from Schulte Industries was the SMR-800 Multi Rake skid steer mounted windrower for windrowing, landscaping and sweeping. The SMR-800 features 4-inch Hardox teeth for improved wear resistance, optional broom attachment for sweeping and snow removal, floating or standard mounts and 20 degrees of drum movement from left to right.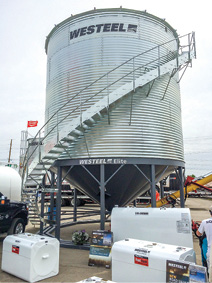 Now part of Ag Growth International, Westeel presented a spiral cat walk for grain bins that can replace vertical ladder systems.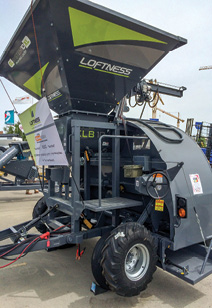 Loftness continues to expand its grain bagging innovations and introduced the new XLB10 system, engineered for a larger 10-foot bag capacity. This allows for approximately 22,000 bushels of storage per bag. The grain bag loader features a jib crane and trolley system that can lift the bag and slide it into place on the tunnel and the bag loading apron to assist in pulling the bag into place by remote control.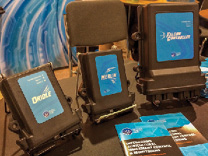 JCA Electronics presented an advanced M2M (machine-to-machine) communications system for implement control that offers new levels of automation, performance and diagnostics for OEMs. It includes hardware such as controllers, control panels, implement electronic control units (ECU) and the wire harnessing to connect the system. JCA also provides implement control software as well as app development for system control using tablets and smartphones allowing for telematics and remote diagnostics, integration of maps and GPS, use of weather information and wireless control.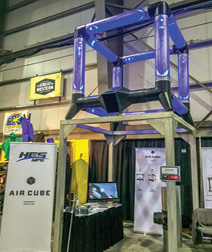 New from HES Mfg. was the Air Cube advanced aeration system. This new unit features perforated steel tubing that connects with polyethylene corners. It is an open structure that can be configured in multiple ways while not impeding airflow. It is positioned toward the center of the hopper bottom bin where most of the heating occurs. Its rigid frame is also the ducting system for aerating the hopper bottom bin. Unlike most aeration systems, it is a retrofit system that can be installed by two people without lifting equipment.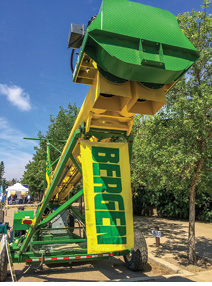 Bergen Industries unveiled the Double Barrel Grain Auger with 16-inch diameter twin augers built into one assembly. The auger comes equipped with a dual electric over geared belt drive system and comes with a mover kit.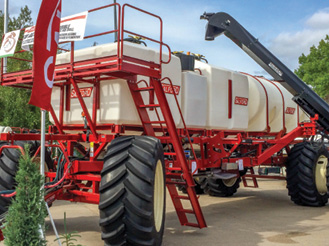 Salford Group Inc. continues to expand its line of products with the Salford Air Cart AC4000 with liquid fertilizer option. The AC4000 offers four tanks with a combined capacity to 880 bushels for dry material with a smaller tank for canola for an overall capacity of 950 bushels. The air cart comes equipped with large floatation tires, stainless steel metering system, Convey-All conveyor for re-filling at a rate of 67 bushels per minute, hydraulic-driven pumps for accurate liquid application and is ISOBUS ready.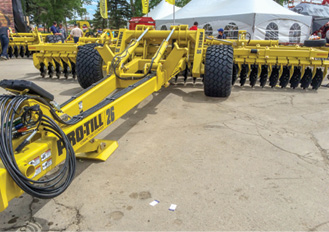 Degelman Industries introduced a new 26-foot model of the Pro-Till. The 26- and 20-foot models are ideal for conditions when less horsepower is favored. It features zero maintenance pins, bearings and disc hubs and is grease fitting free. The Pro-Till 26 foot cultivates in wet or dry conditions and runs at speeds of 10-14 mph.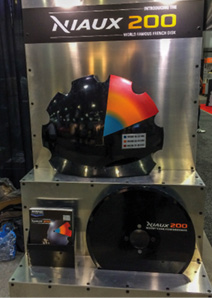 Niaux Mfg.'s Niaux 200 disc blades for primary and vertical tillage provide better flexibility in rocky soils. The blades have an increased hardness to 58 HRC, offering longer wear and 40% more efficiency, according to the company.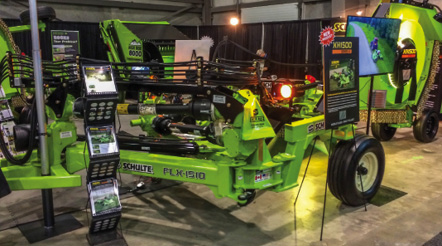 Schulte Industries introduced the FLX-1510 Flex Arm Rotary Cutter attachment that allows the operator to travel on the road while his 10- or 15-foot rotary cutter cuts the ditch slope. This offers additional safety since the tractor does not have to ride on the slope, increasing the risk of rollover.