In 2007, roughly 30 percent of principal farm operators were at least 65 years old. In contrast, farmers less than 35 years old made up roughly 5 percent of principal operators. Older operators' share of farms declined with sales class, reflecting their gradual withdrawal from farming.
For example, older operators accounted for more than 30 percent of farms with sales up to $99,999, but only 17 percent of farms with sales greater than $500,000. The prevalence of older farm operators in smaller sales classes is understandable given the low sales requirements to qualify as a farm.
Most operators live on their farm, and farmers can phase out of farming over a decade or more while easily retaining enough land or livestock to produce $1,000 in sales. Improved health and advances in farm equipment also allow operators to farm later in life than in past generations.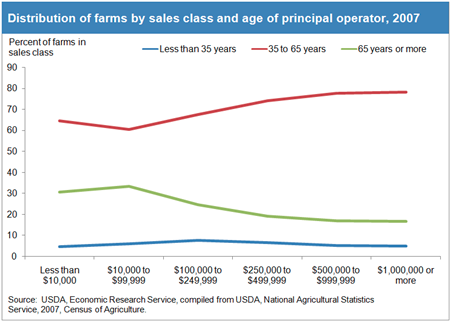 The data for this chart is found in the ERS report, The Changing Organization of U.S. Farming, EIB-88, December 2011.